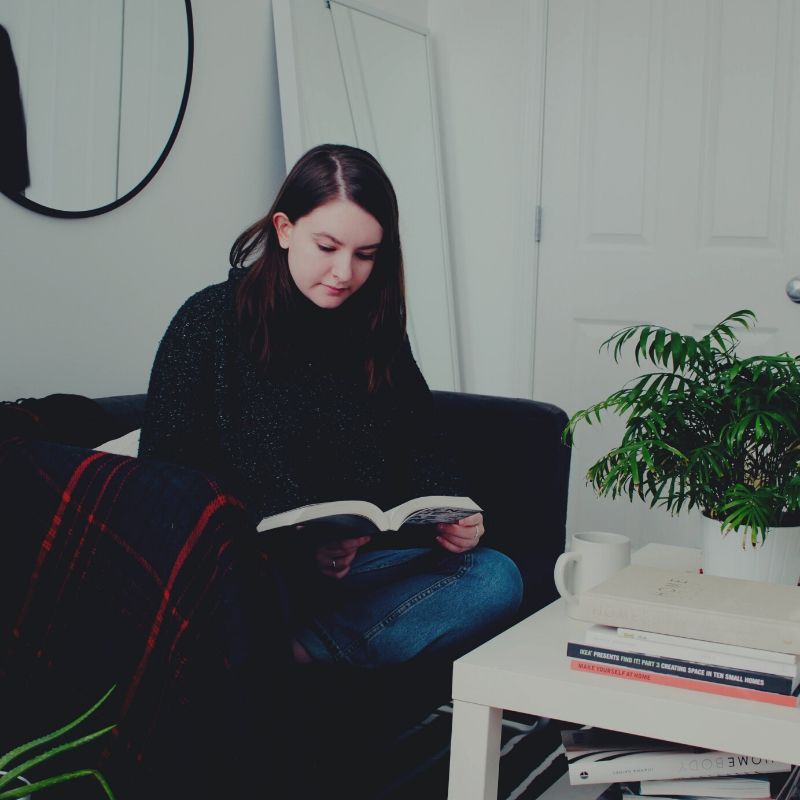 For today's 25 questions meet Kara of Kara's closet. Keep reading to find out certain things you did not know about her.
Where were you born?
I was born in New York City.
Describe yourself in 3 words.
Caring, over-thinker, positive.
Which is the last book you DNF'ed?
I always try to finish a book, no matter how bad or boring it is, but I couldn't get through Lolita. Anything in old English my brain cannot understand, and it just wasn't a story line that I loved.
Moral of the story: don't buy a book just because a lot of people on social media include it in photos.
Physical books or electronic formats, which do you prefer?
Physical books, 100%! I do actually enjoy reading unpublished books on my phone, but there is nothing like holding a book in your hand.
Which book character would you swap lives with?
Hermione Granger in any of the Harry Potter books. Being able to live in that world, even for a day, would be a dream.
What was the last book you read that made you cry?
I tend to read thrillers the most so I don't cry much when reading, but it would be Me Before You. I read the book before seeing the movie and I remember sobbing at the end.
Suppose you are in danger, which book character would you call to save you?
This is a hard one. My choice would be Anna from The 7 ½ Deaths of Evelyn Hardcastle. Her quick thinking and determination even when she doesn't know the full situation would be a lifesaver.
How do you feel about books that end on a cliffhanger?
If there is a sequel then I don't mind, but I always like there to be closure, even if it is not the closure I wanted.
Do you like to read spoilers before you read a book?
Never! I never really read book reviews before buying a book in case there are any spoilers in them. I like to be surprised.
What genre of books is your least favourite to read?
Either science-fiction or historical fiction books. It is just not a type of story that I can really get into.
Which book would you want to be made in to a movie?
The 7 ½ Deaths of Evelyn Hardcastle. This book is unlike anything I have ever read before, and being able to see all the twists and turns acted out would be amazing.
Do you like to listen to music when reading a book?
I wish I could listen to music when reading, but my brain just gets too distracted. I always have to have a quiet place to read, with no one else around.
Which is your favourite snack?
Anything homemade. Pumpkin bread, brownies, banana bread. Or cinnamon sugar toast.
Where do you see yourself in a year?
Hopefully getting my foot in the door of the career I want, continuing with blogging and my college studies, and most importantly, happy.
Who is your favourite musician?
At the current moment it is Hozier. His music gives the feeling of taking a long drive in the wilderness on a chilly autumn day.
Do you have a pet? If so, what's his/her name?
I have a 12-year-old Bichon Frise and her name is Sami.
Name 3 countries you would love to visit and why?
Faroe Islands – I saw a photo of the Faroe Islands last year and instantly knew I wanted to go. Everything from the cute little houses with grass on the roofs to being able to see the beautiful nature and sea.
Scotland – European architecture is a love of mine, and Edinburgh looks like a beautiful city to explore. And the Scottish countryside looks wonderful too.
Ireland – My mom's side of the family is all Irish, so being able to see where my ancestors came from would be a dream.
Which is your drink of choice?
Either chamomile tea, earl grey tea, or a hot chocolate.
Which is your favourite TV show?
I don't watch too much TV, but it would have to be pretty much anything on HGTV.
Which is your favourite colour?
Blue. It always reminds me of the sea or the sky.
What is your favourite way to spend the weekend?
Going out in nature with my favourite people, working on my blog, sewing, and ending the day with a good book.
How do you organize your books?
Anywhere that they will fit.
Why did you start blogging?
I started blogging because I needed a creative outlet when I was starting college and it incorporated two things that I enjoy – photography and writing. It ended up being one of the best decisions I have ever made.
What is your number 1 blogging tip?
Create what makes you happy. There's no point in writing posts just because everyone else is writing about the same thing. There are over 7 billion people on earth, and there is definitely more than one person that will love what you create.
Which books would you recommend to our readers?
The 7 ½ Deaths of Evelyn Hardcastle, Behind Closed Doors, Little Fires Everywhere, You Are A BadA**, The Woman In The Window, Murder on the Orient Express, The Breakdown, 1984, Her Every Fear.
See also:
25 questions with Nancy's Fashion Style
25 questions with Via Singh of Glossnglitters
25 questions with Mariya of Brondema