Keep reading to find out 25 things about Via Singh, the blogger behind glossnglitters.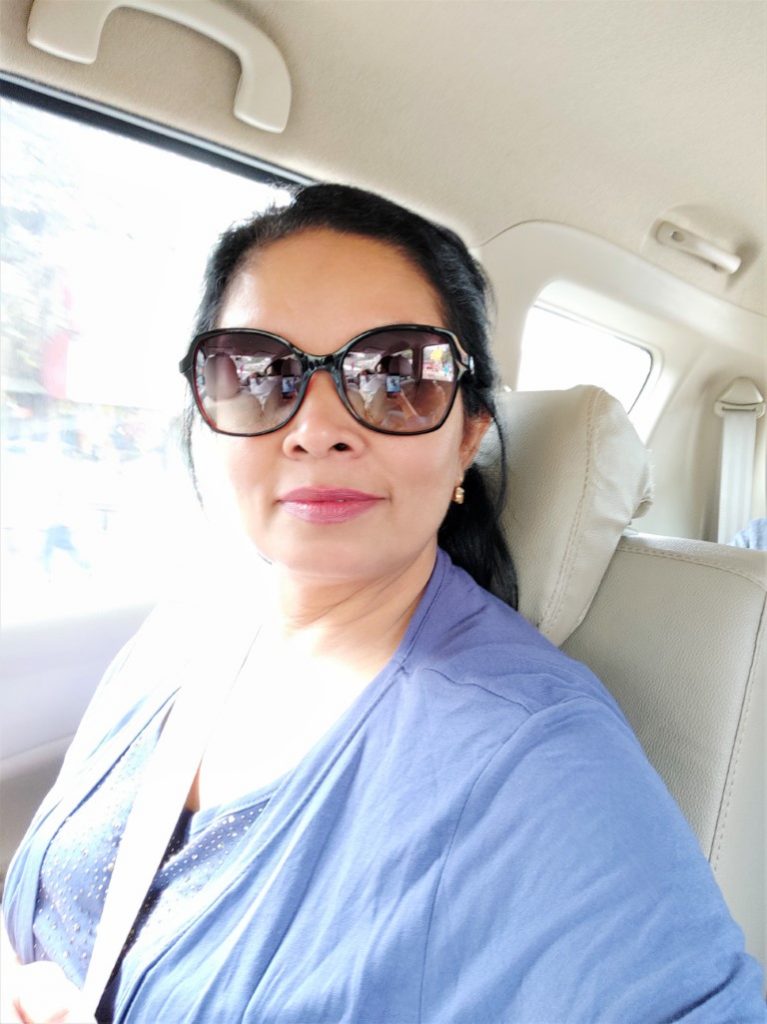 Which celebrity do you follow for fashion inspiration?
I love Kate Middleton's style and how elegantly she dresses. However mine is a very simple one. Mostly wear jeans and top.

Which flower is your favourite?
I love all kinds of flowers. Whenever I see flowers I have to take a picture. 🙂
Which is your favourite brand of bathing products?
Dove.
Is there anything that causes you allergies?
No
What do you do on your days off?
Days off are always spent with my kids and husband.

What is the one thing you can never live without?
Perfumes.
How would you describe yourself in 3 words?
Happy, trustworthy and loving.
What's the best piece of advice you've ever received?
Never worry about things in life. Eventually everything will be fine and whatever happens is always for our own good.

What's one hobby that you plan on picking up?
As a little girl I loved art like drawing, colouring, embroidery etc. I want to get back to colouring.
Name the make-up brand which you always want to buy but your pocket does not allow?
Brands like Sisley, La Mer and a few others that are pricey at that level.
What's your definition of beauty?
Beauty is in our mind. The more beautiful and good your thoughts, the more beautiful you look from the outside. Of course taking good care of oneself adds to the beauty.
Which blogger do you wish to be friends with?
Can't name one, as I am friends with so many bloggers and interact with them on a regular basis. However, if I have to name one then it's Marie, from backstorybeauty.com.
How confident are you about your skin complexion?
I am pretty confident about my medium olive complexion. I can go out in minimum to no makeup. But, I need my lipstick. 🙂
What's your favourite makeup mantra?
A little bit of lipstick can brighten the face.
Glitter, glossy, or matte nail polish?
Glossy and sometimes glitter.
Who inspires you the most?
My dad. He is very hard working and never gave up in life when problems came his way.
At which age did you go on your first date?
I never dated. Got married early and went on a date with my hubby when I was 20.
What 3 things make up the perfect date?
A single red rose, movies and dinner with dessert.
Do you believe in horoscopes?
No, because they are all so similar for every sign.
What is your zodiac sign?
Capricorn.
How do you celebrate your success?
My success is always kids success and we celebrate by ordering pizza and sometimes pastries.
What are three of your weaknesses?
My family, sweets, lipstick.
What's your favourite junk food?
Indian street food like paani puri, sevpuri, vada pav, samosa etc. 🙂
How religious are you?
I am little religious.
Does your religion impact your daily routine?
No.
SEE ALSO:
25 Questions with Mariya Zafiriva of Brunette On Demand
25 Questions with Katherine Eldridge
25 Questions with Ashley of Le Stylo Rouge
[ReviewDisclaimer]