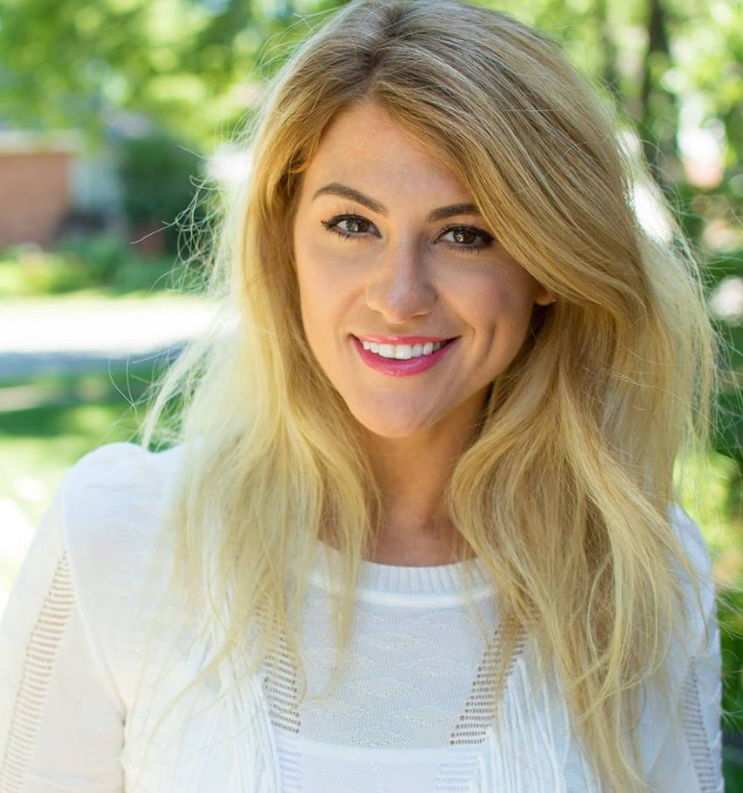 For today's 25 questions, meet Ashley, the face behind Le Stylo Rouge – a Kansas City style blog.
What motivates you in life?
I'm a Capricorn, so we're naturally driven by the work. The grind, the hustle, and then the achieving, success, getting the A's – in whatever form that takes. For me, building a brand and a writing/photography portfolio I'm proud of is what drives me.
Why did you start blogging?
I needed a creative outlet after graduating college and doing the whole corporate 9-5 gig.
What is your biggest challenge as a blogger?
Sifting through the bullshit. There's so much fake – both in other bloggers and in brands. People talk about "the amazing community" aspect all the time – and that can certainly happen! But you have to kiss a lot of frogs in this industry to find your tribe.
What do you like best about blogging?
It's mine. There isn't a CEO or a supervisor telling me what to write or shoot – I'm the CEO. I make all the decisions. I say no to things that compromise or don't fit with my brand. All the work, the whole grind, and the success of it – it's mine.
What is something you hope to accomplish in the next year?
I am looking at different ways to expand the blog; I have been toying around with the idea of launching a podcast for a while. I think it could be a really fun endeavour.
Where do you see yourself in 5 years?
With as much of a workhorse as I am, I don't set super long-term goals. Five years seems like an eternity away (I realize it isn't) and I don't typically plan that far ahead. I hope I'm happy and still creating content I love, though. That's a good goal to have, no matter the time projection. 😊
If you could travel anywhere in the world, where would it be?
I really love London. I went right after college and it was one of the best trips of my life. There's an edge to London, packed in with a lot of history, and wrapped in the coolest bit of street style you can find. Oh! And the accents. I'm a sucker for an accent.
Who is one person you look up to the most?
My grandmother; she was all sass. She had perfect comedic timing, with whip-like wit and this amazing, commanding laugh. She ran almost every room she was ever in. And she was terrifying – in the best way. You didn't cross her because she just wouldn't stand for it. She taught me not to take nonsense from anyone.
What is something you would like to learn more about and why?
I'm so interested in self-exploration these days. I'm in my 30s and have spent most of my life getting from one milestone to the next. Now that I'm more settled and I feel like I have a greater sense of who I am, I want to know more about that. I want to improve. I want to understand. I think it's so easy to just stay on the surface of who we are (and it's not a bad thing!) but I want to go deeper.
Who was your biggest hero as a kid?
Roy Williams. (KU basketball coach from 1988-2003) When I was a kid, I thought I was going to go to KU and play point guard for Roy's basketball team. Never mind the fact he coached the men's team. And I was short. And not particularly great at basketball. But I loved the sport and the school, and Roy was (and still is) such a loveable coach.
Your favourite childhood cartoon character?
Ren from Ren & Stimpy.
Which TV character would you swap lives with and why?
I used to want to be Lauren from Laguna Beach/The Hills. (I realize she's mostly real and a not a character, but you get it.) She was so pretty while still being relatable; an American sweetheart type. She got to live in Laguna near the water, and then in oh-so-cool LA and do all these incredible things. I was in college at the time and remember being so envious of her working fashion shows and hitting cool LA clubs. (Hyde? Le Deux? Anyone, anyone?) It seemed like The Perfect Life.
When was the last time you tried something new?
I have been trying to get into meditation. I was so skeptical at first (and still am; like how do people really do this?! I don't understand?!) but there are clear benefits. So, it's a bit of a new project.
What is something about you that most people don't know?
I'm more sensitive than I pretend to be. Like everything makes me cry – I'll well up (if only for a moment) at people hitting the bell on Ninja Warrior (how stupid?!) or those cute animal videos all over the internet. But if you ask? I'm stone cold. 😉
What is your favourite pastime?
Playing video games – how dorky does this sound?! My boyfriend is to blame – he's a gamer and is quite good; he's taught me how to play (and is quite patient). I've grown capable enough where I can hold my own. We're currently into Apex, if that means anything to anyone, ha. It's really fun!
What does your ideal day look like?
A Saturday in the late spring or early fall when the weather's perfect – 75 degrees and no humidity – and I get to spend a little time outside working in the garden with my girls (we have 3 rat terriers) running about the yard, followed doing dinner + drinks at some out-of-the-way spot where my boyfriend and I can hole up for the evening and just hang out.
What's your favourite part of your daily routine?
At the very end, when I've tidied up the main living areas just before bed. I like to do a quick sweep of the main level, cleaning up any kitchen messes, putting away any clutter, and doing a wipe down of counters/surfaces. I love going to bed (and subsequently waking up!) to a bright, clean house.
What is your favourite scent?
Fresh-cut grass. Lilacs. Fig anything. Actual perfume: Miss Marisa by Ebba.
Would you ever visit a nude beach?
Probably not, ha. But if that's your thing – do you.
What are you most afraid of?
Failing.
What's your favourite snack?
Cheese. I really, really love cheese.
What are you most grateful for?
My support system. My family, my boyfriend, my close friends – they are all worth their weight in gold. As you get older, it's about quality, not quantity when it comes to who you allow into your inner circle. I have a group I can really trust and supports me 100%.
How do you feel about pets?
They are my whole life, ha. My 3 ratties are so spoiled, but we love 'em to death and I would have 40 more dogs if I could. And a wallaby. And several horses. And goats. And an otter or two. (Have you seen how cute they are?)
What is the worst piece of advice you've ever received?
Play it small. Sure, there's safety in it, but are you ever really happy?
SEE ALSO:
25 Questions with Jodie of Jodie's Touch Of Style
25 Questions with Liz Breygel of January Girl
25 Questions with Marija of The Exclusive Beauty Diary