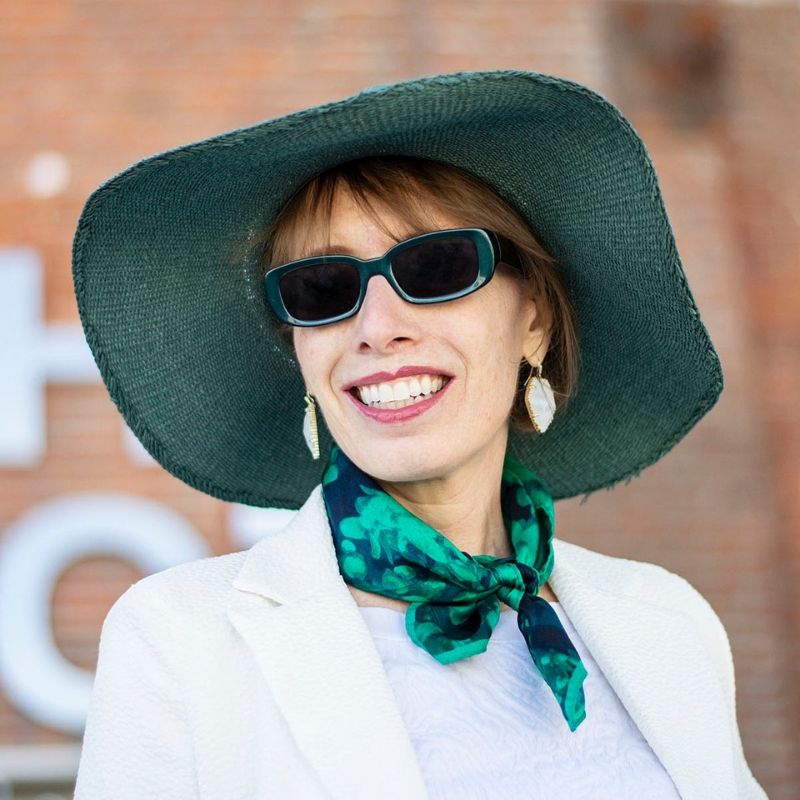 For today's 25 questions we have Jodie Filogomo, a 50+ model and fashion blogger. Jodie blogs at Jodie's touch of style and today we find out more about her behind the blog.
Do you have any hobby?
My biggest hobby is knitting. I taught myself to knit once I finished dental school and have been addicted ever since. It's definitely a creative outlet for me, and I love not only the process but the end result too.
How long have you been blogging?
I will have been blogging for 6 years this November. It's been a fun journey.
When and why did you decide to start blogging?
Once I sold my dental practice, I thought about becoming a personal shopper since I absolutely love to shop. While I was thinking about this, my husband suggested that I start a blog about fashion. With that in mind, I wanted to do something different than everyone else. I figured including my mom and stepmom would have more interest since it would include 3 decades of women with three different styles and body shapes.
What is your number one blogging tip?
I think the best tip about blogging, is to be writing about something that either you love or are very interested in. Even if that is something you want to get better at or learn more about. That and be open to new ideas. Just because you are blogging about something does not mean you know everything about that. To me, I learn something almost daily from comments or suggestions from others.
What was your first job?
My first job ever was babysitting. I used to sit for a young boy down the street while I was in high school. The job was to hang out with the boy when he got home from school until his parents got home from work. Since this was an everyday thing, I became good friends with the whole family and used to travel with them too.
What language would you love to learn?
I would love to learn French. I started taking classes in high school, but never continued it. I think it's good for the brain to keep learning things like that, so maybe one day I'll continue my lessons.
What is your biggest regret in life?
If you had asked me this 15 years ago, I would have said it was marrying my first husband. However, now I realize that even our mistakes provide lessons for us in life. And I wouldn't be who I am without these experiences.
Which is your favourite decade and why?
I would have to say my favorite decade is now. I'm trying hard to enjoy life every day and not focus quite as much on the future or the past. Sure, I love looking back at past decades for many reasons. But today is a gift.
What is your favourite childhood memory?
As a young girl, I loved roll top down desks for some reason. I think it has to do with my obsession with organization. Anyways, for my 10th birthday, my parents bought me one, and snuck it into my room while I was sleeping (obviously I was a heavy sleeper). When I woke up, it was the best surprise.
Do you have any irrational fears?
Let's just say that I am not a fan of creepy, crawly things.
Is there anything you cannot live without?
Right now, I'd have to laugh and say my smart phone. Isn't that terrible??
What is your favourite TV show?
We haven't been watching tv lately. We cut the cord 2 years ago and rarely watch it anymore. But when we were watching shows, one of my favorites were the home redesigning shows.
What is your favourite kind of cereal?
When I was a kid, Apple Jacks was my absolute favorite. Right now we eat Cheerios, but I love them all!
What is something you've done recently that you are proud of?
I joined the Forever Fierce Group on Facebook a couple of years ago and even reached out to become an administrator of the group. I'm not one to volunteer much, but this group has been life changing for me.
Describe yourself in 3 words
Colourful, Quirky and Huggable
If you could have a gift card to any store, where would you want it to be?
Would it be awful to say Target? I just love the variety of products they have including their clothing.
What is one style trend you want to try but haven't?
I'm not sure there is one right now. I've been trying very hard to be open to everything lately.
What is your number one beauty must have?
A good stay on all day lipstick. Especially when we go take blog photos, I don't want lipstick on my teeth or have to be replying it. I found that Maybelline has a couple of great ones. Although I'm trying to work on finding more natural brands too.
Do you believe in soulmates?
Absolutely. I found mine 15 years ago and it makes life so much better.
What's the funniest thing you've done to get a crush's attention?
When I was a tour guide at the mint, I was trying to get this guy's attention who was on my tour. We were talking at one point and I pointed out this lady with this crazy outfit. It was his aunt. So embarrassing.
Which is the best advice you've ever received?
You can do/be anything. My mom used to tell me this as a young girl.
How do you want to be remembered in life?
As someone who accepts others and is kind. Kindness is king in my world.
What do you wish you could tell your 18 year old self?
I would tell my 18 year old self to stop being so scared of everything. Especially being scared of failing. I feel like I learn more from my mistakes than anything else.
What are you most grateful for?
It may be cliché but I am the most grateful for my husband. He has made me a better person.
SEE ALSO: 
25 QUESTIONS WITH AGBESHIE