As summer fades away, the arrival of autumn brings with it a certain sense of wonder and change. The air turns crisp, leaves paint the trees with vibrant reds and oranges, and the world seems to slow down just a little bit. With this transformation, it's natural for us to find ourselves contemplating the season's timeless questions – the mysteries of life and the meaning behind it all.
Why do leaves change color in autumn? What is it about this time of year that evokes such a sense of introspection? These are just a couple of the many autumn questions that often arise during this unique season. Let's take a moment to explore and ponder some of these intriguing queries.
Questions To Ask Your family This Fall
What fall scent smells the best?
What's your favorite fall activity?
Where's your favorite place to go in the fall?
What's your fondest fall memory from your childhood?
What fall holiday do you enjoy most?
What fall holiday from another culture would you like to learn more about?
What's your favorite fall food?
What are you thankful for this autumn season?
What's your favorite thing to watch in the fall?
What happen to the magic season?
What makes leaves change their color?
What country did Halloween originate from?
What is the most popular Autumn tradition in the world?
Do all trees change color and drop their leaves?
Do leaves change color at the same time around the world?
Why do leaves change color?
What causes the different colors in fall leaves?
Why do trees drop their leaves?
What is so special about red leaves?
Are fall leaf colors the same everywhere?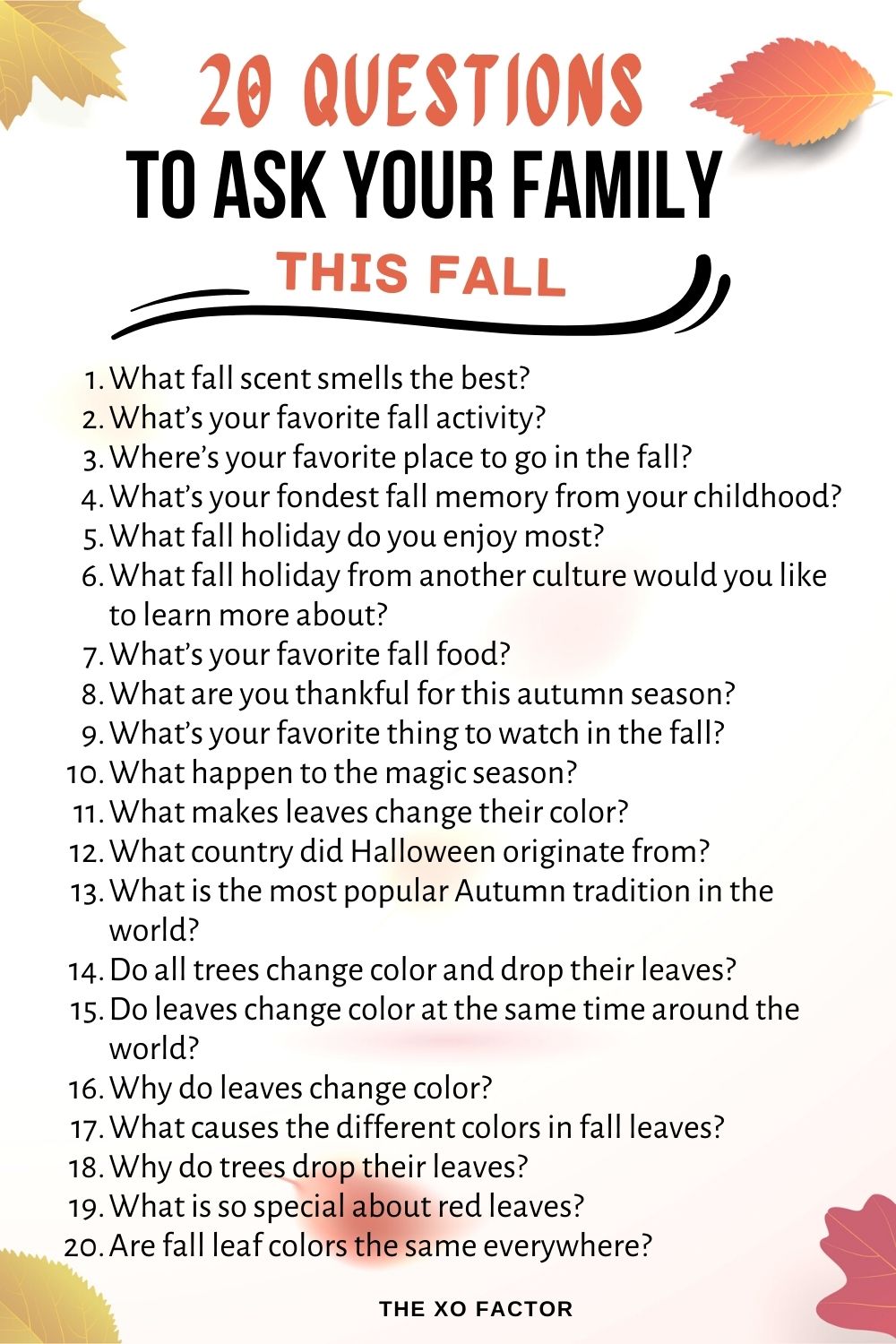 Would You Rather Fall Questions?
Enjoy a pumpkin spice drink or apple cider?
Get lost in a corn maze or spooked in a haunted house?
Eat caramel apples or candy corn?
Watch football or baseball? (It's the playoffs!)
Jump in a pile of leaves or go on a hayride?
Go to a corn maze or haunted house?
See the leaves change in Colorado or the leaves change in New England?
See the fall leaves change in the USA or the spring cherry blossoms change in Japan?
Extend summer and go to the beach or go on a fall camping trip in the mountains?
Carve a pumpkin or eat the pumpkin seeds?
Get lost in a corn maze or go on a hayride?

Live in an apple orchard or a pumpkin patch for a week?
Go horseback riding or swing on a tire swing?
Have a pumpkin hat or pumpkins for shoes?
Have a corn cob nose or sunflowers for ears?
Run through a field of sunflowers or jump in a pile of leaves?
Go on a hike in the woods or for a bike ride in the city?
Have chicken noodle soup every day or chili every day?
Drink hot cocoa or cold apple cider?
Make s'mores on a campfire or read a book in a hammock?
Take a weekend trip to a cabin in the woods or house at the lake?
Splash in mud puddles or walk on crunchy leaves?
Wear a raincoat or carry an umbrella?
Participate in a pie eating contest or judge a pie eating contest?
Eat pumpkin soup or pumpkin bread?
Smell like vanilla or smell like cinnamon?
Wear big warm slippers or thick fuzzy socks?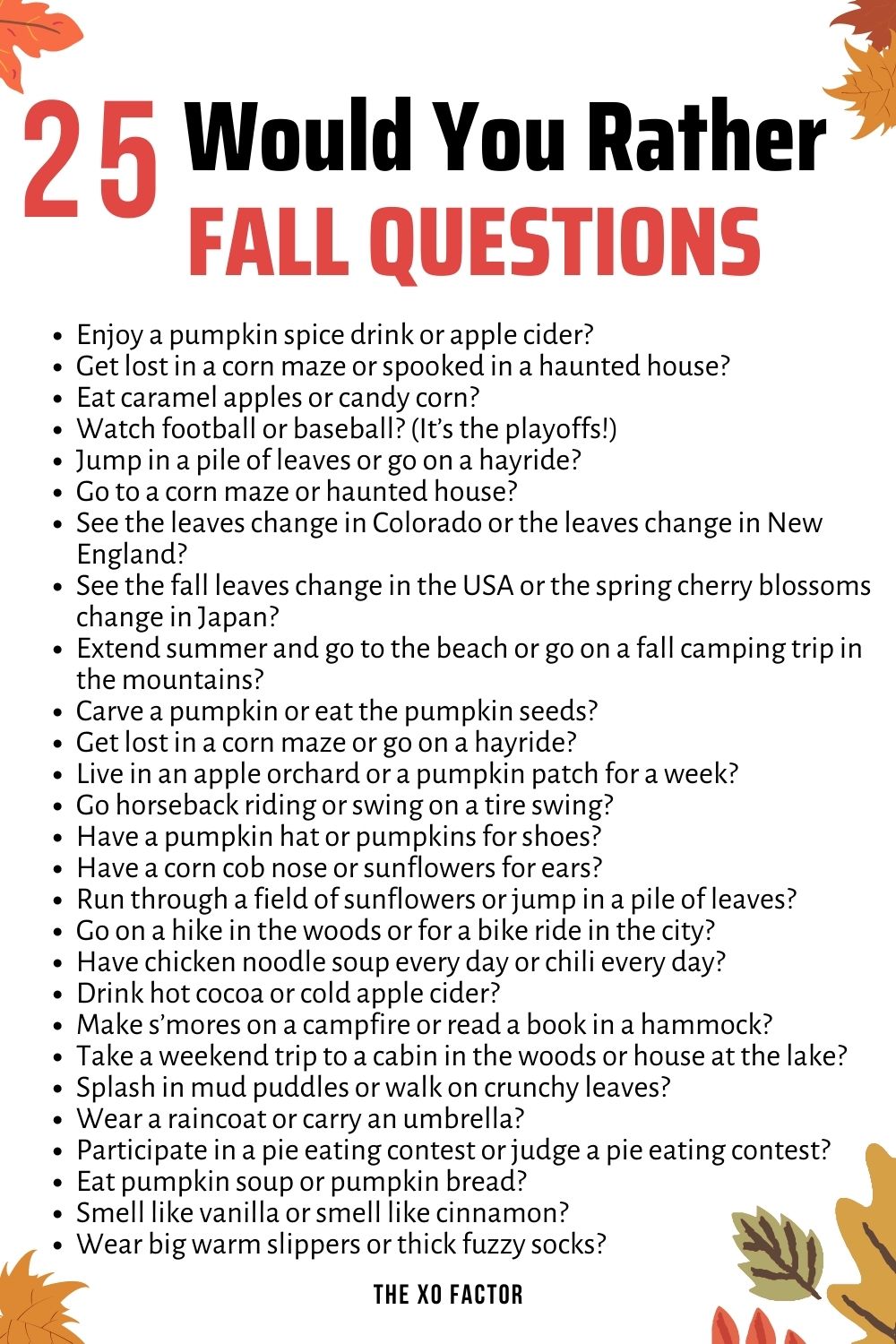 20 Questions For Autumn Lovers
Favorite thing about Autumn?
Spooky Autumn or cozy Autumn?
Haunted house or Halloween party?
Carve pumpkins or paint pumpkins?
Go apple picking or go on a hay ride?
Pumpkin spice latte or mulled apple cider?
What did you dress up for Halloween last year?
The sound of falling rain or a crackling fireplace?
Have you purchased any fall decor yet?
Favorite photo that you took last Autumn?
Favorite color to wear in Autumn?
Favorite Autumn-themed movies?
Favorite Autumn-themed book?
Best way to spend a rainy day?
Favorite Halloween candy?
Favorite Autumn quote?
Favorite Autumn leaf?
Favorite Autumn activity?
Favorite Autumn scent?
Is your birthday in Autumn ?
Related Posts
If You Could:
See the leaves change anywhere in the world, where would you go?
Dress up as any character or thing for Halloween this year, what would you dress up as?
Eliminate one fall tradition, which one would you get rid of?
Help harvest any fruit or vegetable in the fall and get as much as you want in return for your help, what would you help harvest?
Control the weather and extend one season for a full year without experiencing any other season in 365 days, which season would you choose?
Tell Me About:
Your favorite fall tradition.
An adventure you want to take one fall.
Your favorite drink to enjoy in the fall.
Your favorite aspect of fall.
Your favorite memory of the fall when you were younger.
Best Autumn Questions
What do you imagine when you think of fall?
What's your worst moment in autumn?
And what's your best moment in autumn?
Your favorite outfit to wear in autumn?
What do you have on your to-do-list this autumn?
How do you treat fall "depression"?
Best music for dark, rainy days?
What TV-series are the best to watch during the autumn season?
What is your favorite autumn meal?
Any trips planned this autumn?
In conclusion, autumn is a captivating season that invites us to ponder life's mysteries and embrace the transformations within and around us. Whether it's marveling at the changing colors of leaves or contemplating the deeper meaning behind the season's nostalgia, autumn is an opportunity for introspection and growth. So let's ask those autumn questions, seek the answers within ourselves, and celebrate the beautiful journey we're all on.