There is something about the sunset that isn't just beautiful but it is also so magical. They have a transcending quality to them. They captivate us, draw and our gaze upward. If you've never watched the sunset, then you should put that on your to do it.
We've put together some stunning sunset captions for Instagram if you have a beautiful sunset photo you want to share on Instagram.
Mother Nature doesn't need a filter.
Sunset state of mind.
Fifty shades of pink.
Born to chase sunsets.
The setting sun kindled the sky.
Sunsets are proof that endings are beautiful
Sunsets always bring a fresh start
Never go too long without watching a sunset
Forever that girl that gets really excited when the sky is in pretty colors
Sunset. This is my favorite color.
The only kinds of sunsets that I don't like are the ones that I missed.
You can never watch too many sunsets.
Cherish every sunset.
The sky is aglow with the setting sun.
Erm…okay, so who painted the sky?
Shout out to Mother Nature- putting on a show tonight.
It's all sun and games until somebody gets hurt…or burnt.
Am I dreaming? Or is the sun really setting fire to the sky right now?
I think this might be…Nope, yep- that's definitely it. That, right there, is paradise.
I want to spend the rest of my sunsets with you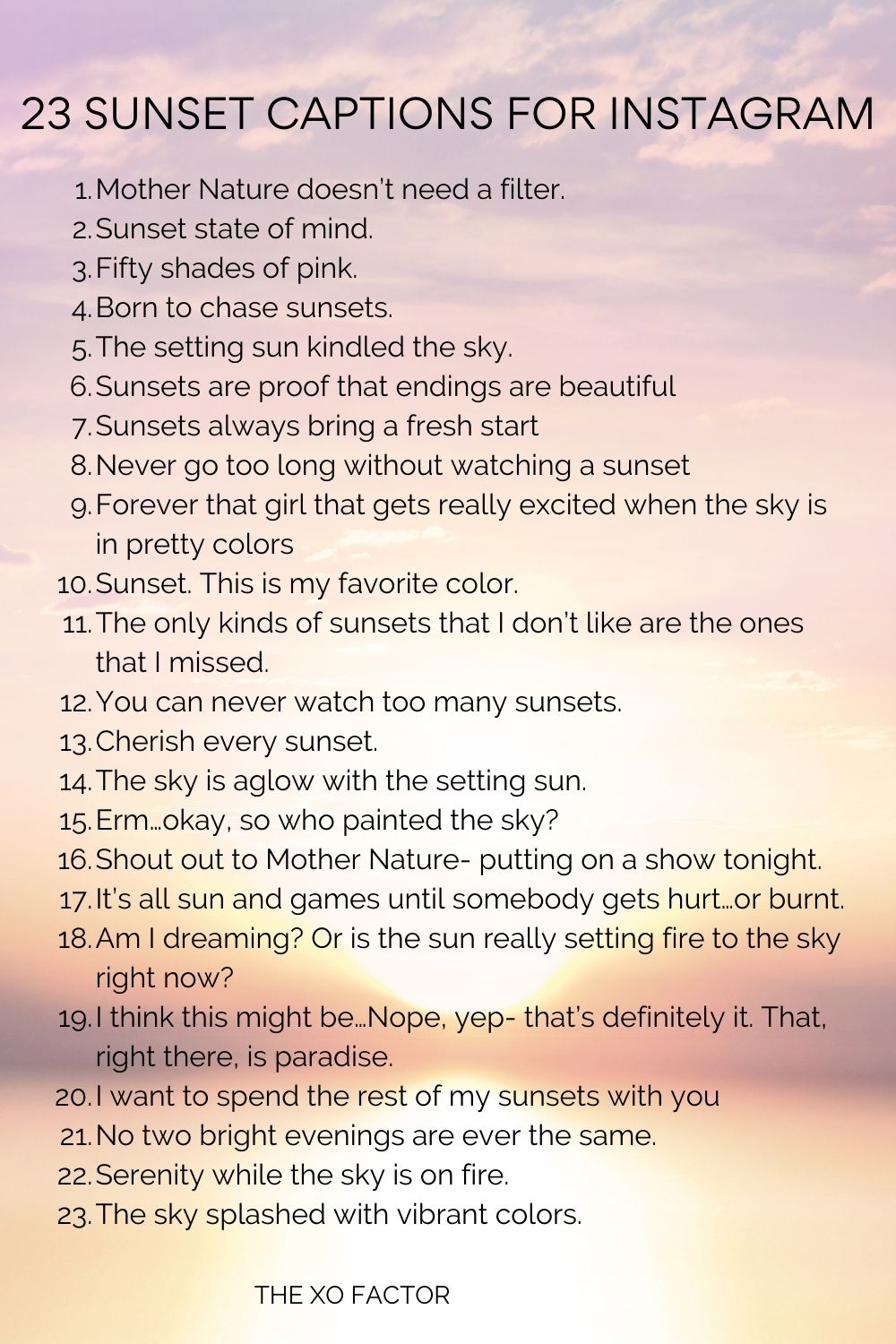 No two bright evenings are ever the same.
Serenity while the sky is on fire.
The sky splashed with vibrant colors.
This is my happy place
Clear your mind, watch the sky
I long for endless evening colors.
Everything gets hotter when the sun goes down
Adore gold skies
Sunsets are one thing in life that won't wait.
Priceless sunset is the best.
Sunset breeze always colorful
Pink haze, perfect days.
Born to chase oranges, yellows, and blues.
The sunset sky speaks of a thousand of colors.
Wait till the sunset to shine like a star.
A sunset should never go unnoticed.
I long for endless horizons
Paradise found
And in this moment, the world felt still
Many things in life can wait, but the sunset won't, watch it.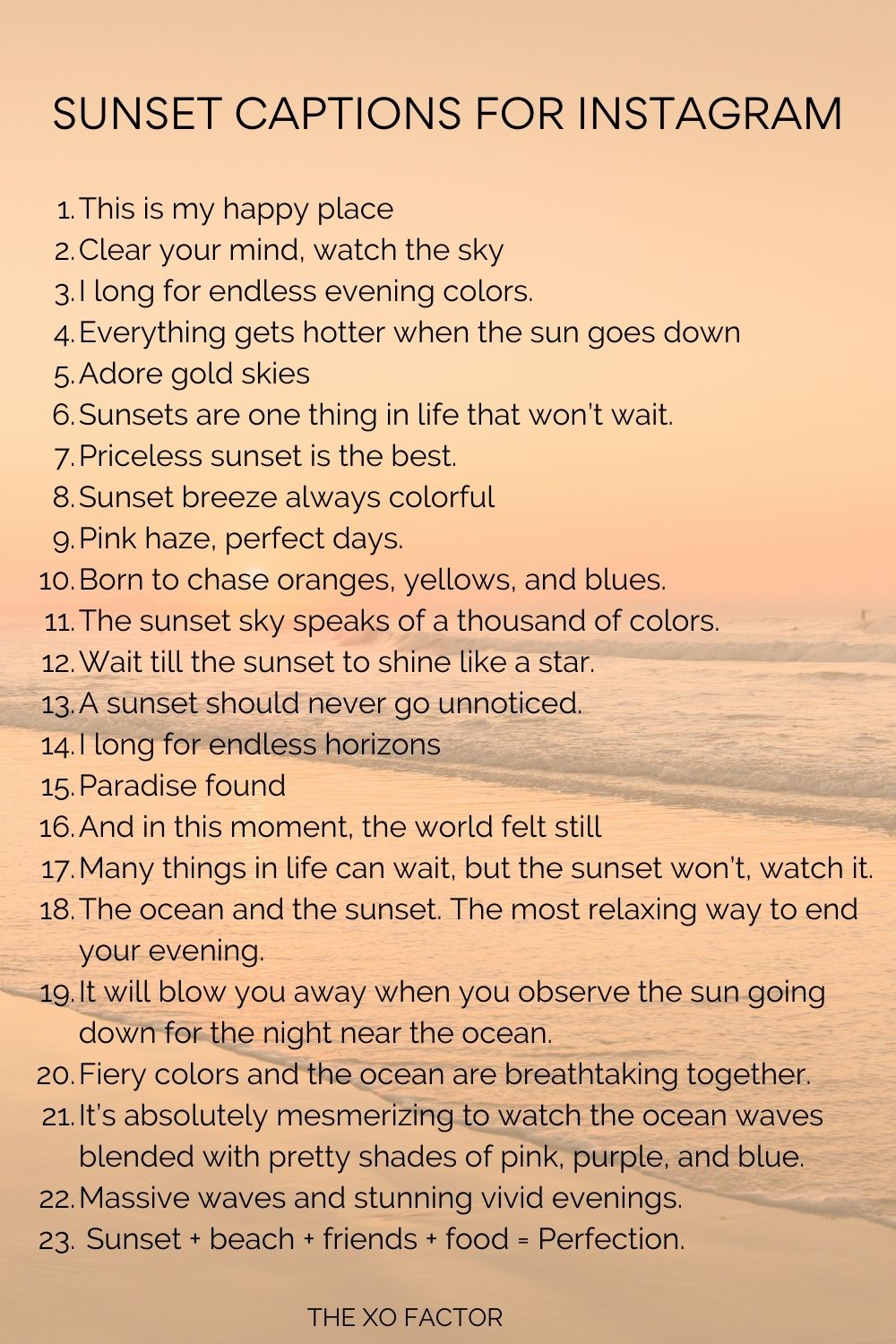 The ocean and the sunset. The most relaxing way to end your evening.
It will blow you away when you observe the sun going down for the night near the ocean.
Fiery colors and the ocean are breathtaking together.
It's absolutely mesmerizing to watch the ocean waves blended with pretty shades of pink, purple, and blue.
Massive waves and stunning vivid evenings.
Sunset + beach + friends + food = Perfection.
Beach bums and setting suns.
Twilight + Beach = Perfection
Sunset beers, beach-side cheers, and dreamy days.
Sunsets and mountain breeze.
Related Posts
A real sunset is an array of colors behind a mountain silhouette.
I climb mountains so I can see where the sun sleeps.
There's nothing like a Smoky Mountain sunset.
Sunset mountains, clear skies, bonfire nights, breathing snowflakes – the essence of beauty is all around us!
To view a sunset from above the trees is to find heaven.
How glorious a greeting the sun gives the mountains
Sunsets and soulmates.
Color soaked skies and you at my side. Paradise.
The most beautiful sunsets are the ones we share.
All I ever wanted was to dream another sunset with you.
I want to see a whole world of different color-soaked skies with you.
Kiss me the same way the red sun kisses the sky.
Why is sunset more colorful than sunrise? It's an irony of life saying sometimes, good things happen in goodbyes
When you watch a sunset, you're not in the moment; the moment is in you.
I love you to the sunset and back.
Live by the sun. Love by the moon!
There's nothing more magical than watching a sunset with a loved one.
Here's a lifetime of golden sunsets spent together.
In this moment the sun wasn't shining on us. It was shining in us.
Loving the sunset. Loving life. Loving you.
Sunset Quotes
Sunset is still my favorite color, and rainbow is second.- Mattie Stepanek
A sunset paints the sky as if there were no tomorrow.- Anthony T. Hincks
Enjoy the beauty of a sunset nature's farewell kiss for the night.- Sharon Rene
With every sunset a new hope is born, and an old expectation dies.- Noor Unnahar
I think sunrises are rarer for me, but sunset is my favorite time of the day.- Jon Foreman.
A sunset will color your dreams.- Anthony Hincks
It's not just a sunset; it's a moon rise too- P. C. Cast
Sunsets are loved because they vanish.- Ray Bradbury
A sunset is the sun's fiery kiss to the night.- Crystal Woods
There is nothing more musical than a sunset.- Claude Debuss