Halloween is just around the corner and I'm sure by now you have everything set for the perfect Halloween costume and celebrations. So see below for some captions to use for your Halloween photos on Instagram.
You better work, witch.
Feeling brew-tiful!
Have a spooktacular night.
You can't always get what you wand.
Bone to be wild.
I'm boo'd up.
Feelin' fang-cy.
Come as you aren't.
Trick or treat yo'self.
You say witch like it's a bad thing.
New mask, who dis?
Ghouls rule and boys drool.
I"m such a haunt mess.
Bat to the bone.
Hot ghoul Halloween.
Keep on and carry a wand
Tricks or it didn't happen.
Can be bribed with candy.
The haunt is on for more candy.
In ghoul company.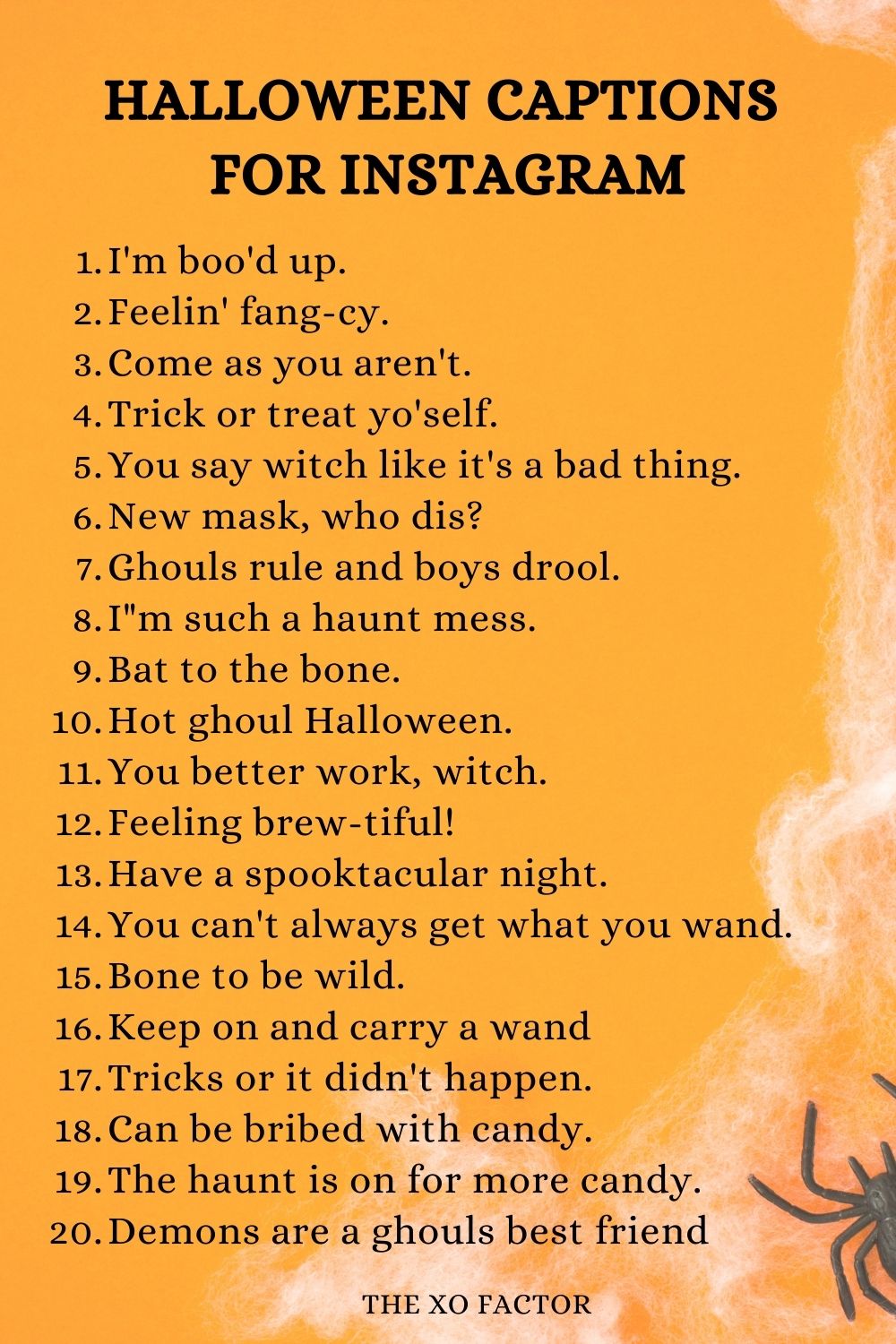 Ghostest with the mostest.
You say witch like it's a bad thing.
Just witchful thinking
This costume is eerie-sistible.
Demons are a ghouls best friend.
Bugs and hisses.
In the Halloween spirits!
Get in, we're going haunting.
Too cute to spook.
Here for the boos.
Time to get this party startled!
SquadGhouls
If the broom fits, fly it.
I'm here for the boos.
Creepin' it real.
Fangs for the memories.
No tricks, just treats.
I can't be held responsible for stolen candy.
Happy Halloween, witches!"
Witch way to the candy?"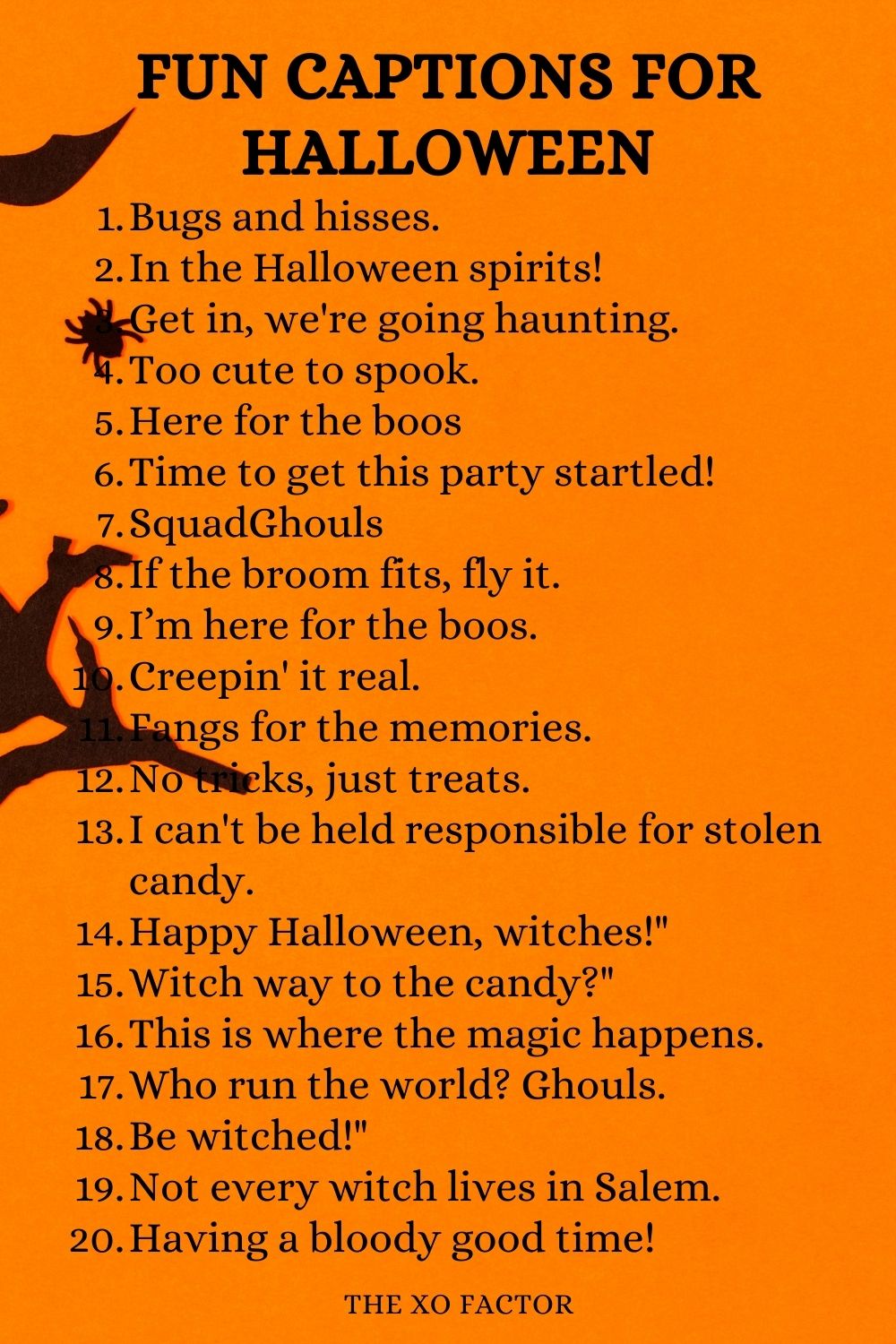 This is where the magic happens.
Who run the world? Ghouls.
Be witched!"
Not every witch lives in Salem.
Having a bloody good time!
Oh my ghouls!
If you've got it, haunt it.
Swish swish, witch."
Meet my boo crew.
New face, who 'dis?
Related Posts
Too gourd to be true.
Too ghoul for school.
Demons are a ghoul's best friend.
You bewitch me!
Ghouls just want to have fun.
Happy Howl-oween!
Time to get spooky.
Howl you doin' good lookin'?
Love at first bite.
Are you afraid of the dark?
Keep calm and scare on.
I only have pumpkin pies for you.
Keep calm and carry a wand.
Have a very scary Halloween!
Eat, drink, and be scary.
Have a very scary Halloween!
Eat, drink, and be scary.
Just a bunch of hocus pocus.
Something wicked this way comes.
Wishing you a fang-tastic night.
Every day should be Halloween!
Never fully dressed without a wand.
Mischief managed.
Sweet like candy.
Halloween night is simply bewitching.
I'm under your spell.
Happy Haunting!
Feeling witchy on All Hallows' Eve.
Bad to the bone.
Feeling fa-boo-lous.
Wishing you a haunting night.
Tonight the main food groups are candy, candy, and more candy.
Ready for a wicked good time.
I've been ready for Halloween since last Halloween.
Creep it real."
Boo Felicia."
Get in, loser. We're going haunting."
Witch better have my candy."
If you've got it, haunt it."
Witch better have my candy."
"Witch, please."
What's up my witches?"
If you think I'm a witch, you should meet my sister."
Basic witch."
Fangs for the memories."
Where my ghouls at?"
Bow down witches."
Ghouls just want to have fun."
"Resting witch face."
Can I witch a ride? My broomstick broke."