Nerline Germain, a beauty blogger at Chic From Hair 2 Toe, shares with us summer essentials she keeps in her bag. Keep reading to find out more.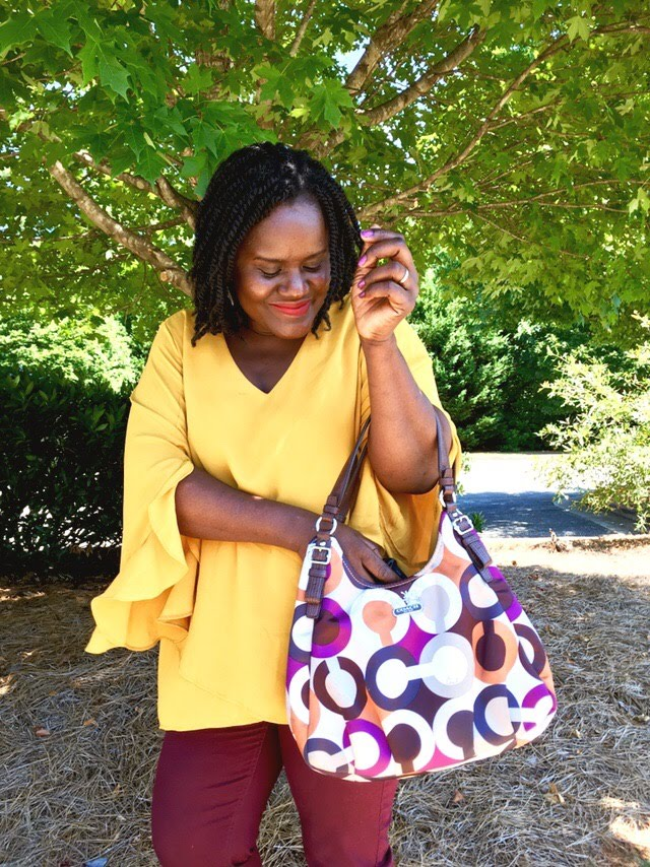 It's hard for me to do what's in my bag posts, because my bag changes from season to season. For example, I carry an umbrella during the rainy season, which means I need to have a tote bag. I also carry sunscreen and wipes around summertime. But today, I want to share with you what's in my handbag this summer!
What's In My Bag This Summer
Eyeglasses and a book
I am currently reading The One and Only and I take it with me wherever I go, especially to doctors' appointments. And you know summer and sunglasses go hand in hand. I can't drive without my prescription glasses, so I take them with me everywhere I go, too.
My wallet
My wallet actually transforms into a shoulder bag. It holds sentimental values because it is a gift from my husband. I know it looks small in the picture, but it's actually very big. It's one of my favorite Vera Wang products.
Notebook, pens and phone
As a blogger, I write a lot. And as a writer, I pick my pens carefully. I love using Paper Mate and Pilot pens. Most of my notebooks are colourful because they give me life and encourage me to write. I am bad at keeping my phone in one place in my bag. But believe me, I always have it.
Makeup bag
I choose my makeup bag based on where I am going. I have a small one for date night, which contains my face powder and lipstick. The big one contains wipes, nail files, hair ties, and actual makeup products.
Hand Moisturizers
I leave my hand creams in the car during the cold seasons, but I keep them in my bag when it's hot outside. I love using body butters instead of lotions because they keep my hands moisturized longer.
My camera
My husband gave me this camera for my 42nd birthday and I am so in love with it. It's not too bulky and it takes the best pictures. I mostly use it when we go on vacation, or when I am doing a campaign that requires high resolution pictures.
These are all the things that I carry in my bag during the summer. Like I said, these things change depending on the season. I love to carry tote bags during the rainy season, because they are big enough to carry my umbrella.
What about you? What is the one thing you cannot leave the house without?
SEE ALSO:
25 Questions with Kathrine Eldridge
25 Questions with Ashley White of Le Stylo Rouge
25 Questions with Marija of The Exclusive Beauty Diary
[ReviewDisclaimer]