Ghana is a beautiful country situated in West Africa, with rich culture and amazing people. It is considered one of the most peaceful countries in the world and there are so many things to love about this country.
Below are some short poems about Ghana, to help you know more about this country and its culture and heritage.
Poems about Ghana
Welcome To Ghana by Edward Kofi Louis
'Akwaaba'! 'Akwaaba'! !
'Akwaaba' to Ghana,
The Black Star of Africa!
Like shopping the past in descent ways,
I have more news for you;
Welcome to the land of my birth.
Tourism, tourism, tourism!
True tourism comes from Africa!!
Where nature abounds for you to smile always;
So, come to Ghana and see things for yourself.
Visit the Gateway of Africa,
'Akwaaba' to the land of Freedom!
'Ghana your beloved country is free forever!!!
Whose idea was it?
Whose vision was it?
Whose motivation was it?
There are many answers to the world
So sweet when you do visit us in Ghana;
On the West Coast of Africa!
Ghana is full of natural resources,
Africa is full of natural resources;
'Akwaaba' is the message full of,
The hospitalities of the Ghanaian;
So, come and see things for yourself.
From the Castles of Slavery Days to,
The jungles of the animals;
'Akwaaba' to Ghana,
The Gateway of Africa!
From the cultural acts to traditions,
Your camera shots will fill your luggage;
What about the heat of the Sun?
'Waooo'! You will be touched with extra vitamin D;
It's all in the land of Freedom and Justice!!
source: https://www.poemhunter.com/poem/welcome-to-ghana/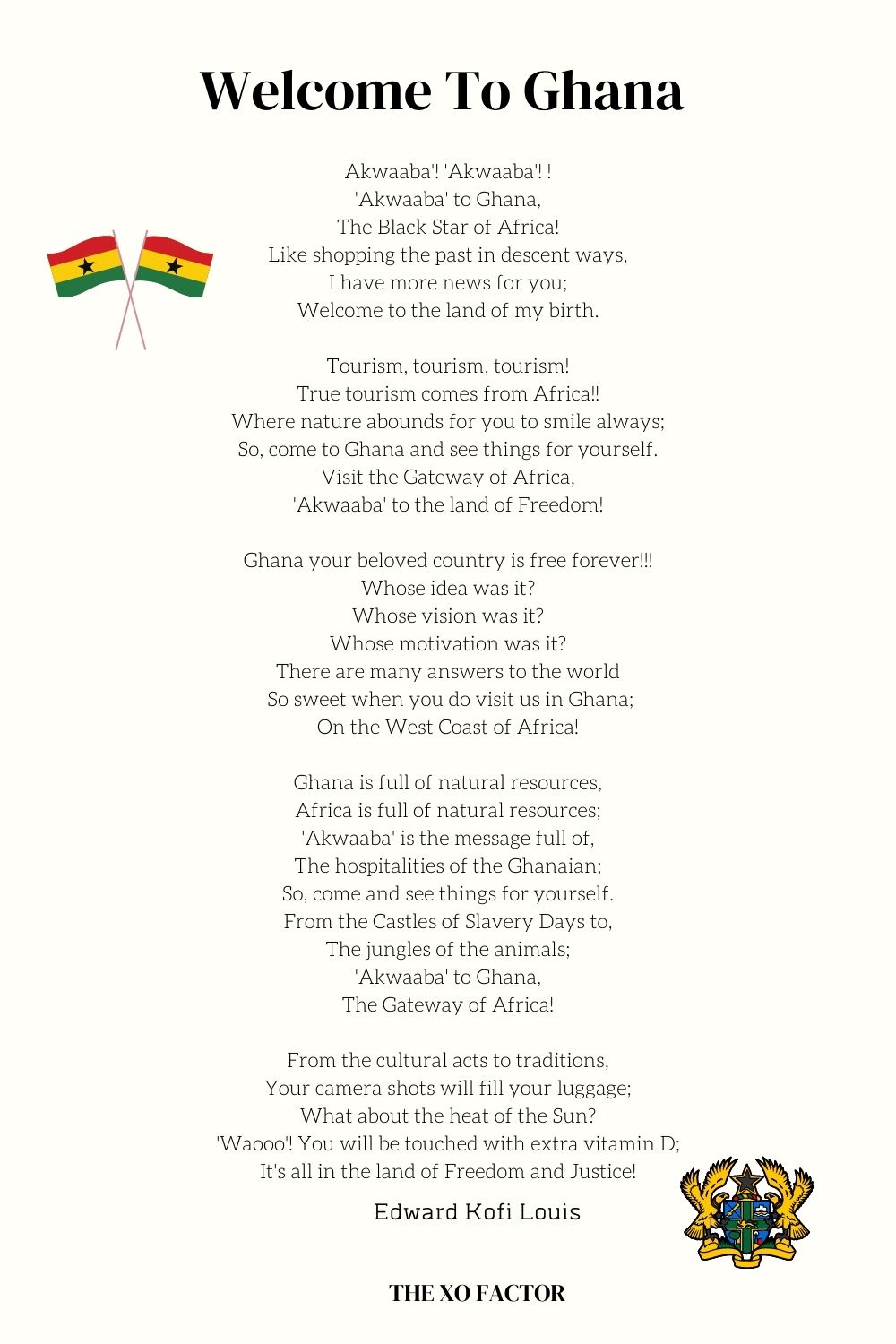 My Country Ghana by Joseph Sakyiamah
A beautiful gold found in centuries
With the sound of proclamation, it sat on a stool,
Craft with integrity, humanity, generosity, peace and humbleness
It has the coat of many colors,
Its people are always proud to dance and sing along
When the wind blows its sweet voice to the atmosphere
With the rhythms of a feel, of its high-life music
A queen in nature, with an eloquent boldness
Who trades with excellence, purity and maturity of pure values?
A hope in the weave basket of fascinations
The pin in the flesh which never hurts, is my country Ghana.
source: https://www.poemhunter.com/poem/my-country-ghana/
Ghana's Most Beautiful by Lovett Listowel
When drums are head
When beads on the ankle rattle
When flute gives it traditional rhythm
One thing comes in mind, the lives of our fathers
The rhythm of their heartbeat.
Their quest for unity. We display them
We are Ghana's most beautiful
The eyes of our region.
We represent our culture and the beauty of Ghanaians.
Our culture and hospitality make aliens natives of our land
We are Ghana's most beautiful.
We are women of diverse cultures, but common history.
We use beauty to promote unity
We use beauty to discourage conflict.
We use beauty to tell you, your history.
We are Ghana's most beautiful, the eyes of our society.
source: https://www.poemhunter.com/poem/ghana-s-most-beautiful/
Ghana The Beautiful Land by Mehta Hasmukh Amathaal
Ghana means sing
And naa mean no
It doesn't means sing no
It is Ghana and people must know
Feel proud
And say it loud
You belong to great country
Join the drive for prosperity
Make it sure
Your country is not safe heaven in future
For outfits involved in terrorist activities
And you all are striving hard for making treaties
Treaties for rural development
Farm products and above all healthy environment
For all people to earn at domestic market
And open the avenues for products
So Ghana deserves to be sung
In international scene to bring all development aids
And build the country to make a concerted bid
source: https://www.poemhunter.com/poem/ghana-the-beautiful-land/
Born In Ghana by Edward Kofi Louis
Muse, life, joy, peace;
Born in Ghana and raised in Ghana,
With the ways of my culture educating me along!
As the rainbow came and honoured my name;
Like a beautiful scene in an African village.
The African,
The poet;
The Ghanaian,
The writer;
With songs of love from my birth and,
With the songs, joy from my heart to the world!
Birth, baby, son, Edward Kofi Louis;
Born in Ghana and raised in Ghana.
source: https://www.poemhunter.com/poem/born-in-ghana/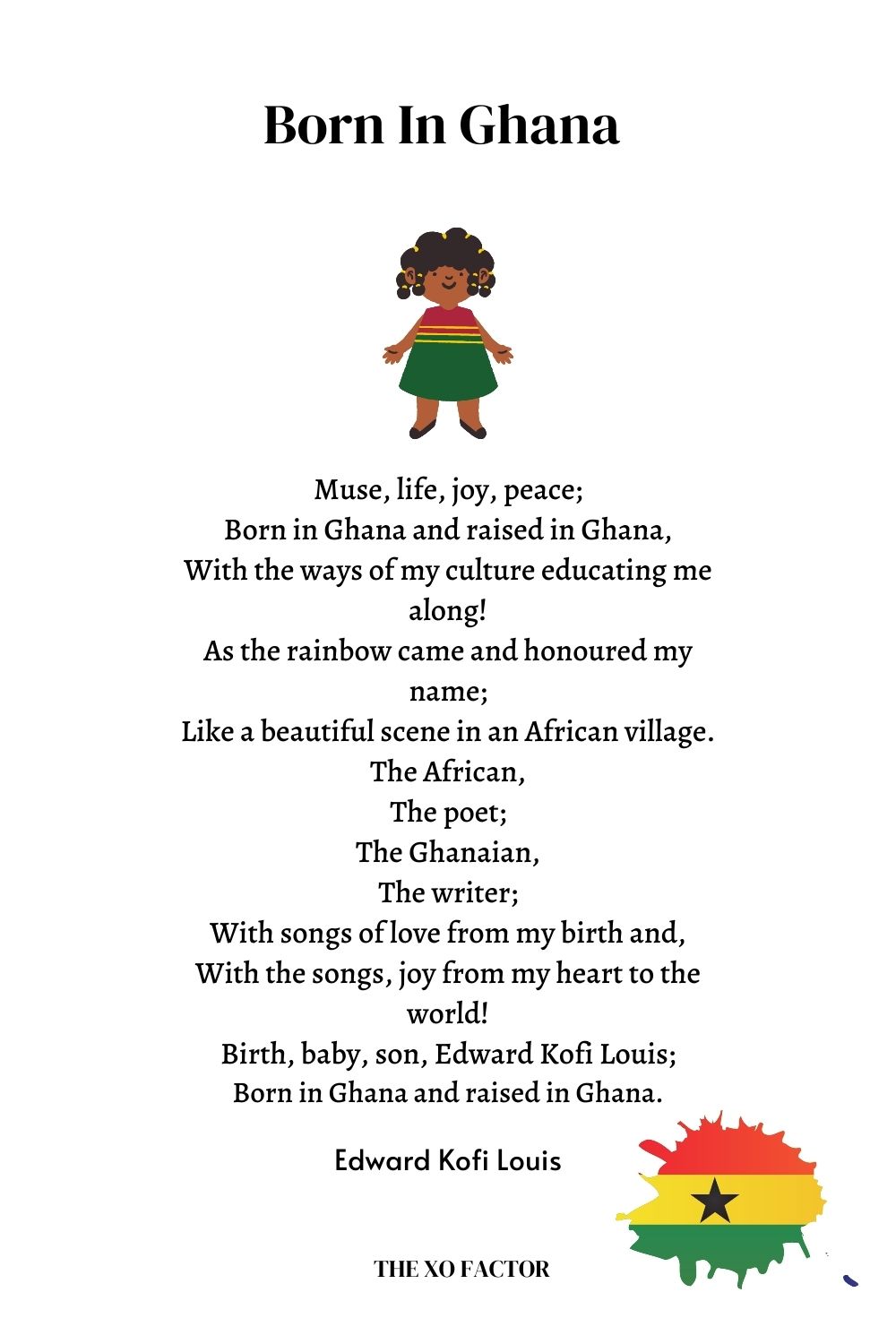 Long Live Ghana by Mehta Hasmukh Amathaal
Long live Ghana and its loving people
Who have waged continuous struggle
And stood firm for peace and stability
That shows people's will and ability
We, the poets, shall contribute
To the cause and try to dilute
Any dark clouds that try to hover
And threaten peaceful convert
We shall meet and exchange
Give full coverage
Of the great country
That has done so much for the harmony
We are pleased to land on great soil
That shall allow us to avail
To meet people and sing in praise
With single voice to the peak raised
Let time not slip away from our hand
As we find people in short as true friends
World needs to come close
And show the willingness for trust to repose trust
source: https://www.poemhunter.com/poem/long-live-ghana/
Ghana Calling by Mehta Hasmukh Amathaal
Whenever you are in delegation
Visiting any country or, nation
Your heart is filled with pride
There is much more willingness to and amusement to hide
What a country and what a resources!
All natural with forests
Animals and trees
Deep jungles and high seas
The country ahs to share
Show to world what they admire
What is their contribution towards peace?
How does their population face?
No one shall speak against
But carry impression about hospitality as best
With praising words for people and nature
For stability and bright future
We are here in Ghana
Not republic banana
\but great with human ideals
And making world to feel real
Come here and see no color
Only respect and honor
It is open invitation
For building international relation
source: https://www.poemhunter.com/poem/ghana-calling/
Those Great Entertainers Of Ghana by Francis Duggan
Those great entertainers of Ghana
To their drumming, they dance and sing
Music, song and dance
An integral part of their culture with them
'Tis a natural thing
Compared to them, I feel quite ordinary
As if my feet are tied to the ground
They sing, dance and drum with a passion in them
Talent seem to abound
They bring to this great Southern Country their culture from so far away
In these simple lines,
I do thank them for bringing great joy to my day
So dark and so handsome and lively
Their whole beings are bubbling and bright
They dance, sing and drum with a passion in the Australian warm sunlight
A long way from tropical Ghana to this sunny Southern Land
They bring their joyful culture with them
This marvellous African band
This town that is not known for culture is becoming more multicultural of late
A World without cultural borders is a thing that we should celebrate
And these great entertainers of Ghana
They have brought great joy to my day
And I'll retain fond memories of them what better of them can I say.
source: https://www.poemhunter.com/poem/those-great-entertainers-of-ghana/
Related Posts
Ghana Independence Day by Iniduo Iniduo
The first sun in springtime,
A fresh nation and a giant step
Towards freedom and justice.
Shine like a pearl,
Here comes the sun.
Ghana is free forever.
source: https://www.poemhunter.com/poem/ghana-independence-day/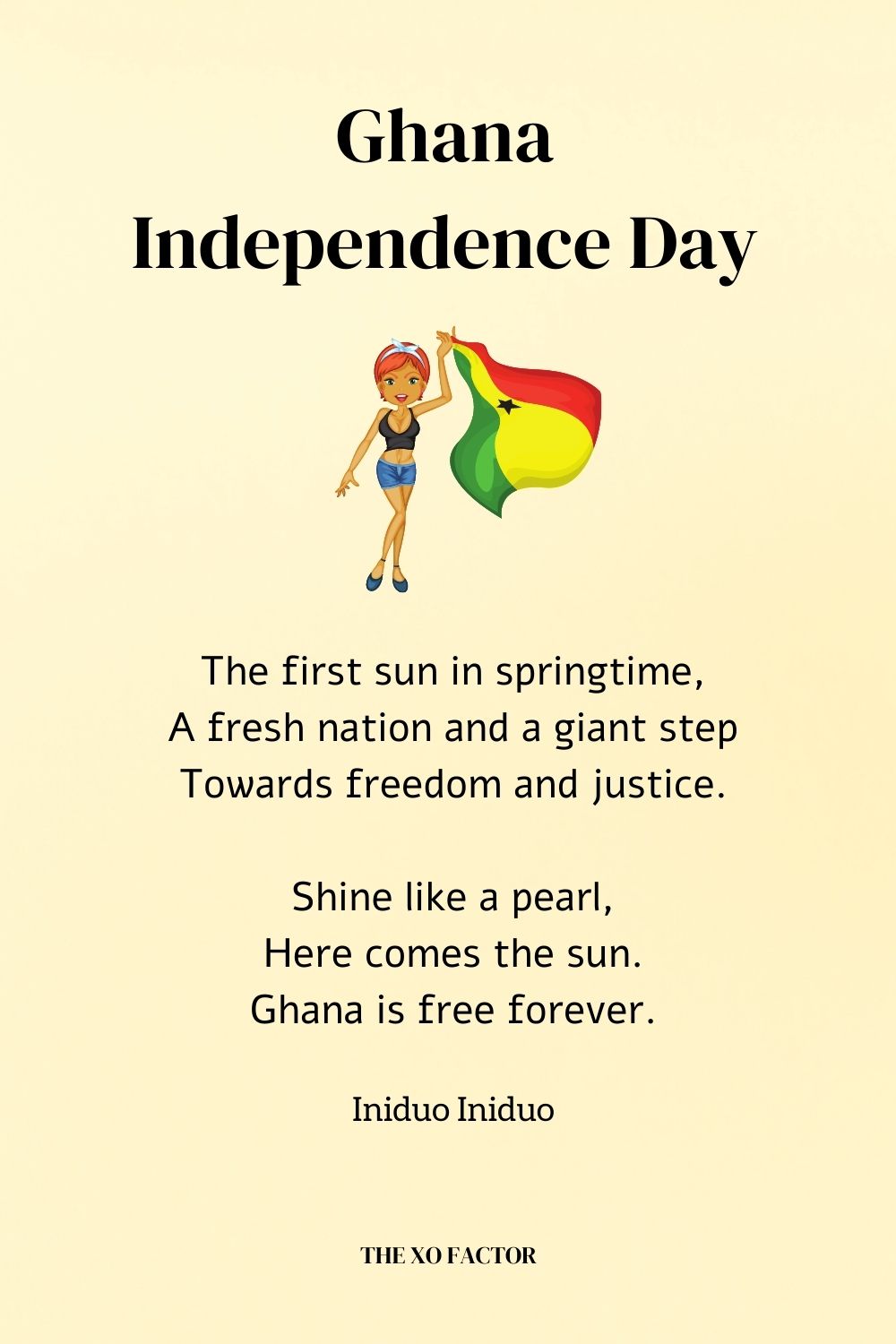 Sylvia´s Song Of Ghana by Sylvia Frances Chan
The journey to Ghana, start of her sequel
She enjoys this travel, yes this beautiful travel
On one square mile, God all the while, you see
She visits many places of ancient hidden traces
She feels God´s presence with her constantly
in any dwelling places on eras ago cases
It was de l´homme par l´homme law that ruled
Oh very tragic, just like a jig-saw
Healthy lovely innocent people died
A very slow unnatural death
in the notorious dungeons of Elmina´s own
She could not suspect in those invisible milliard traces
is hidden most tragic history in Ghana´s memory
Ghana is proud to have a memory
only animals have none, she read that quote
in the cozy ancient cabin of Golden Parker Hill
the bookcase with only Dutch storybooks.
source: https://www.poemhunter.com/poem/sylvia-s-song-of-ghana/
Over To Ghana By Mehta Hasmukh Amathaal
What is called down to earth?
Why our roots should be clanged to an earth?
Who knows real never of folks?
The real life lies with people when they talk
Yes we are here
To instill confidence and dare
For their zeal to preserve culture
And secure the country for sure
The poetess is really a combination
Of old civilization
With legal profession
And attachment with compassion
We have seen her inclination
For working among local population
For preservation of what it had as glory
We are simply moved by her personality
We shall land
To befriend
The entire country with our commitment
We are on special drive at present
source: https://www.poemhunter.com/poem/over-to-ghana/
Ghana´s Fortnight by Sylvia Frances Chan
Just a 6,5 hours flight from Amsterdam to Accra,
my loveliest Ghana´s Fortnight
The Land of beautiful fauna, lovely flora and
sweetest Aura and tropical Sauna
In secluded Elmina,
amongst the crazying crowd of rotten fishes smell of ancient success
Behind the dark and huge fortress,
dwells a darkest trace of slaves´
blackest tragedy of Ghana´s famous ancient history
The world´s hidden slaves trading commerce
ancient times of saddest tides urge of Guinea´s Golf of Sea
Having heard and imagined these darkest trading places
in this Elmina´s Citadel, not a place to reside, just to dwell
in this darkest Elmina´s ancient citadel…
source: https://www.poemhunter.com/poem/ghana-s-fortnight/
Voice Of Ghana by Edward Kofi Louis
The voice,
The voice of Ghana!
The choice is mine,
With the muse of my Poetry.
Born to live,
Born to love,
Born to write,
Born to teach,
To reach out to the world !!
With the muse of peace.
Voice Of Ghana,
Voice Of West Africa,
Voice Of Africa! !!
With the style of my muse to the world;
The choice is mine.
Dine with me,
Fine with your art;
Shine, cine, sine, pine, wine!
With the muse of peace and love,
Born and raised in Ghana,
Here today,
Facing the world with my works
source: https://www.poemhunter.com/poem/voice-of-ghana/