Thanksgiving, a beloved holiday celebrated annually in the United States, is a time for reflection, gratitude, and coming together. Whether we gather around a table laden with delicious food or connect with loved ones through virtual platforms, Thanksgiving allows us to express our appreciation for the blessings in our lives. To enhance the festive spirit and deepen our sense of appreciation, incorporating Thanksgiving poems into our celebrations can be a wonderful idea.
Thanksgiving poems, with their heartfelt words and evocative imagery, provide a unique way to capture the essence of this special occasion. They allow us to express our gratitude for the abundance of nature, cherish our loved ones, and acknowledge the blessings that we often take for granted.
These beautiful verses have the power to evoke nostalgic memories, deepen our understanding of gratitude, and inspire us to embrace the true essence of Thanksgiving in a delightful manner.
One popular Thanksgiving poem is "The Pumpkin" by John Greenleaf Whittier. This timeless piece captures the familiar image of pumpkins, an emblem associated with both fall and Thanksgiving. Whittier's words paint a vivid picture of autumn harvest, the golden fields, and the joyous spirit of the season. Through this poem, he reminds us of the abundance of nature and encourages us to appreciate the simple pleasures in life.
Another illustrious Thanksgiving poem is "We Thank Thee" by Ralph Waldo Emerson. With its profound words, the poem encourages us to acknowledge the divine presence in our lives and express gratitude for the blessings bestowed upon us. Emerson's verses remind us that the act of giving thanks is not only reserved for Thanksgiving Day but can be practiced daily to cultivate a sense of joy and contentment.
For those who enjoy humor alongside reflection, "Over the River and Through the Wood" by Lydia Maria Child is a delightful Thanksgiving poem to read aloud. This playful piece narrates the excitement of a family traveling to their grandparents' house for a Thanksgiving feast. The poem captures the festive spirit of the occasion, emphasizing the joy of family connections and the anticipation of a heartwarming celebration.
Incorporating Thanksgiving poems into our celebrations can be a meaningful way to enhance the atmosphere of gratitude and togetherness. They can be recited aloud at the dinner table, shared among friends and family members, or even included in Thanksgiving cards and well-wishes.
These verses serve as a reminder that Thanksgiving is not only about indulging in delicious food but also about cherishing the blessings we have and expressing our gratitude to those who fill our lives with love and joy.
As Thanksgiving approaches, let us embrace the tradition of sharing gratitude through poetry. Let us honor the spirit of the holiday, celebrate the abundance in our lives, and cultivate a deeper sense of appreciation.
In the midst of challenges and uncertainties, Thanksgiving poems can serve as guiding lights, reminding us of the importance of gratitude, connectedness, and finding solace in the beauty of our blessings.
A Thanksgiving Poem by William Ernest Henley
From brief delights that rise to me
Out of unfathomable dole,
I thank whatever gods there be
For mine unconquerable soul.
In the strong clutch of Circumstance
It has not winced, nor groaned aloud.
Before the blows of eyeless chance
My head is bloody, but unbowed.
I front unfeared the threat of space
And dwindle into dark again.
My work is done, I take my place
Among the years that wait for men.
My life, my broken life must be
One unsuccourable dole.
I thank the gods- they gave to me
A dauntless and defiant soul.
Source: https://www.poemhunter.com/poem/a-thanksgiving-2/
A Day Of Thanksgiving Poem by Savita Tyagi
Thanks for beautiful blue skies
Thanks for fragrant air silently filling the garden
Thanks for colorful fall leaves
Swirling and dancing through air even in their demise
The smell of earth mingled with scent of life
Still emitted from fallen leaves
Thanks for crisp afternoon sunshine
Filtering through bare trees
Thanks for little birds' morning chorus-
Busy squirrel's ritual of nibbling on acorns
And depositing some underground
Thanks for my ears and my eyes to be able to watch
This wondrous sight
Thanks for my family and friends
Most of all thanks for this happy state of mind
Receptive to the simple joys of the day
I need not know whom to thank-
It is enough to know that I have so much to be thankful for.
Source: https://www.poemhunter.com/poem/a-day-of-thanksgiving-2/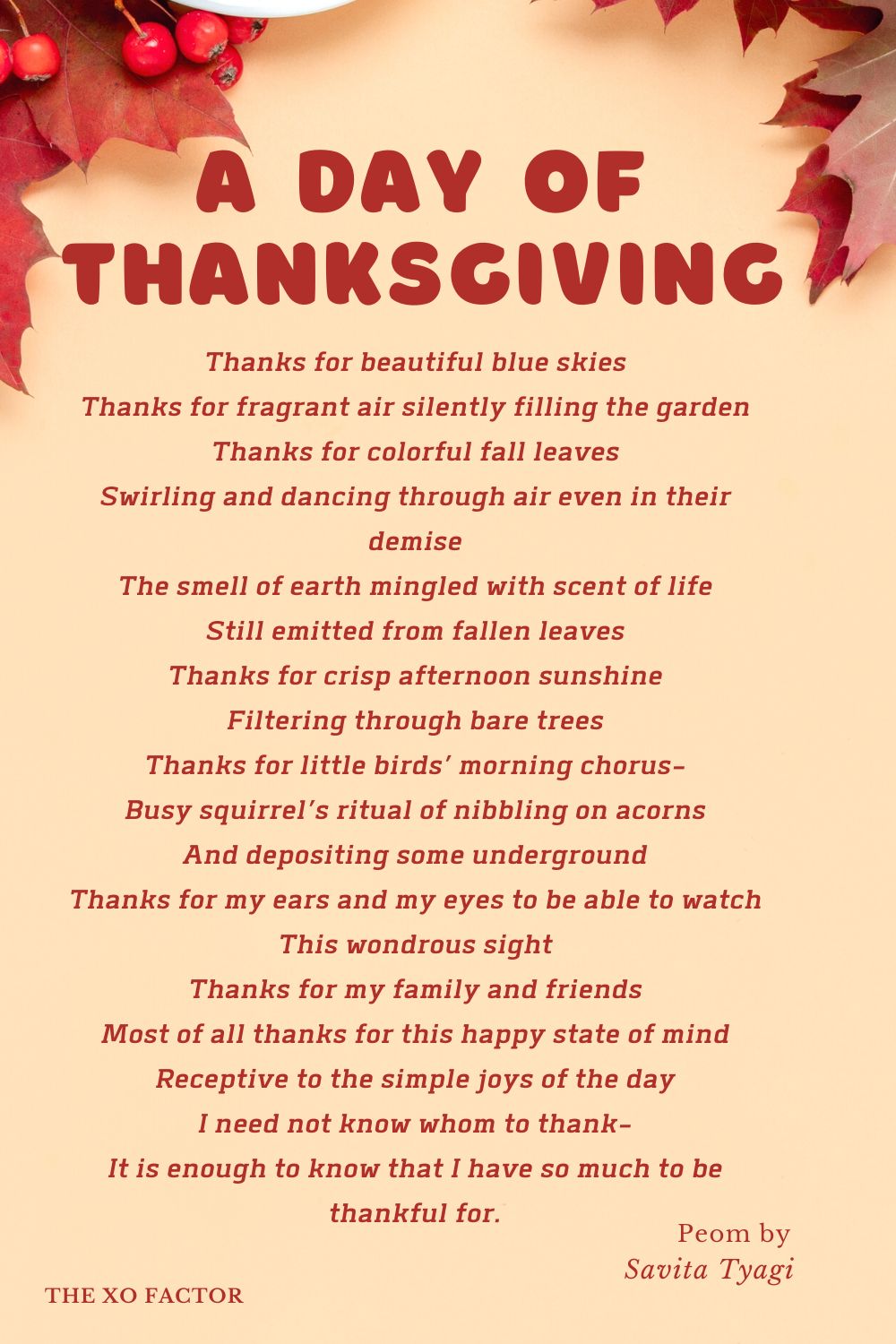 Thanksgiving Day Poem by Lydia Maria Francis Child
Over the river and through the wood,
To grandfather's house we go;
The horse knows the way
To carry the sleigh
Through the white and drifted snow.
Over the river and through the wood–
Oh, how the wind does blow!
It stings the toes
And bites the nose,
As over the ground we go.
Over the river and through the wood,
To have first-rate play.
Hear the bells ring,
'Ting-a-ling-ding!'
Hurrah for Thanksgiving Day!
Over the river and through the wood,
And straight through the barn-yard gate.
We seem to go
Extremely slow–
It is so hard to wait!
Over the river and through the wood–
Now, grandmother's cap I spy!
Hurrah for the fun!
Is the pudding done?
Hurrah for the pumpkin-pie!
Source: https://www.poemhunter.com/poem/thanksgiving-day-10/
On Thanksgiving Poem by Gregory Huyette
Be thankful you can open your eyes wide.
Be thankful for what you see outside.
Be thankful for green grass and blue sky.
Be thankful for all those passing by.
Be thankful for this country so free
Where each can express opinions peacefully.
Be thankful on this Thanksgiving Day.
Repay these gifts in your special way.
Source: https://www.poemhunter.com/poem/on-thanksgiving/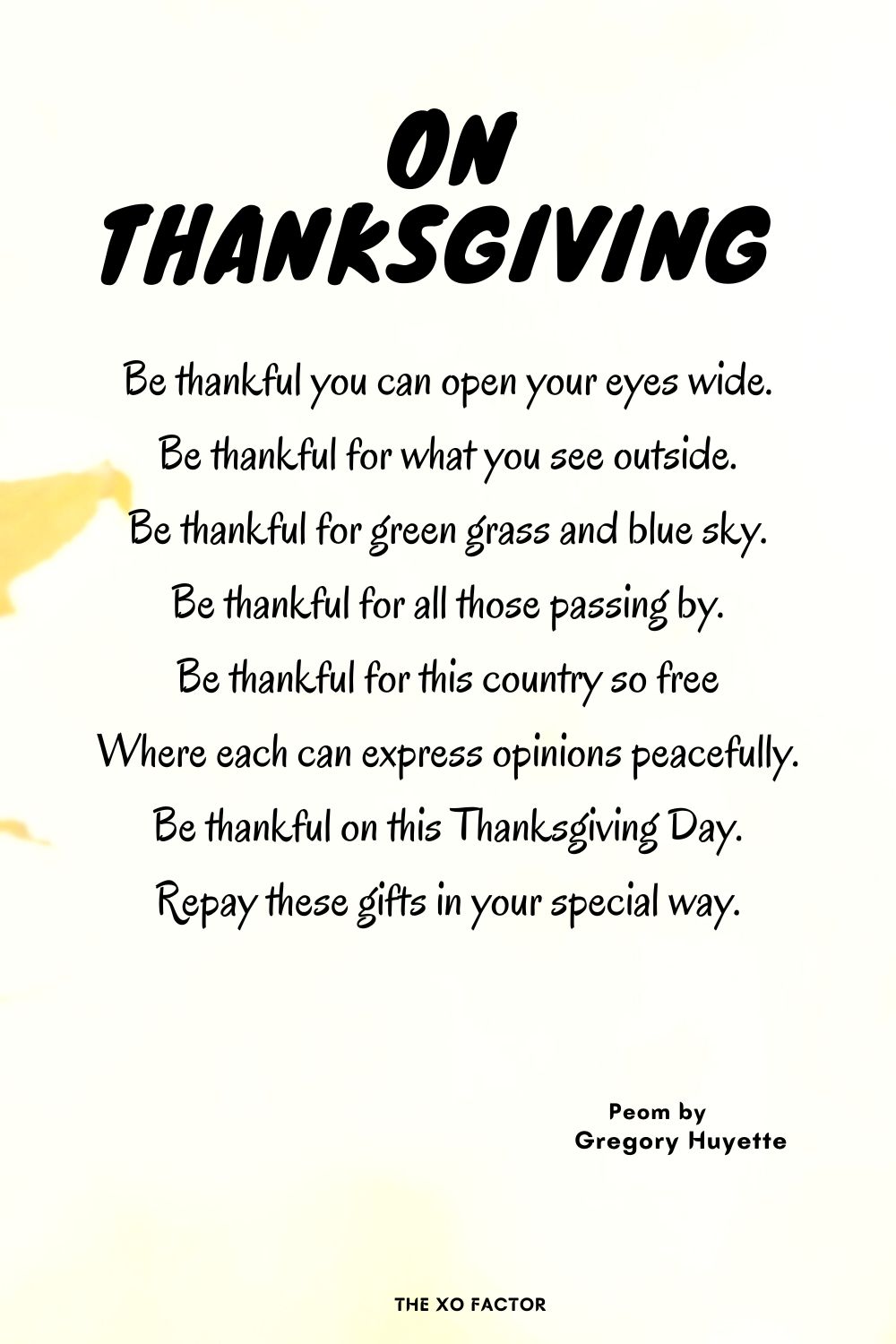 Thanksgiving Is Here Poem by Angel Plant
Thanksgiving is here
Have good cheer
Be with family and friends
Give a kiss or two
Tell someone you love them
Get on your knees and pray
Thank God for what you have
Don't worry about what you don't have
Thanksgiving is here
Lend a hand
Bring joy and peace
Think of all the things
That God has done
Give to the poor
Give a smile and hug
Someone needs you today
Say thank you and please
Source: https://www.poemhunter.com/poem/thanksgiving-is-here/
Thanksgiving Day Poem by Joyce Hemsley
On the fourth Thursday in November each year,
Americans are of good cheer, enjoying fine food and wine,
And thinking of a long-ago time, when the Pilgrim Fathers sailed
In the Mayflower from Plymouth to America's Massachusetts.
Britain's Captain, 'John Smith, gave the region its name
~~~New England~~~ and on every Thanksgiving Day,
Americans enjoy the harvest both the scene and cuisine.
Our place names are linked from way back in history…
The seventeenth century being quite an eventful mystery.
Source: https://www.poemhunter.com/poem/thanksgiving-day-4/
Thanksgiving Time Poem by Clarence A. Graham, Jr.
Thanksgiving Time, Thanksgiving Time
Happy, Happy, Thanksgiving Time
The Pilgrims landed on Plymouth Rock with happiness to come
They came to this country for freedom
The Pilgrims shared with the Indians their food
Both Pilgrims and Indians were in a friendly mood
The Pilgrims had a hard time at first
But, as time passed, the times were best
Their descendants formed the United States
And with other countries were good mates
Source: https://www.poemhunter.com/poem/thanksgiving-time/
Happy..Happy Thanksgiving… Poem by Nesean Coombs
I'm THANKFUL for the kids. Friends. Sisters. Mom and Dad.
Even though sometimes they frustrate and make me mad.
I'm thankful for my wealth, my shelter, and my clothes.
Though the rough way I got to where I am no one knows.
I'm thankful that I wake up and see another day
Though haters don't really want it that way.
I'm thankful I can sit down and really count my blessings.
Even though sometimes my eyes are closed for some of life's lessons.
I'm thankful that you and I are as close as we can be.
Even though it might take time to build our family.
I'm thankful that my kids are sweet and their growing so smart
Even though that was my plan to mold them from the start.
I'm thankful that although you're gone, you still feel close and near.
Even though I'm not through crying all those tears.
I'm thankful that your eyes have read exactly how I feel
Even though I'm just speaking my mind and being real…
Source: https://www.poemhunter.com/poem/happy-happy-thanksgiving/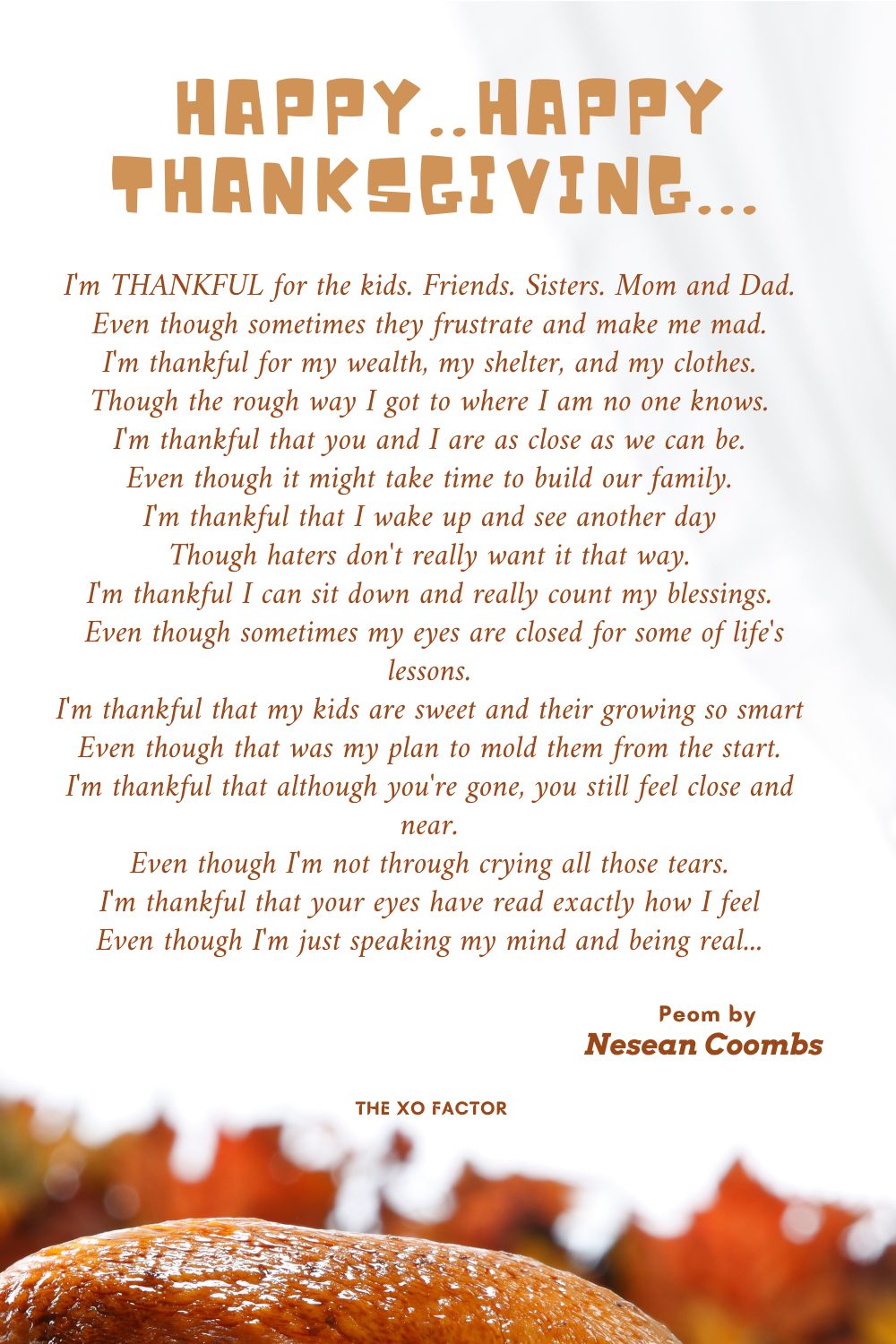 Thanksgiving Ceremony Poem by Gajanan Mishra
Life is a Thanksgiving ceremony,
Let us observe it at every moment.
Thanks to the air, to the water,
To the sun, to the earth,
And thanks to the sky.
They all together build life
In a beautiful way,
And there is no substitute for life.
All touchy, all human,
All love, all truth.
And life has no comma,
No colon, no clause,
Life is not coming under any bracket of time.
Recognize life with its own metaphor and dialects.
Observe life dear, in all formal contexts.
Source: https://www.poemhunter.com/poem/thanksgiving-ceremony/
Thanksgiving Day Is Near! Poem by Patricia Martin
Thanksgiving Day is Near
This is the time of the Year
Where Everyone will come Together
In any kind of weather
Being Thankful! We're all here!
With Our Loved ones! And Those so Dear!
There will be a Great Feast!
Turkey – Ham – Pies and Sweets
Everyone's Ready! Sitting in Place!
While Someone is Saying Grace!
Giving All the Glory! With Praising!
To God Almighty! His Love is Amazing!
For God gave His Only Begotten Son
Jesus Christ! The Anointed One!
Who-so-ever Believes in Him
Shall be Born-again!
Will Obtain Eternal Life!
With Our Lord! Our Savior! Jesus Christ!
On This Day of Thanksgiving! Life IS Worth Living!
With God's Love and Grace! We'll always have a Place!
Source:https://www.poemhunter.com/poem/thanksgiving-day-is-near/
Happy Thanksgiving Poem by Albert Ahearn
It's time for Tom to lose his wattled head.
He's designated martyr for the feast.
We pluck him naked and stuff him with bread
Then roast his hapless carcass whole or pieced.
We carve, dismember, separate his flesh
And pile it high upon a festive plate.
Oh, Butterball you juicy thing, so fresh
And tasty, every bite is simply great.
Although we never heard him gobble
Without a head he cannot demonstrate.
A turkey's future cannot be squabbled
His life is brief and predetermined fate.
Without a turkey, there's no misgiving
There would not be a Happy Thanksgiving.
Source: https://www.poemhunter.com/poem/happy-thanksgiving-2/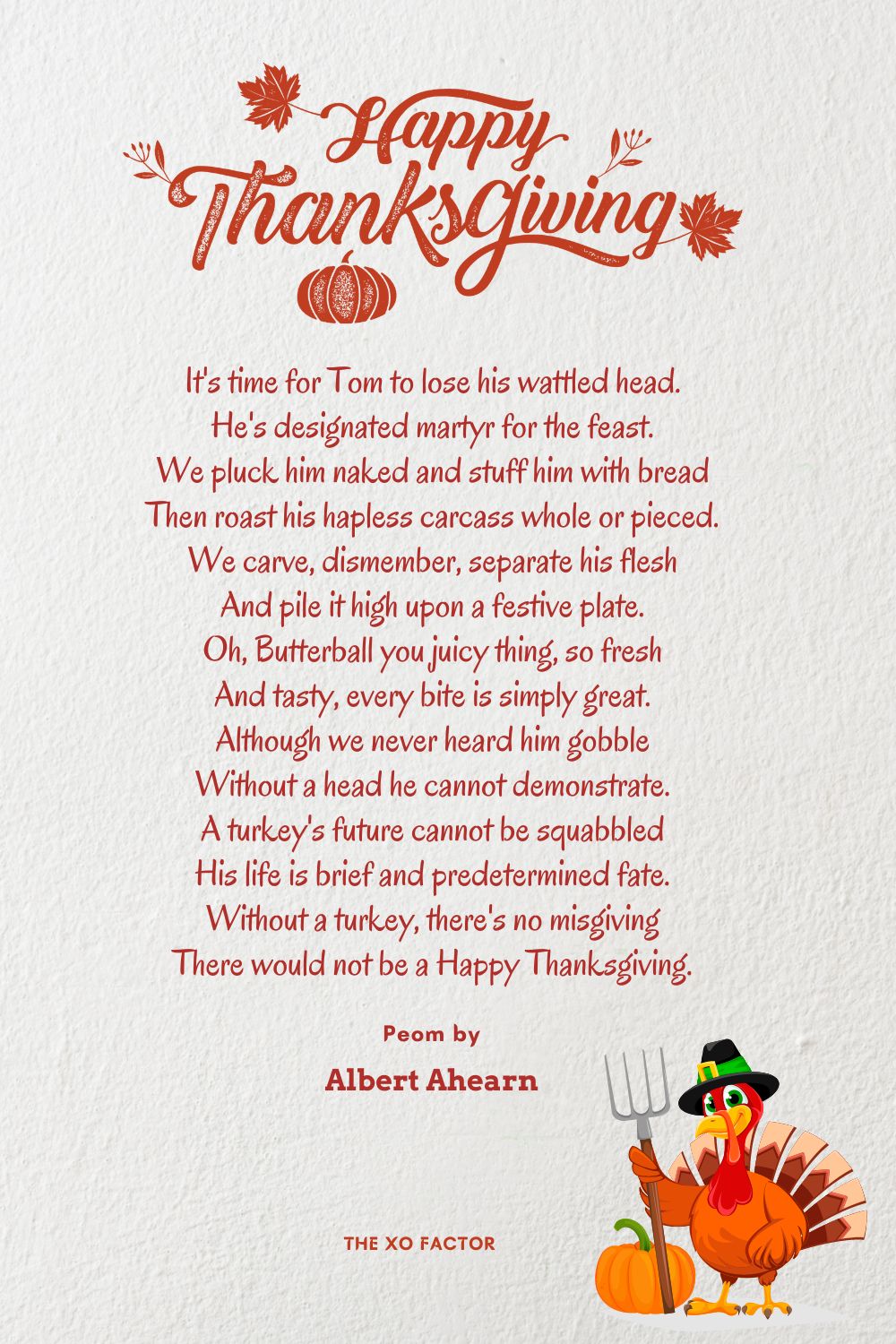 Thanksgiving Poem by Carolyn Brunelle
Dust-laden memories of days gone by
Float in on kitchen clatter
And mingle in the sounds of love and laughter,
Familiar smells of turkey and pumpkin pie.
Loved ones near to us speak of Grace
Old ghosts gather around us in love and joy;
We pass them around like precious old photos
Stored in the attic of our memories.
And we give 'thanks' for another year's journey,
One that has led us all back home
To our roots in one another.
Source: https://www.poemhunter.com/poem/thanksgiving-44/
Thanksgiving Time Poem by Langston Hughes
When the night winds whistle through the trees and blow the crisp brown leaves a-crackling down,
When the autumn moon is big and yellow-orange and round,
When old Jack Frost is sparkling on the ground,
It's Thanksgiving Time!
When the pantry jars are full of mince meat and the shelves are laden with sweet spices for a cake,
When the butcher man sends up a turkey nice and fat to bake,
When the stores are crammed with everything ingenious cooks can make,
It's Thanksgiving Time!
When the gales of coming winter outside your window howl,
When the air is sharp and cheery so it drives away your scowl,
When one's appetite craves turkey and will have no other fowl,
It's Thanksgiving Time!
Source:https://www.poemhunter.com/poem/thanksgiving-time-2/
Related Posts
First Thanksgiving Of All Poem by Nancy Byrd Turner
Peace and Mercy and Jonathan,
And Patience (very small),
Stood by the table giving thanks
The first Thanksgiving of all.
There was very little for them to eat,
Nothing special and nothing sweet;
Only bread and a little broth,
And a bit of fruit (and no tablecloth):
But Peace and Mercy and Jonathan
And Patience, in a row,
Stood up and asked a blessing on Thanksgiving long ago.
Thankful they were their ship had come safely across the sea;
Thankful they were for hearth and home, and kin and company;
They were glad of broth to go with their bread,
Glad their apples were round and red,
Glad of mayflowers they would bring
Out of the woods again next spring.
So Peace and Mercy and Jonathan,
And Patience (very small),
Stood up gratefully giving thanks
The first Thanksgiving of all.
Source: https://www.poemhunter.com/poem/first-thanksgiving-of-all/
Thanksgiving Poem by Favie Erase
Today is a Holiday
Today is Thanksgiving
Today is turkey day
Today is the day you give thanks
Today is the day where you eat with your family
Today is the day where you speak all your heart out
Thanksgiving is one of the best holiday
Thanksgiving means thanking all your friends and family for all they have done for you
Thanksgiving Thanksgiving Thanksgiving
The 15th holiday of the year.
Source: https://www.poemhunter.com/poem/thanksgiving-19/
Thanksgiving Poem by Casey Lyon
A time of people gathering
A time of forgiveness
A time to be thankful for many things
A time for delicious food
A time of laughter
A time of chatter
Those things are all about Thanksgiving which I love celebrating.
Source: https://www.poemhunter.com/poem/thanksgiving-17/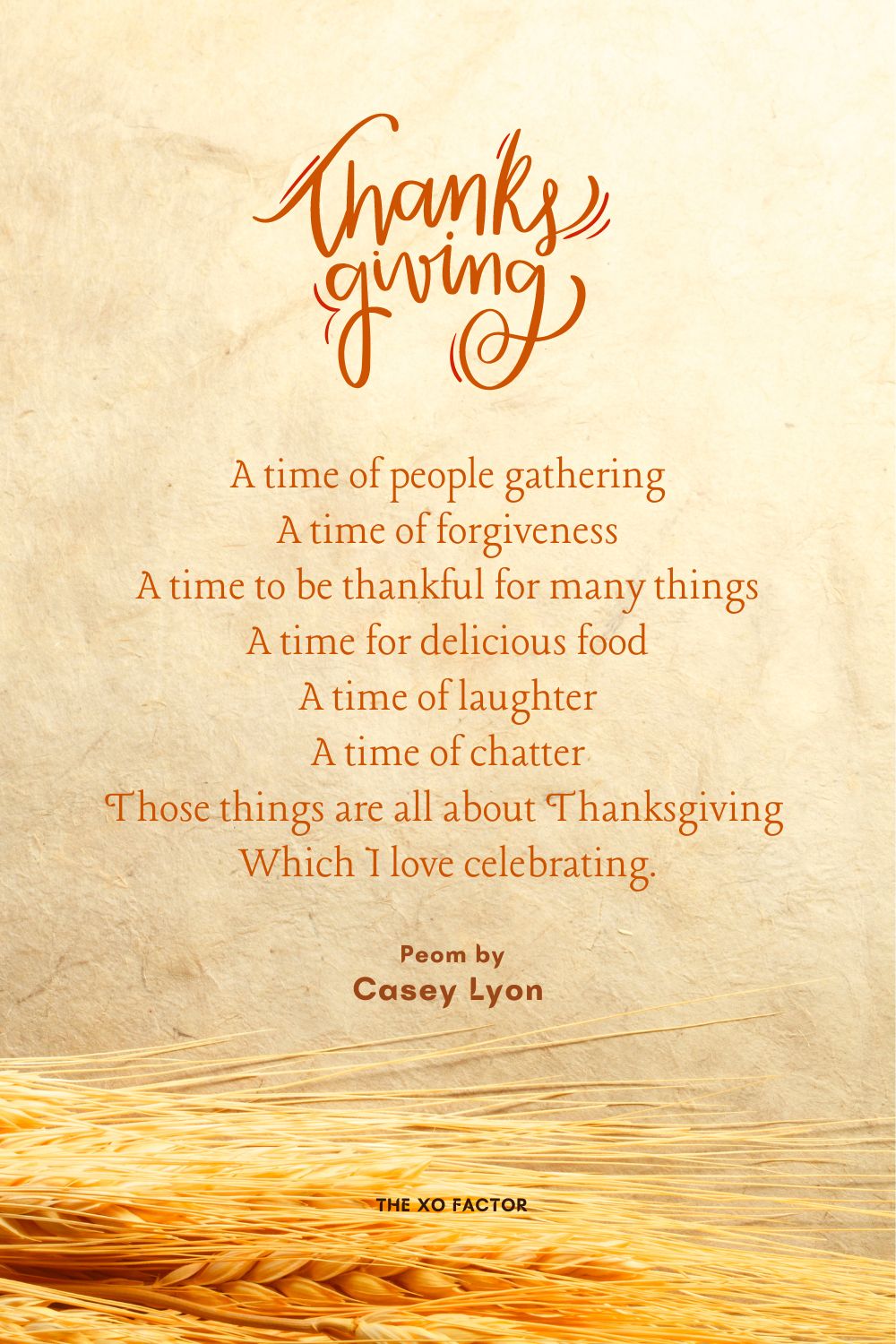 Thanksgiving Blues Poem by Matt Pratt
Turkey, stuffing, taters n gravy,
So much food makes you lazy.
More turkey, green beans n pie.
So much food you might just cry.
So much food it's all delicious.
I noticed no one had tuna fish(es).
We stuff our faces all day long,
Our bellies start to sing a song.
'We're so full please give us a break,
There's not much more that we can take,
Come on, please, just give us a rest,
All this food is too hard to digest.'
But we don't stop until it's done,
We keep on eating till it's no fun.
When the sun rises, we're full of regret.
'Why did I eat so much, ' we fret.
So you should do your belly a favor,
and don't eat just for the flavor.
Turkey, stuffing, taters n gravy,
So much food makes you crazy.
Source: https://www.poemhunter.com/poem/thanksgiving-blues/
Thanksgiving Poem by Herbert Nehrlich
They sat, all twenty-one, like silent lambs.
The church was cold and from the spire there were sounds,
Strung from the pulpit was a bunch of local hams
It was Thanksgiving and the beggars made their rounds.
Give what you can they said, it is the way of God,
And folks would come weighed down by baskets and by bags
And not a single man would find it very odd
That not the butcher but the streetbum brought the snags.
They were the best that premium meat could re-create,
God's call was paramount and brought the masses down
And as the bell tolled singing out to them their fate
They looked with sheepish eyes up to their saviour's crown.
It was of thorns and must have been a real pain
Dried blood was marking righteous nails in hands and feet,
The preacher talked about the past, he mentioned Cain,
And that the home of Mr Streetbum had no heat.
He praised the man for giving all to sick and poor,
The congregation basked despite their frozen breath,
Home was a cardboard box, his kids could not endure
The love of God nor did His grace prevent their death.
Source: https://www.poemhunter.com/poem/thanksgiving-25/
Thanksgiving Poem by Lyndsay Ayliffe
What are you thankful for?
A question asked every year, mostly on just one day
Some say we should think about this every day
But somehow, life always seems to get in the way
Thanksgiving is happiness and laughter
It's a warm cozy feeling
The air is crisp and the food is ready
You sit around the table and say thanks
I'm thankful for my family
I'm thankful for my life
I'm thankful for your laugh
I'm thankful for my friends
I'm thankful for my home
I'm thankful for my pets
I'm thankful for me.
Source: https://www.poemhunter.com/poem/thanksgiving-97/
Thanksgiving Poem by Dianna Nally
At Thanksgiving we celebrate the things we are grateful for
And we will eat, drink and watch football on TV.
It's the one time we allow our men to be couch potatoes
Without making them feel uneasy.
But let's be fair here, it's not only the men
Some of us women watch the game too
I clean up the mess from the Thanksgiving feast
And I watch the game just like some of you do.
I think it's great when the wife sits with her man
And cheers for their favorite team
My man loves it when I do this for him
Now all I have to do is figure out how to get him to clean.
Source: https://www.poemhunter.com/poem/thanksgiving-26/