Nature has always been a source of inspiration for poets throughout history. A nature poem beautifully captures the essence of the natural world, bringing to life its incredible beauty and tranquility. These poems evoke a sense of awe and wonder, transporting readers into a realm where they can connect with the earth's natural rhythms and find solace.
One of the reasons why nature poems resonate with so many people is their ability to capture the intricate details of the world around us. Whether it's the delicate petals of a blooming flower, the gentle breeze rustling leaves, or the vibrant colors of a sunset, these poems have the power to paint vivid images in our minds.
Moreover, nature poems capture the essence of introspection and reflection. They invite us to pause, step away from the chaos of our daily lives, and immerse ourselves in the tranquility that nature offers. In a world obsessed with constant movement and technology, these poems serve as a reminder to slow down and appreciate the simple beauty that surrounds us.
Reading a nature poem can be a transformative experience. It allows us to momentarily escape the noise and demands of modern life, providing an opportunity for reflection and introspection. Whether we are sitting in a bustling city or surrounded by the quiet solitude of a forest, these poems connect us to nature's grandeur and remind us of our place within the larger tapestry of life.
Nature poems also spark a sense of conservation and environmental awareness. They serve as a reminder of the fragile balance between humans and nature, urging us to be more mindful of our actions and the impact they have on the earth. By immersing ourselves in these poems, we can cultivate a deeper appreciation for the natural world and become more conscious stewards of the environment.
Nature poems hold a special place in the realm of poetry. Their ability to capture the beauty, tranquility, and introspection that nature offers is truly remarkable. As we read these poems, we are reminded of our connection to the natural world and the importance of preserving it. So, take a moment today, go outside, and immerse yourself in the beauty of nature – you might find the inspiration for your very own nature poem.
Nature's 'Nature' Poem by Aftab Alam
What nature! Is it more beautiful than the human senses?
What nature! Beyond the imagination of human mind, at my surprise,
Most beautiful are the eyes that drink the nature, beautify it, and keep it in mind.
Nose; that inhales the natures olfactory, makes it divine,
Tongue that praises the Nature, praising the Lord- and its beauty makes it wine-
Ears; that enjoys the music of nature, and sings in rhythm-
Fingers; that touches with coy, Gives the sensational joy,
Beauty differs as eyes differ; It is as per the beholder
We the store house of nature, beauty resides within, him or her
If you search, You will find God, The other name of beauty
Sensuality of human mind is most beautiful, Beauty what it contains-
Nature preserves the nature And we, nature within nature
Source: https://www.poemhunter.com/poem/nature-s-nature-3/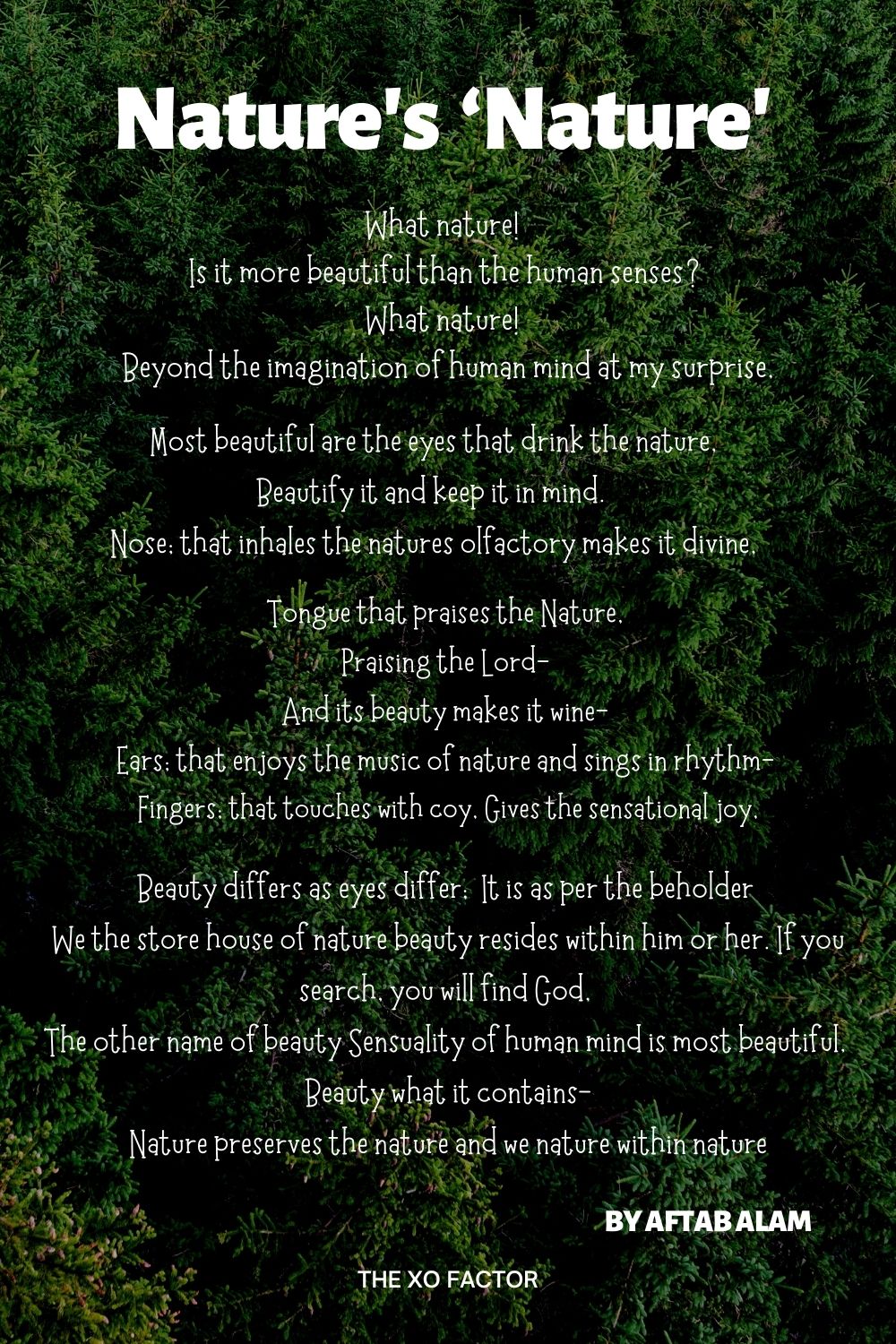 Nature's Beauty [nature] Poem by R.K. Cowles
Through the trunked woody perennials On to a striped back burrowing rodent
Gently the air currents blow Bushy-tail tree dwelling rodent gathering the nuts
Of an oak before the wintering season begins Vivid image of flourishing blooms
Brought about by falling transparent liquids As the feathered songsters croons
Fluttering insects move about with rhythm
Buzzing bees are nourishing on nectar And accumulating the pollen
Encouraging the blooms to grow Bucked tooth, webbed-footed chips through
Trunks of alders and poplars Using for food and its abode Colorful gilled flippers friskily swim
Along the embankment Ripples atop the surface of the babbling brook Brought by hungry scaly swimmers
Glossy black plumage non-migratory Perched on a wooden limb
Long-eared burrowing rodent hopping Through vegetative earth
Prancing through the dense brush
Source: https://www.poemhunter.com/poem/nature-s-beauty-nature/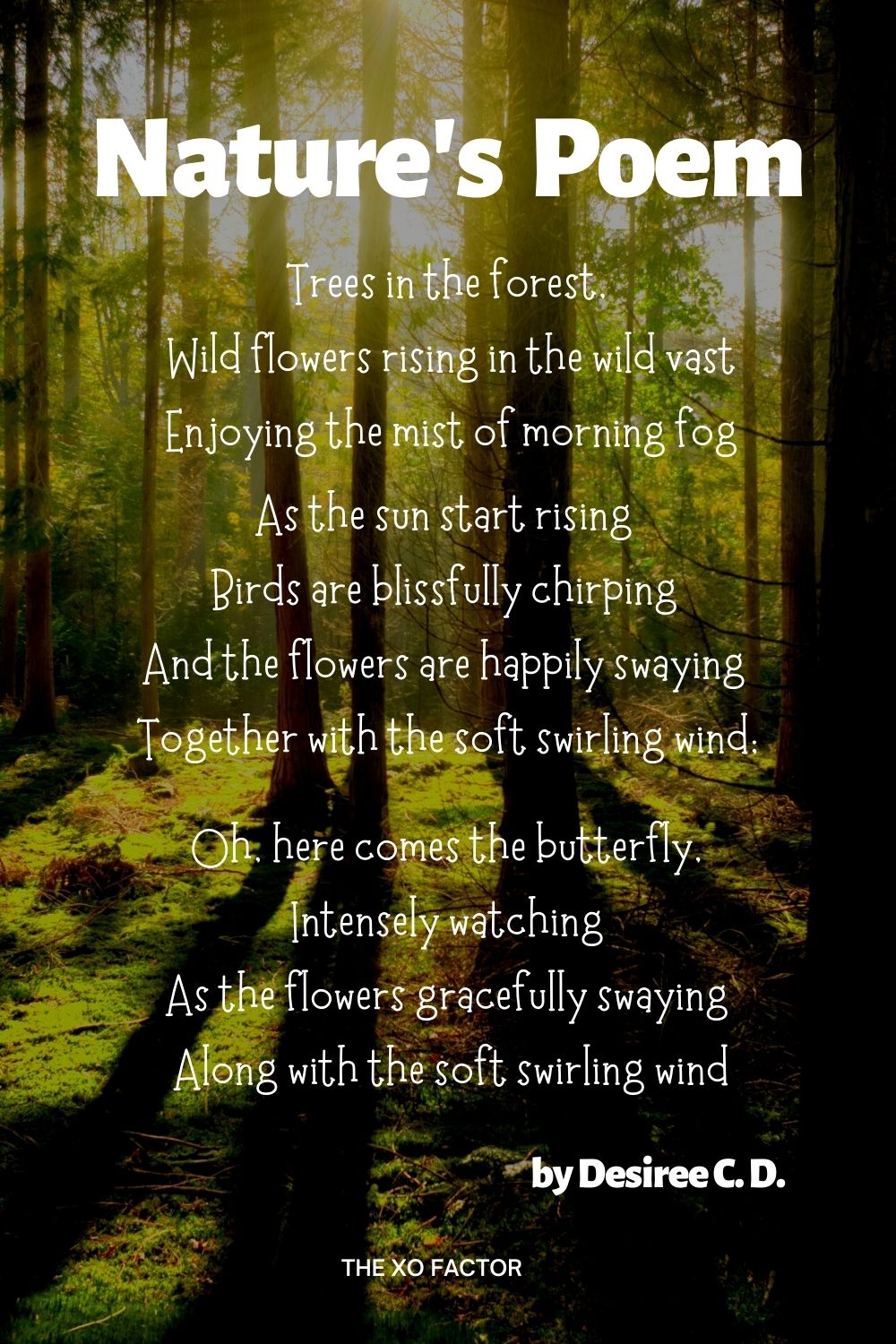 In Nature's World Nature's Wonders Do Abound Poem by Francis Duggan
In Nature's World Nature's wonders do abound The billions of ants that crawl around the ground
The trillions of flying things beetles, flies and bees That buzz around the blossom laden trees.
In Nature's World the birds sing every day And migratory waders from the Northlands far away
On the southern beaches searching for insects ten thousand miles or more From their birthplace on the cold Artic shore.
In Nature's World a bird i often hear and see In the Town park the black and white pee wee
With little variation in his song Pee wee pee wee he calls out all day long.
Of Nature's World so much to learn and know Of how the plants and flowers and grasses grow
And though many of Nature's wonders to recall Her best kept secrets she hides from us all.
Source: https://www.poemhunter.com/poem/in-nature-s-world-nature-s-wonders-do-abound/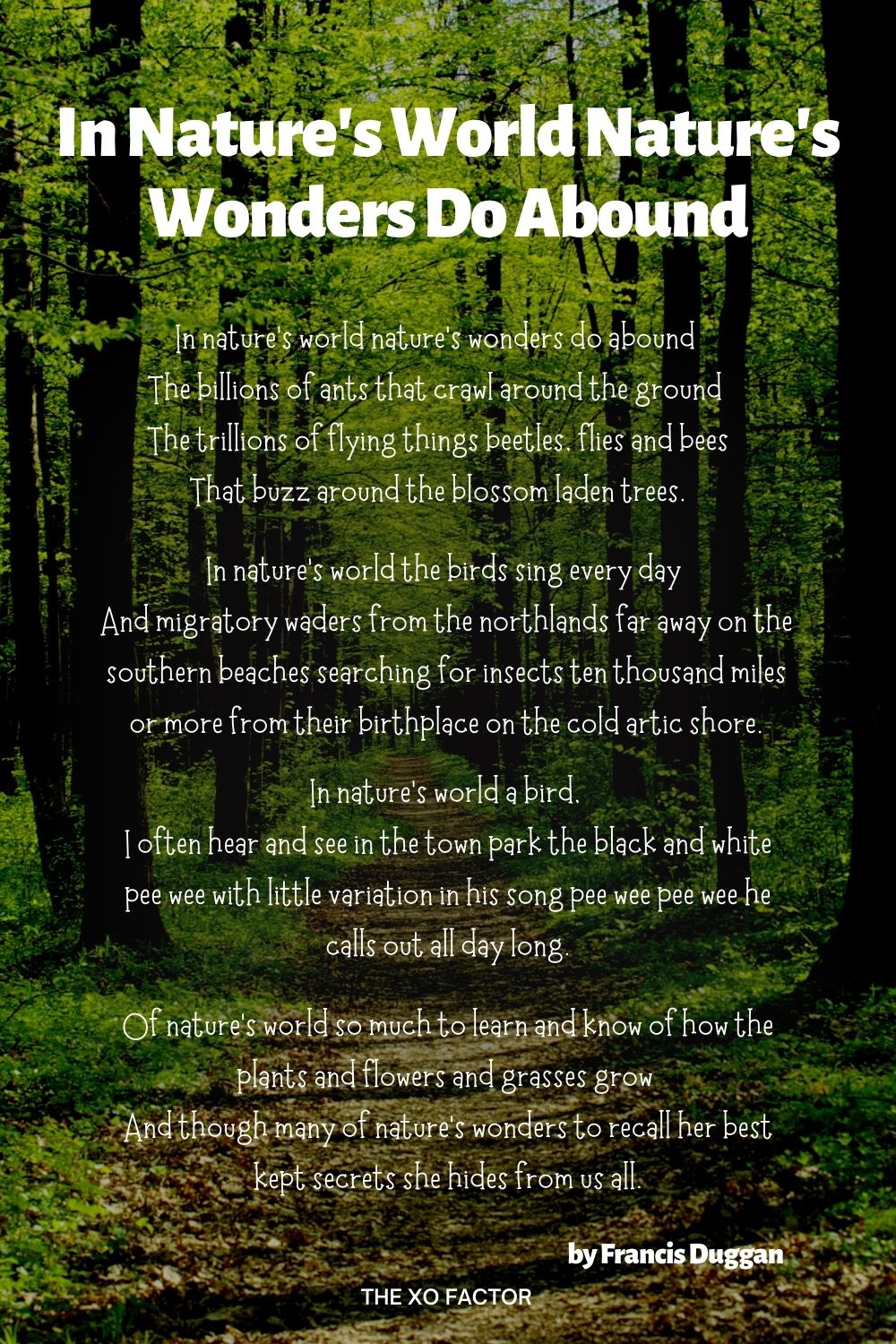 Bare Trees, Poem On Nature Poem by Christian Lacdael
Fracture lines cut in a bleak sky, Stripped bare across the countryside,
Shadows of what they used to be, Silhouetted so beautifully,
No more a haven to make a home, Fragile looking veins are exposed,
Sun bleeds through while blindingly low, Wood spirits are compelled to go,
A sight rooted in these cold months, Crafted by a cruel lack of warmth,
Weather the sky gods issue forth, Sent to the front line from the north,
But trees fear not old man winter, His firm grip can't last forever,
Soon things will be back as they were, Till the changes again occur.
Source: https://www.poemhunter.com/poem/bare-trees-poem-on-nature/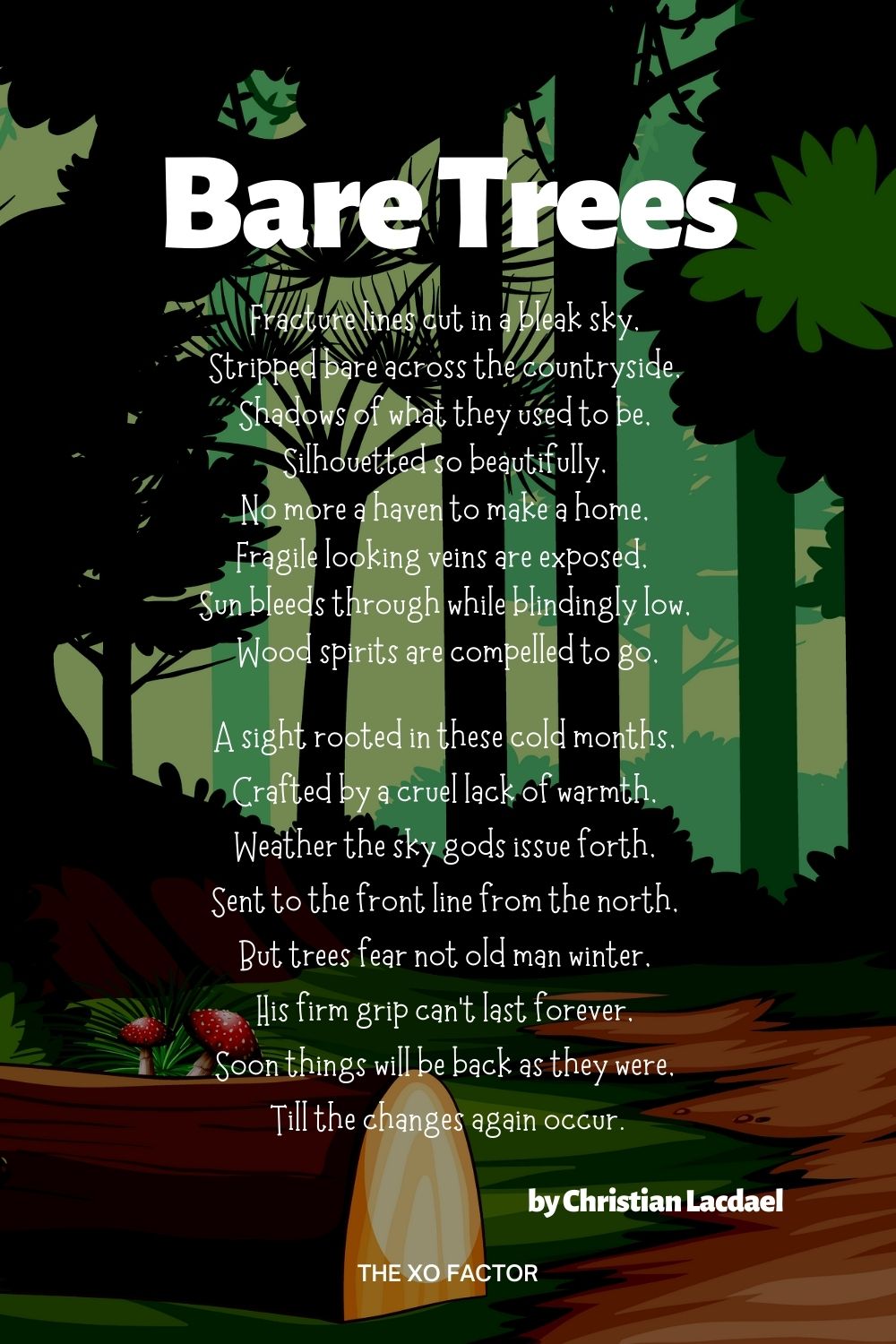 A Glimpse Of Nature…Nature's Speak I Poem by Maia Padua
After drizzle falls Somewhere in the greenish fields
Violets blossom
Sweet-smelling fragrance Scattered in the young night
Flowers blossoming
Our one, only home Showering all her beauty
Beloved mother earth
Source: https://www.poemhunter.com/poem/a-glimpse-of-nature-nature-s-speak-i/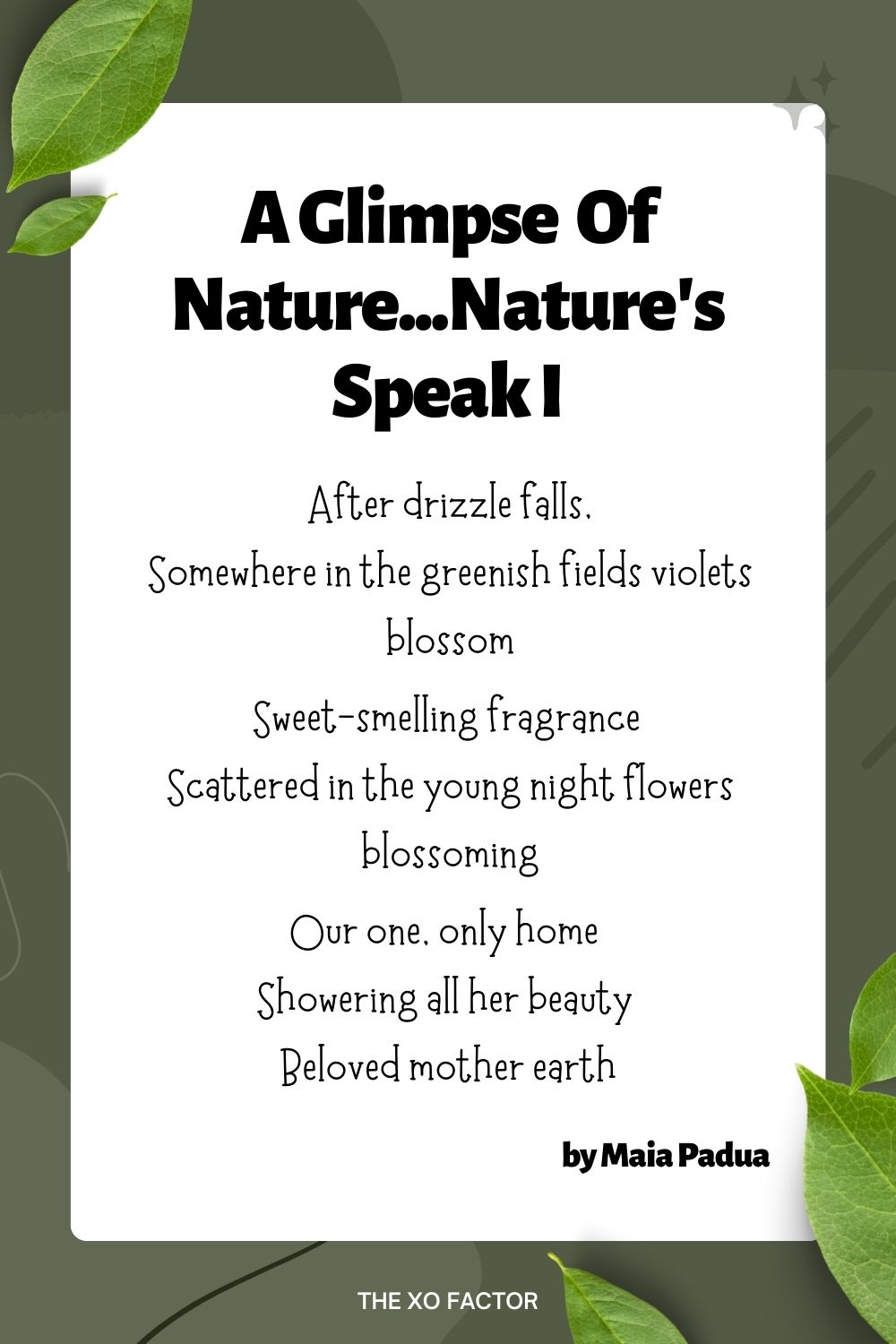 Nature Destroys Nature Poem by Athena Goddess of Wisdom Lumis Light to all
Nature destroys Nature in storms and earthquakes Man destroys man on the battlefield
And man destroys Nature because of the blood that they shed Sinks, to the center of the Earth
Man destroys Nature far more worse Than Nature destroys it's self
Therefore we must do What we can To save Nature
Before it's completely destroyed And therefore,
Leaving us with nothing to cherish.
I am Qalme Tari Mistress of Death Nat. Norville.
Cretics Welcome
Source: https://www.poemhunter.com/poem/nature-destroys-nature-2/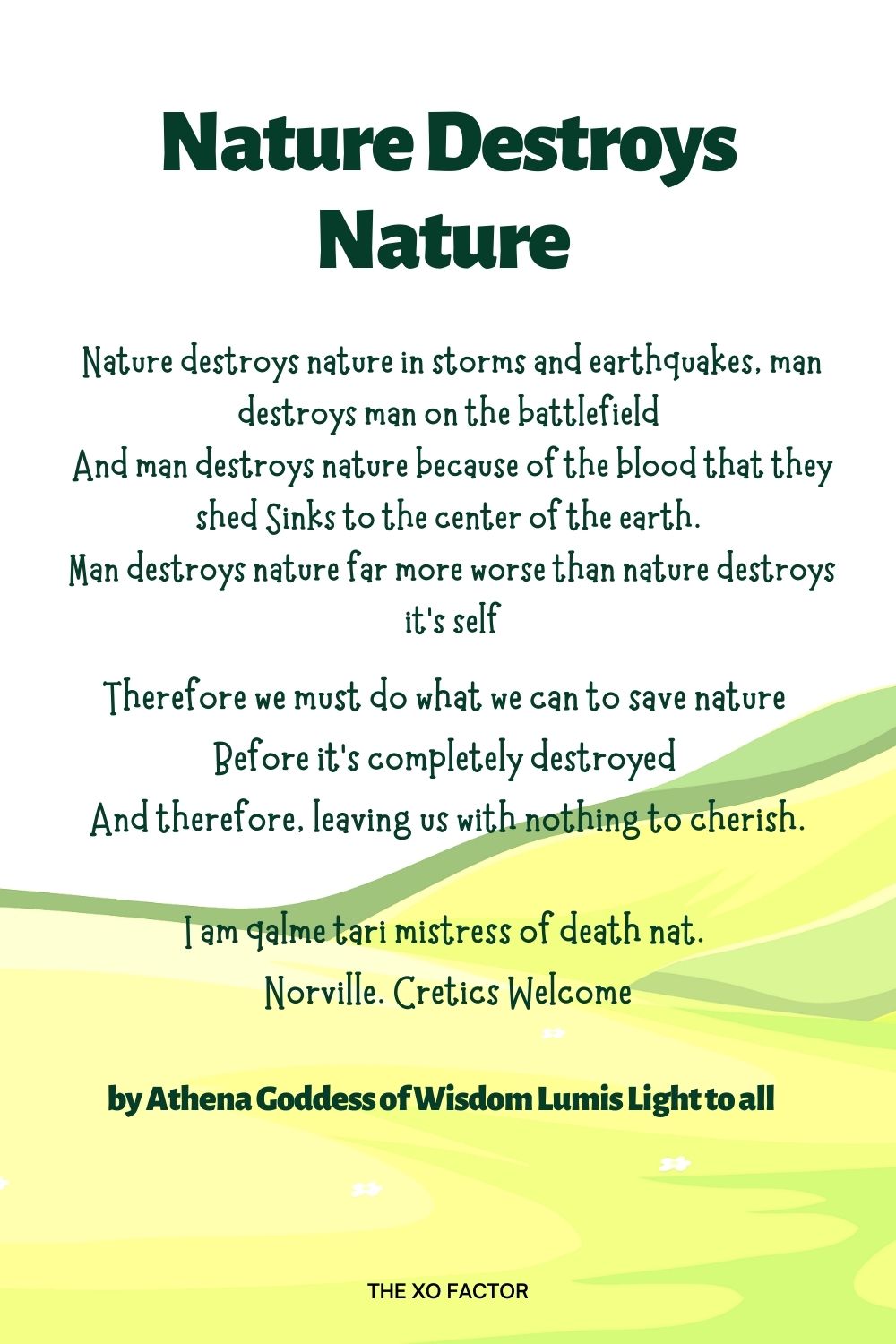 Mother Nature by Shaun Cronick
Hosts of small golden flowers,
Swaying in a gentle breeze.
O a beautiful Summer's morning,
Cared for by busy busy bees.
A happy pair of cheeky sparrows,
Cheekily chirping from tall trees.
Magnificent Mother Nature at her best,
She makes us all so happy and pleased.
Especially the flowers, birds and those busy busy bees..
Source: https://www.poemhunter.com/poem/mother-nature/
Nature's Nature Poem by chandra thiagarajan
Nature's Nature, Dry And wry Is the earth, Ready to Fry
Anything That may chance On her.
Try The mortals However much To quench her Seedlings thirst,
Cry they as the babe For Their mother Nature's bounteous Rain!
Source: https://www.poemhunter.com/poem/nature-s-nature/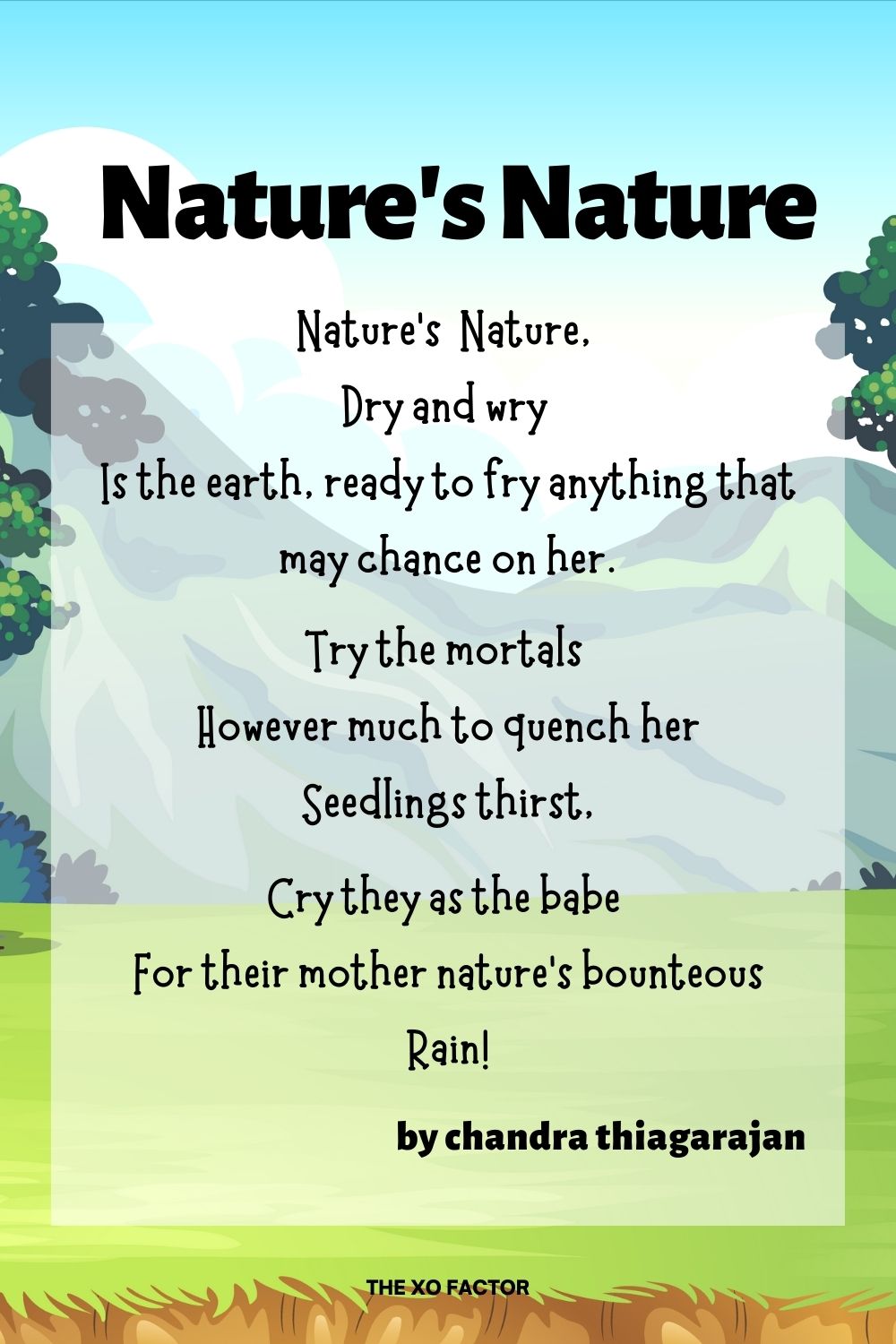 Nature-A Dream Poem by sarthak mishra
A dream came to my mind shivering me from left to right
A city, full of dust and pollution with no trees, rivers, flowers, and emotions
Everyone is dying in suffocation As people have killed the mother nature
Suddenly a beam of sound hollowed my mind And I get a push with the speed of light
As I woke up found myself in a valley Around me were grass, trees, and glittery nancy
I traveled -traveled with the rivers flow And saw a small animal with no fear but peasant roar
The place was like heaven About which nobody knows
But gives me teaching to remember Our existence is due to nature
Cutting trees and exhausting river Will affect our health in future
Source: https://www.poemhunter.com/poem/nature-a-dream/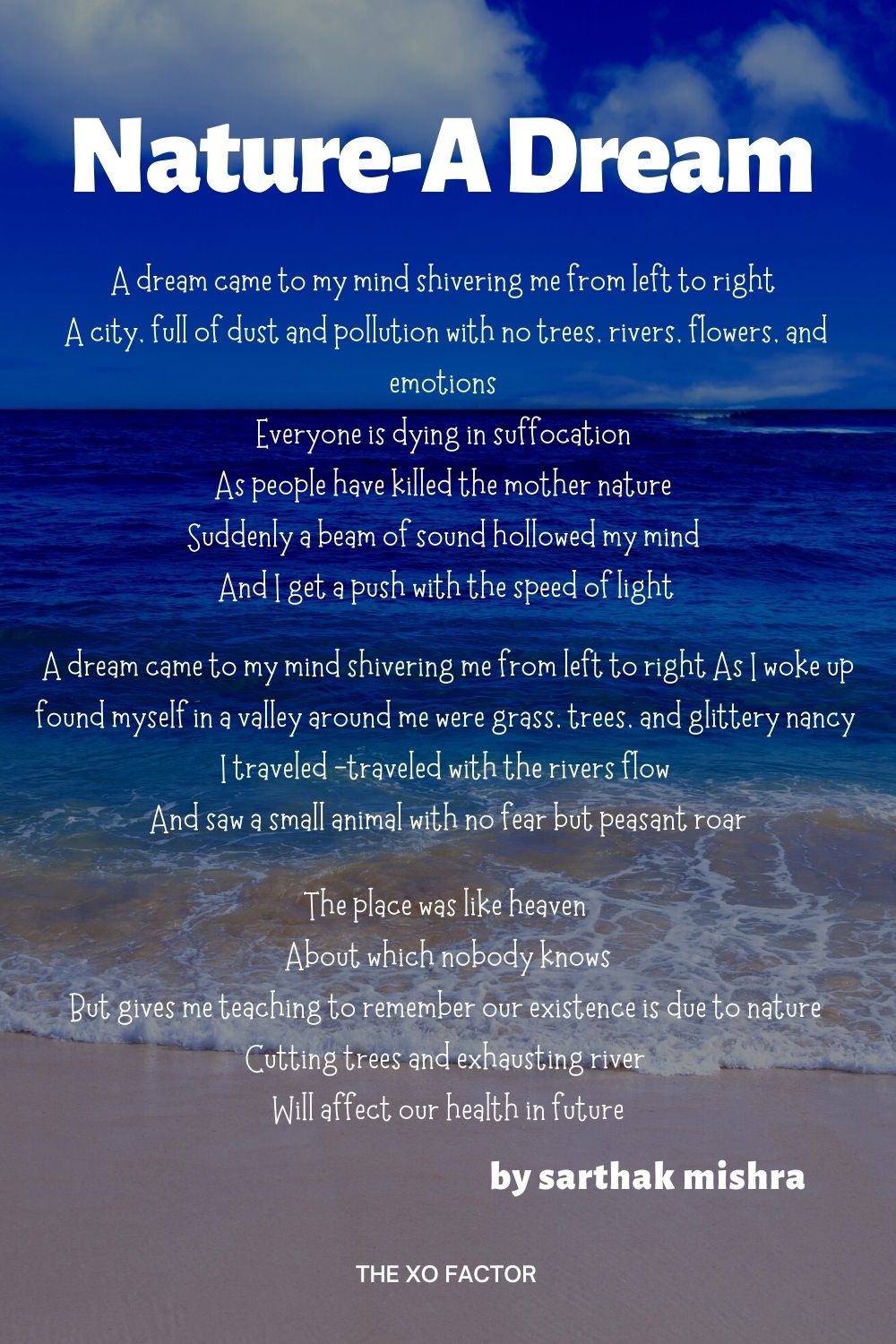 Mother Nature And Human Nature Poem by RoseAnn V. Shawiak
Lying in the arms of mother nature, looking up to the mountains
looking down at me, watching also, clouds floating on high,
bringing pictures to my mind. Watching trees and flowers being blown to and fro in an
Afternoon breeze, cooling me off in the Arizona desert.
Standing up and being counted in nature's boundaries, always
becoming one with it, having a peaceful heart and soul.
Learning so many lessons from its essence, lifting spirits
into atmospheres of creativity, adjusting any negative
attitudes that may befall, because of an inner human nature.
Taking everything in strides of happiness and joy, expecting
the world to open up and take me into its entire environment
for the moments of my life that are left.
Source: https://www.poemhunter.com/poem/mother-nature-and-human-nature/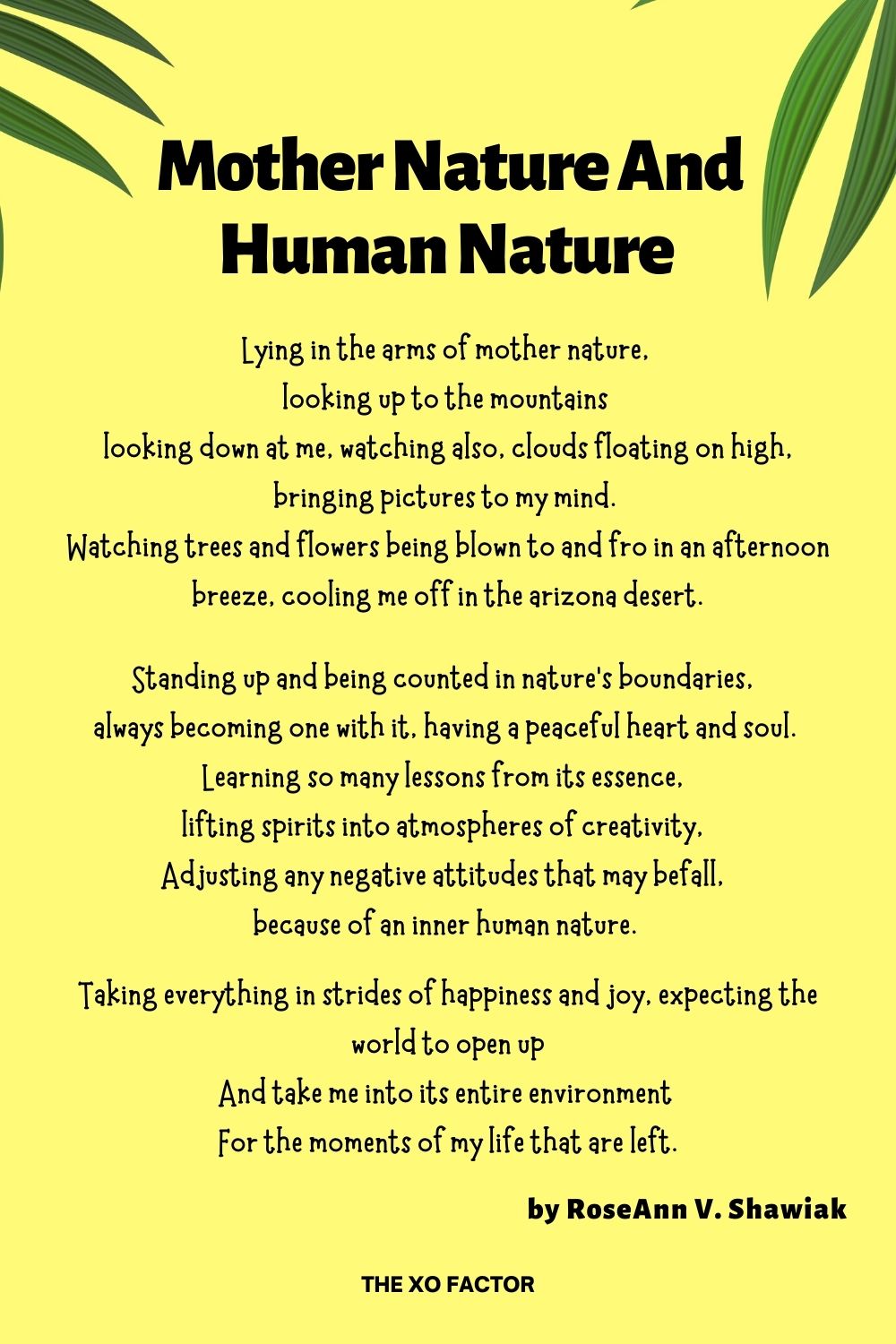 Nature Of Nature Poem by Md. Ziaul Haque
Nature of nature is so mysterious, At times it seems friendly, On occasion turns out to be dangerous, But we the humans have learnt to handle it quite rightly.
Mother Nature is not hostile by her very nature, It's our thoughtless and selfish deeds, Making her take revenge with a silently-loud lecture, But we are forgetting her in fulfilling personal needs.
We must bear 'I bring to life, I bring to death' in mind,
And keep protecting nature by being sincerely kind.
Source: https://www.poemhunter.com/poem/nature-of-nature/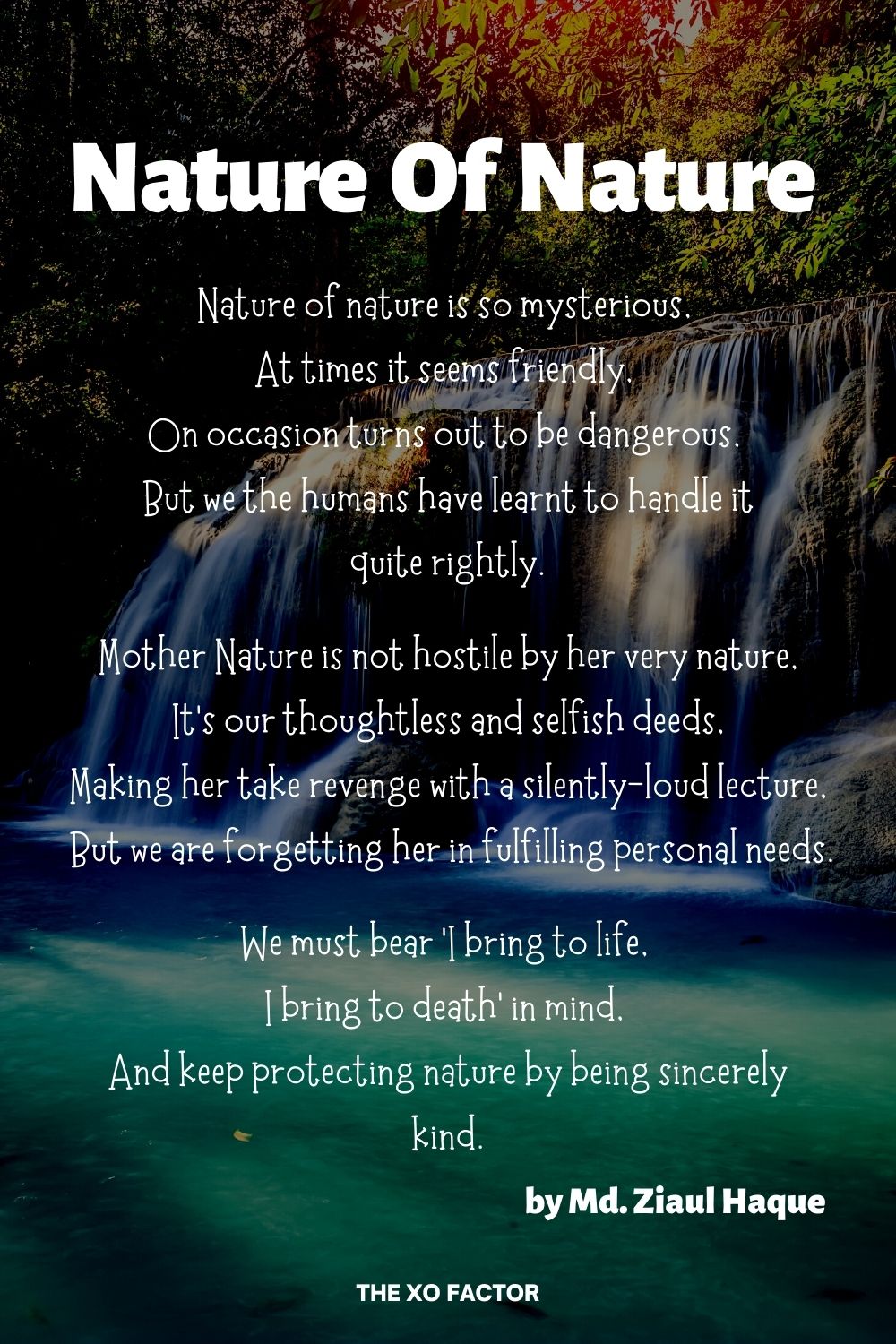 Nature-Crying For Help Poem by Srishti chaplot
The nature….. Beautiful and serene…. Tranquil and blissful…. Its boundless beauty…
Our eyes can't behold.. The mountains and waterfalls.. Flowers of various hues..
The lush green trees. Animals and birds.. Its simplicity and purity.. This unfathomable paradise..
The sweet hearts of people.. Spreading love all around..

Constantly destroyed for human endeavors.. Getting extinct bit by bit..
World becoming a dump of, Machines, industries and pollution..
This paradise becoming a living hell..

I can no longer live in this hell(world) ..
Its suffocating..Its killing…
Source: https://www.poemhunter.com/poem/nature-crying-for-help/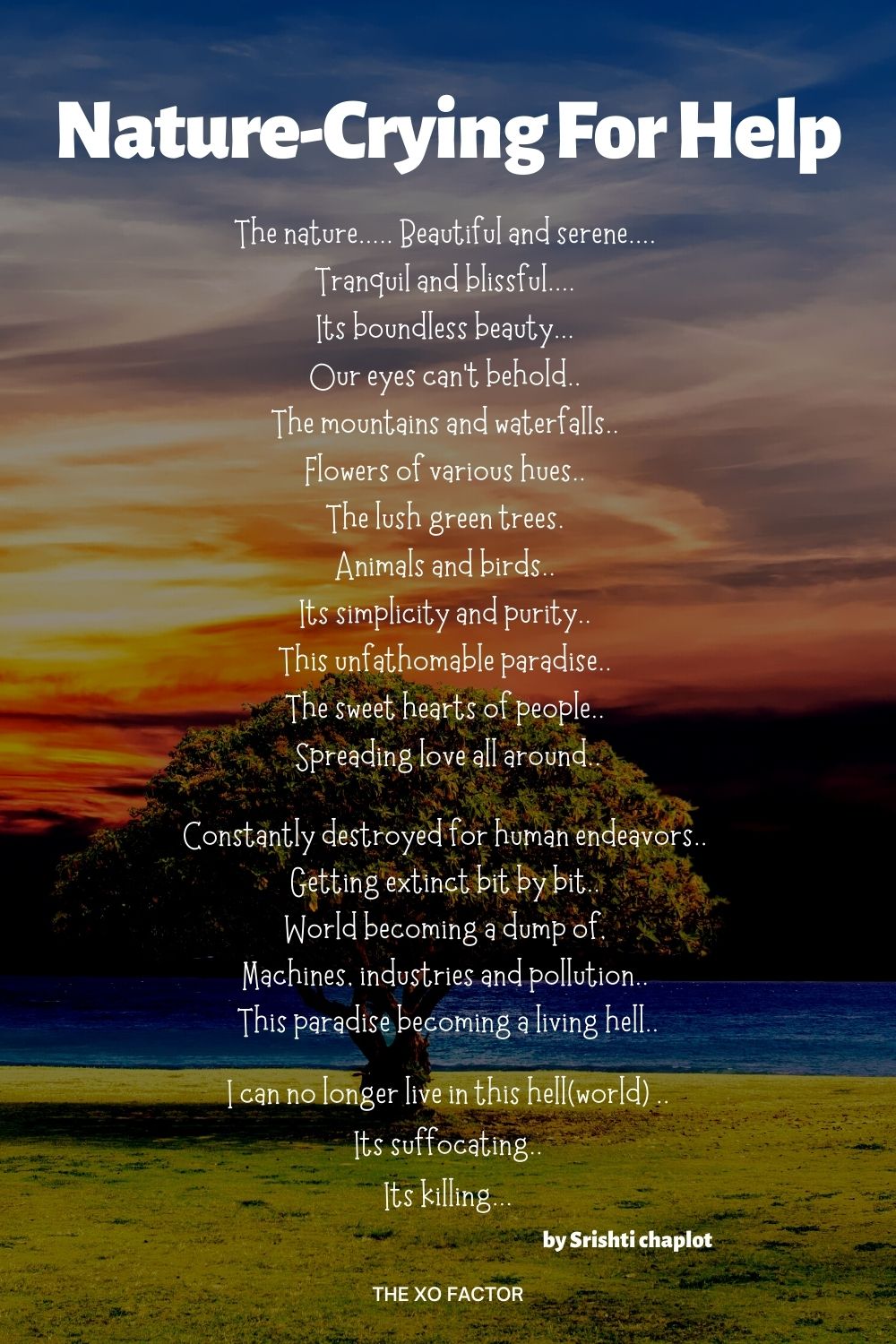 Related Posts
Nature-Truth Poem by Gajanan Mishra
How can I control Nature?
I am part of it, I know.
I am here In this world
That is perishing.
But I am connected with you as here.
I am to see, I am to show,
What I am In this picture.
Source: https://www.poemhunter.com/poem/nature-truth/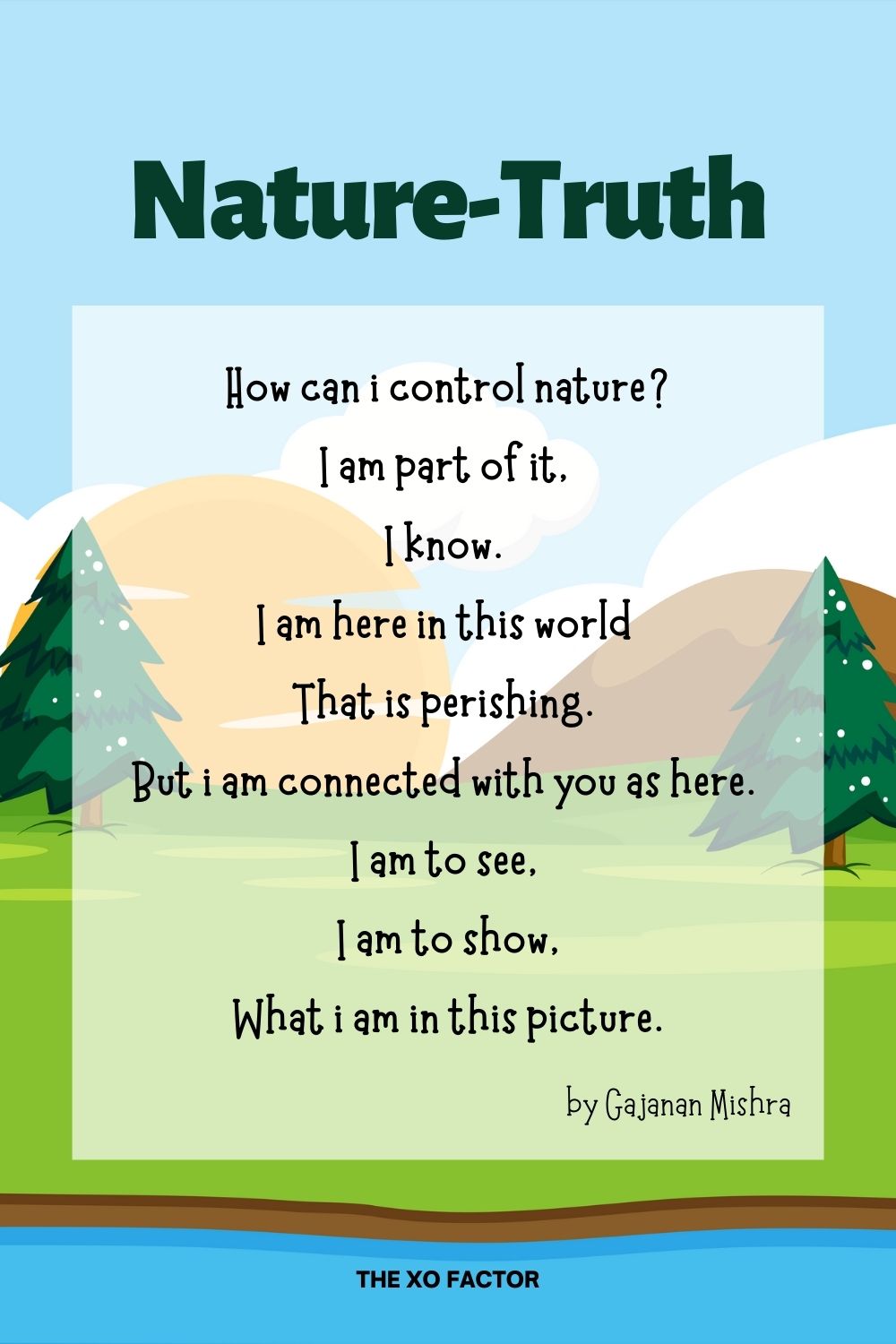 I Believe In Visible Nature And Invisible Nature Poem by Raj Dronamraju
Not man as himself, not man as gender, not man as animal nor man as plant nor man as machine, not man as thought nor man as hunger, not man as man
In a magic forest of deadlines and daggers drawn
Secret you navigate hidden pathways and find a real person in concealment
I know about happiness not publicly shared
Conflicts are manufactured, conflicts are comic books, pop songs on the radio, the carnival funhouse
They are escape and enjoyment Hit the gym and produce fiction about some perceived difference
For nature is celebration of air, open space, water, flora, and fauna
Your nature is suppression for existence – to be able to function here
The unnatural ones will make you feel that you are the unnatural one
The repressors, the directors, the engineers of false nature
Force people to diverge from their natural interests and instincts
For national servitude, the dredge is used to change their course
Source: https://www.poemhunter.com/poem/i-believe-in-visible-nature-and-invisible-nature/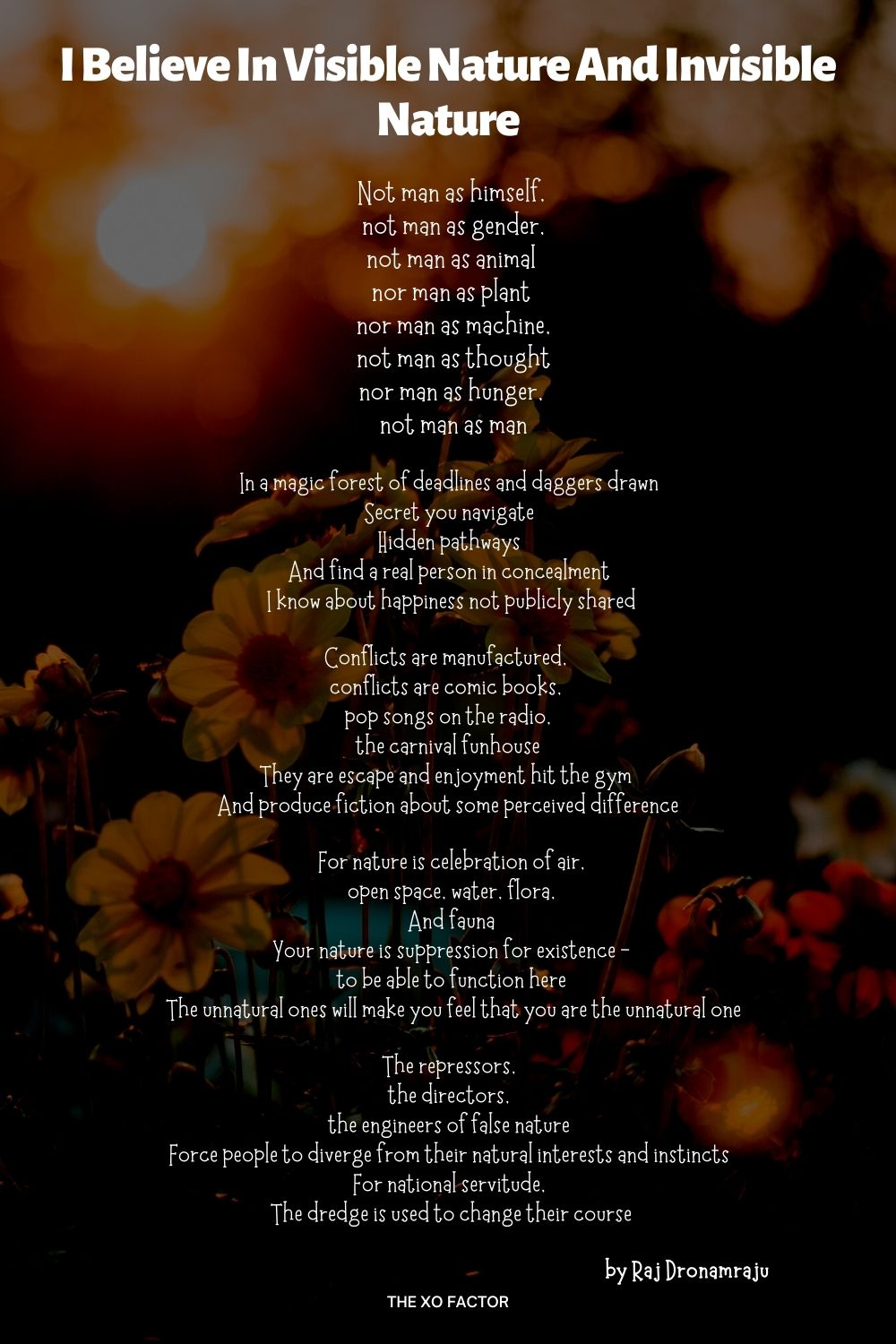 Nature-Cure Poem by Hans Raj Sharma
Let's learn from animals To be a doctor of one's own self-
Stop eating, as and when they get sick.
In absence of food elements in the body The body begins to eat up its own ailments
No doctor, no medicine, no aid is ever needed.
Nature itself carries a great treasure Simply, we need to value and trust it
To get into the care and cure of nature.
Source: https://www.poemhunter.com/poem/nature-cure-2/