One thing that we can all be certain of in life is that nothing remains the same forever, everything changes. Some changes can be joyous, and others can be hard and scary, but no matter what, you have to give change a try and it can turn out to be amazing.
If you are currently going through a change in life and you aren't sure of what to do about it, here are some change quotes to inspire you.
Change quotes
All great changes are preceded by chaos.
Deepak Chopra
Change alone is eternal, perpetual, immortal.
Arthur Shopenhauer
Things change. And friends leave. Life doesn't stop for anybody.
Stephen Chbosky
If I am not for myself, who will be for me? But if I am only for myself, what am I? And if not now, when?
Hillel
By changing nothing, nothing changes.
Tony Robbins
Change, like healing, takes time.
Veronica Roth
Intelligence is the ability to adapt to change. Stephen Hawking
Only the wisest and stupidest of men never change.
Confucius
How wonderful it is that nobody need wait a single moment before starting to improve the world.
Anne Frank
Everyone thinks of changing the world, but no one thinks of changing himself.
Leo Tolstoy
To improve is to change; to be perfect is to change often.
Winston Churchill
Change is inevitable. Growth is optional.
John C. Maxwell
One day or day one. You decide.
Unknown
Today was good. Today was fun. Tomorrow is another one.
Dr. Seuss
Nothing is forever except change.
Buddha
Those who cannot change their minds cannot change anything.
George Bernard Shaw
Change your thinking, change your life.
Ernest Holmes
Failure is not fatal, but failure to change might be
John Wooden
I alone cannot change the world, but I can cast a stone across the waters to create many ripples.
Mother Teresa
To change one's life: 1. Start immediately. 2. Do it flamboyantly. 3. No exceptions.
William James
Yesterday I was clever, so I wanted to change the world. Today I am wise, so I am changing myself.
Rumi
Be the change that you wish to see in the world.
Mahatma Gandhi
Let him that would move the world first move himself.
Socrates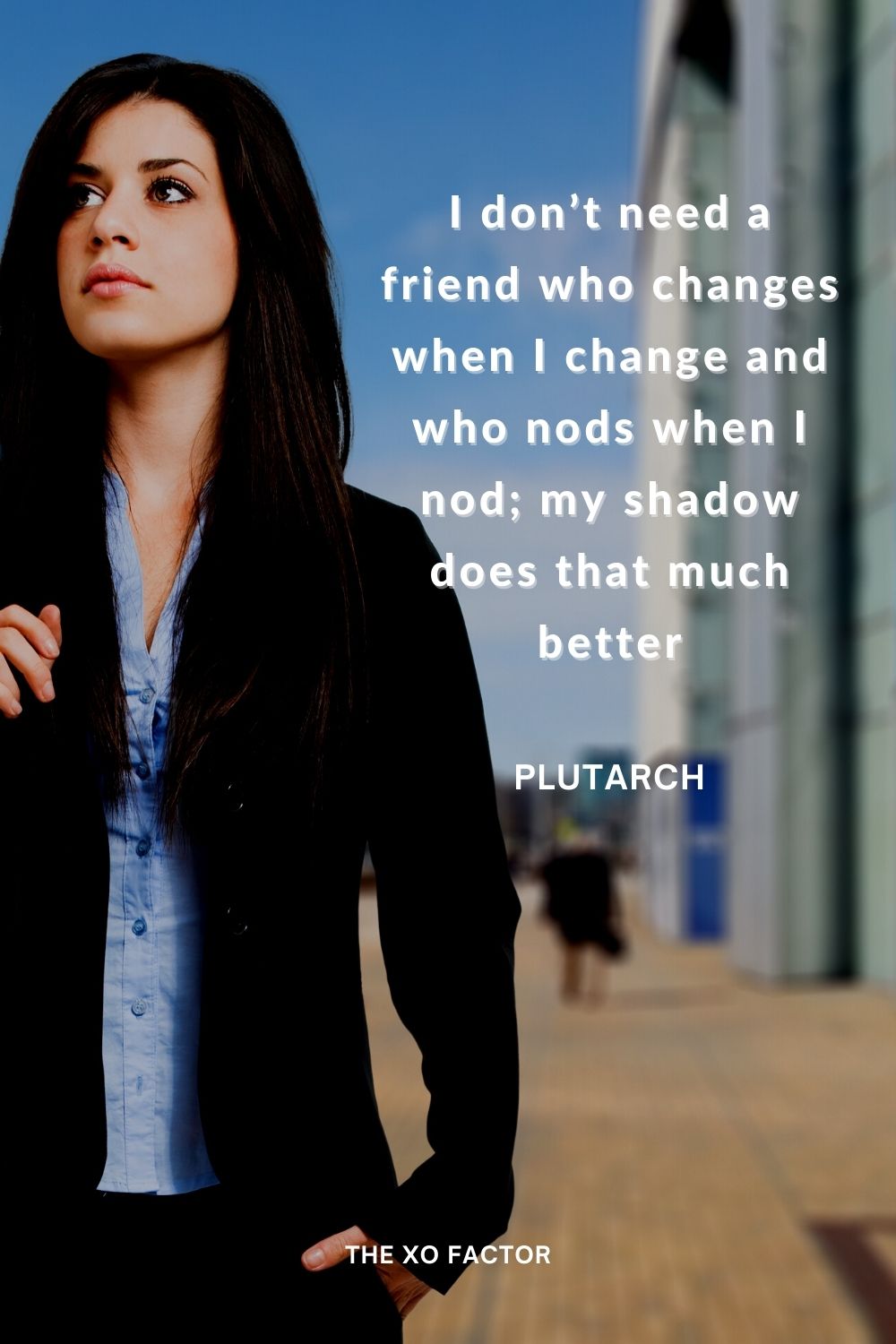 I don't need a friend who changes when I change and who nods when I nod; my shadow does that much better
Plutarch
Change alone is unchanging
Heraclitus
If we don't change, we don't grow. If we don't grow, we aren't really living.
Gail Sheehy
There is nothing permanent except change
Heraclitus
Not everything that is faced can be changed, but nothing can be changed until it is faced.
James Baldwin
I have accepted fear as part of life – specifically the fear of change, I have gone ahead despite the pounding in the heart that says: turn back
Erica Jong
Nothing is so painful to the human mind as a great and sudden change.
Mary Shelley
Things do not change; we change
Henry David Thoreau
Change the way you look at things and the things you look at change.
Wayne W. Dyer
Taking a new step, uttering a new word, is what people fear most.
Fyodor Dostoevsky
You're always you, and that don't change, and you're always changing, and there's nothing you can do about it.
Neil Gaiman
Change is the law of life. And those who look only to the past or present are certain to miss the future.
John F. Kennedy

Love change, fear staying the same.
Maxime Lagacé
You must welcome change as the rule, but not as your ruler.
Denis Waitley
Change the changeable, accept the unchangeable, and remove yourself from the unacceptable.
Denis Waitley
Life will only change when you become more committed to your dreams than you are to your comfort zone.
Billy Cox
Change, like sunshine, can be a friend or a foe, a blessing or a curse, a dawn or a dusk.
William Arthur Ward
And that is how change happens. One gesture. One person. One moment at a time.
Libba Bray
All things must change to something new, to something strange
Henry Wadsworth Longfellow
Dripping water hollows out stone, not through force but through persistence
Ovid
You cannot change what you are, only what you do.
Philip Pullman
Time takes it all, whether you want it to or not. Stephen King
The art of life lies in a constant readjustment to our surrounding.
Kakuzo Okakura
Maturity is when you stop complaining and making excuses, and start making changes.
Roy T. Bennett
Man cannot discover new oceans unless he has the courage to lose sight of the shore
Andre Gide
Sometimes good things fall apart so better things can fall together.
Marilyn Monroe
Fashion changes, but style endures.
Coco Chanel
Related Posts
The philosophers have only interpreted the world, in various ways. The point, however, is to change it.
Karl Marx
Some of us think holding on makes us strong, but sometimes it is letting go.
Hermann Hesse
Anger, resentment and jealousy doesn't change the heart of others– it only changes yours.
Shannon Alder
All that you touch You Change. All that you Change, Changes you. The only lasting truth
is Change. God is Change.
Octavia E. Butler
One child, one teacher, one book, one pen can change the world.
Malala Yousafzai
I find the best way to love someone is not to change them, but instead, help them reveal the greatest version of themselves.
Steve Maraboli
Change is painful, but nothing is as painful as staying stuck somewhere you don't belong.
Mandy Hale
Without change, something sleeps inside us, and seldom awakens. The sleeper must awaken
Frank Herbert
If you're in a bad situation, don't worry it'll change. If you're in a good situation, don't worry it'll change.
John A. Simone, Sr.
Perfection is immutable. But for things imperfect, change is the way to perfect them.
Owen Feltham
Vulnerability is the birthplace of innovation, creativity and change.
Brene Brown
To improve is to change; to be perfect is to change often.
Winston S. Churchill
The people who are crazy enough to think they can change the world are the ones who do.
Steve Jobs
A bend in the road is not the end of the road… Unless you fail to make the turn.
Helen Keller
When you come out of the storm, you won't be the same person who walked in. That's what this storm's all about.
Haruki Murakami
The secret of change is to focus all of your energy not on fighting the old, but on building the new.
Socrates
They always say time changes things, but you actually have to change them yourself.
Andy Warhol
It doesn't matter where you are, you are nowhere compared to where you can go.
Bob Proctor
If you want to fly, you have to give up what weighs you down.
Roy T. Bennett
Dynamism is a function of change
Hillary Clinton
Life belongs to the living, and he who lives must be prepared for changes.
Johann Wolfgang von Goethe
True life is lived when tiny changes occur.
Leo Tolstoy
Our ability to adapt is amazing. Our ability to change isn't quite as spectacular.
Lisa Lutz
Change is the end result of all true learning.
Leo Buscaglia
The changes we dread most may contain our salvation.
Barbara Kingsolver
Change may not always bring growth, but there is no growth without change.
Roy T. Bennett
Change begins at the end of your comfort zone.
Roy T. Bennett
Changing is what people do when they have no options left.
Holly Black
Nothing is lost, Everything is transformed.
Michael Ende
If you want to change attitudes, start with a change in behavior.
Katherine Hepburn