Drinking and socializing have been intertwined since time immemorial. As we gather with friends, family, or even coworkers, it is often over a glass of our favorite beverage that we share jokes, stories, and celebrations.
The world is filled with uplifting and humorous drinking quotes that encapsulate the spirit of camaraderie and good times. In this blog post, we will explore some noteworthy drinking quotes that reveal the wit and wisdom associated with this beloved pastime.
Short Drinking Quotes
First drink, then let's think about it.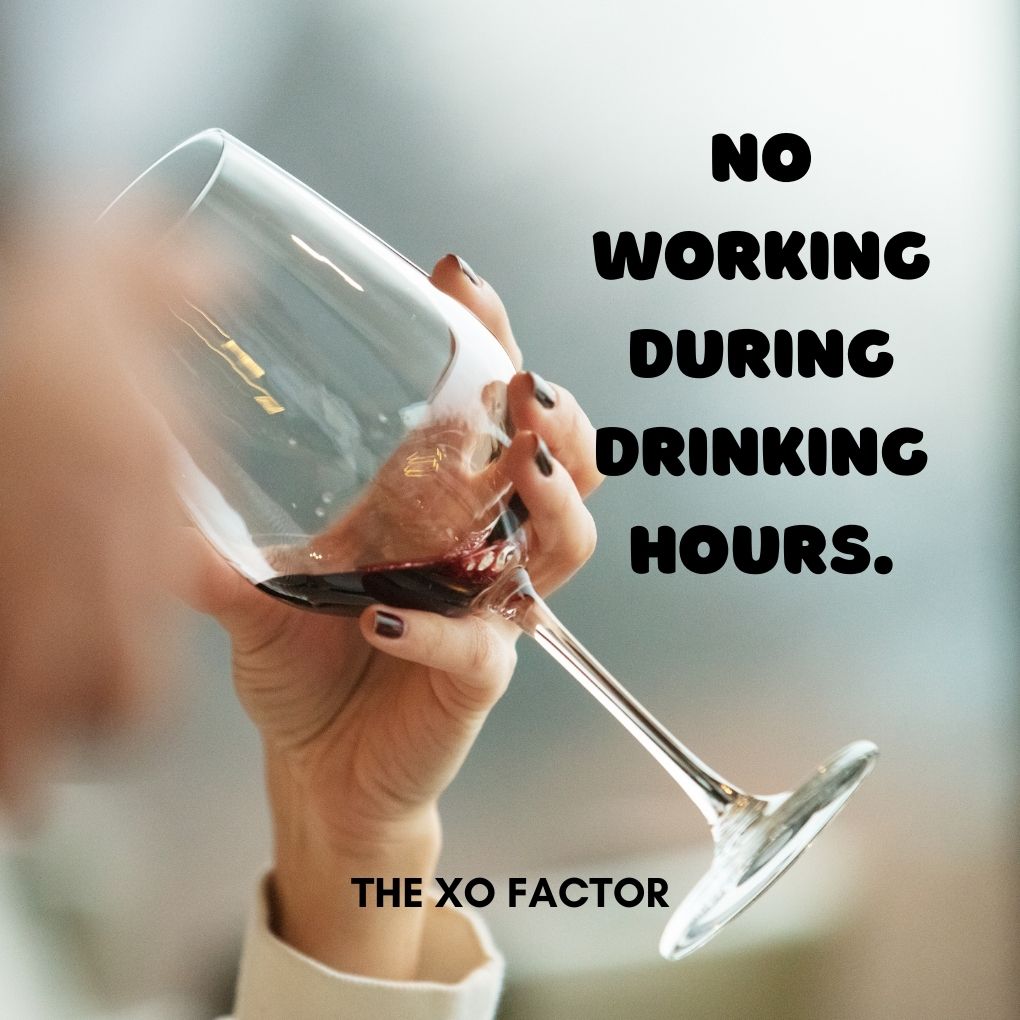 No working during drinking hours.
My friends speak of my drinking…. but they know not of my thirst.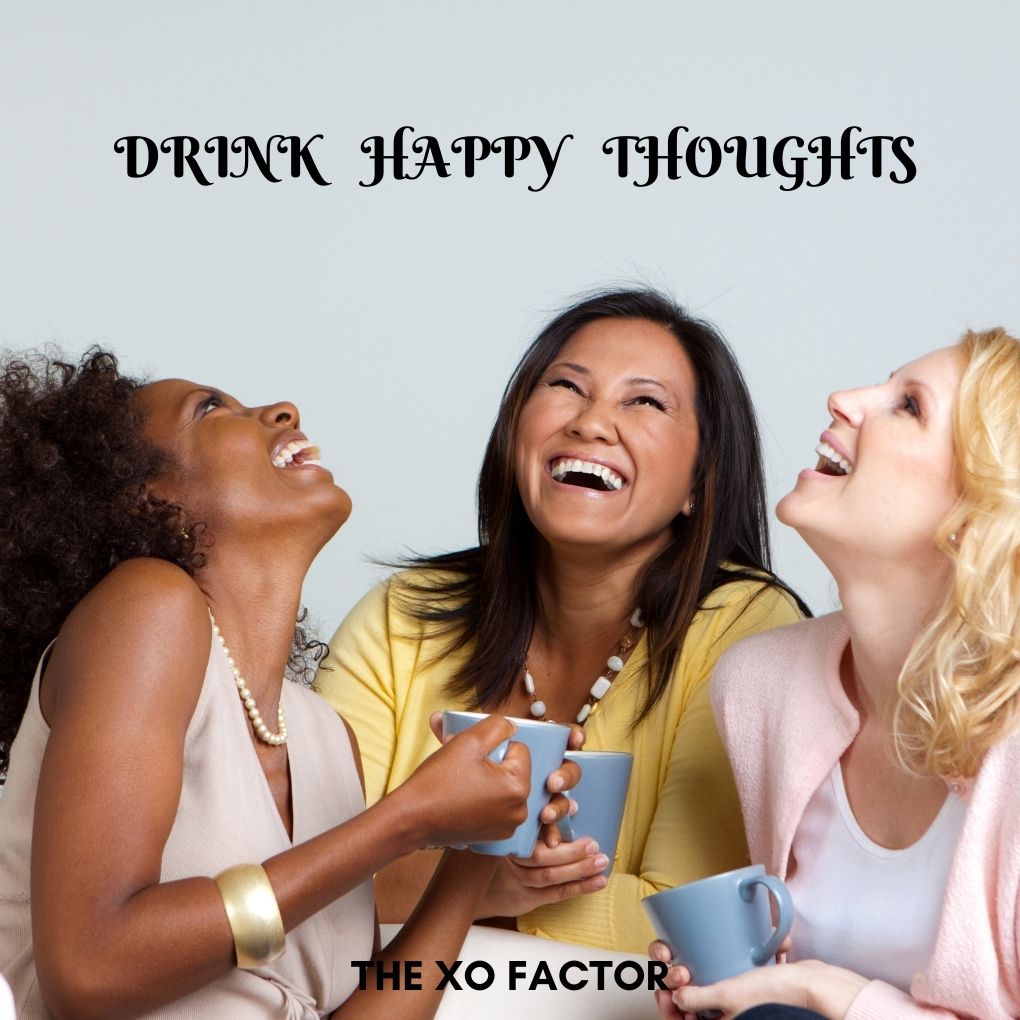 Drink happy thoughts.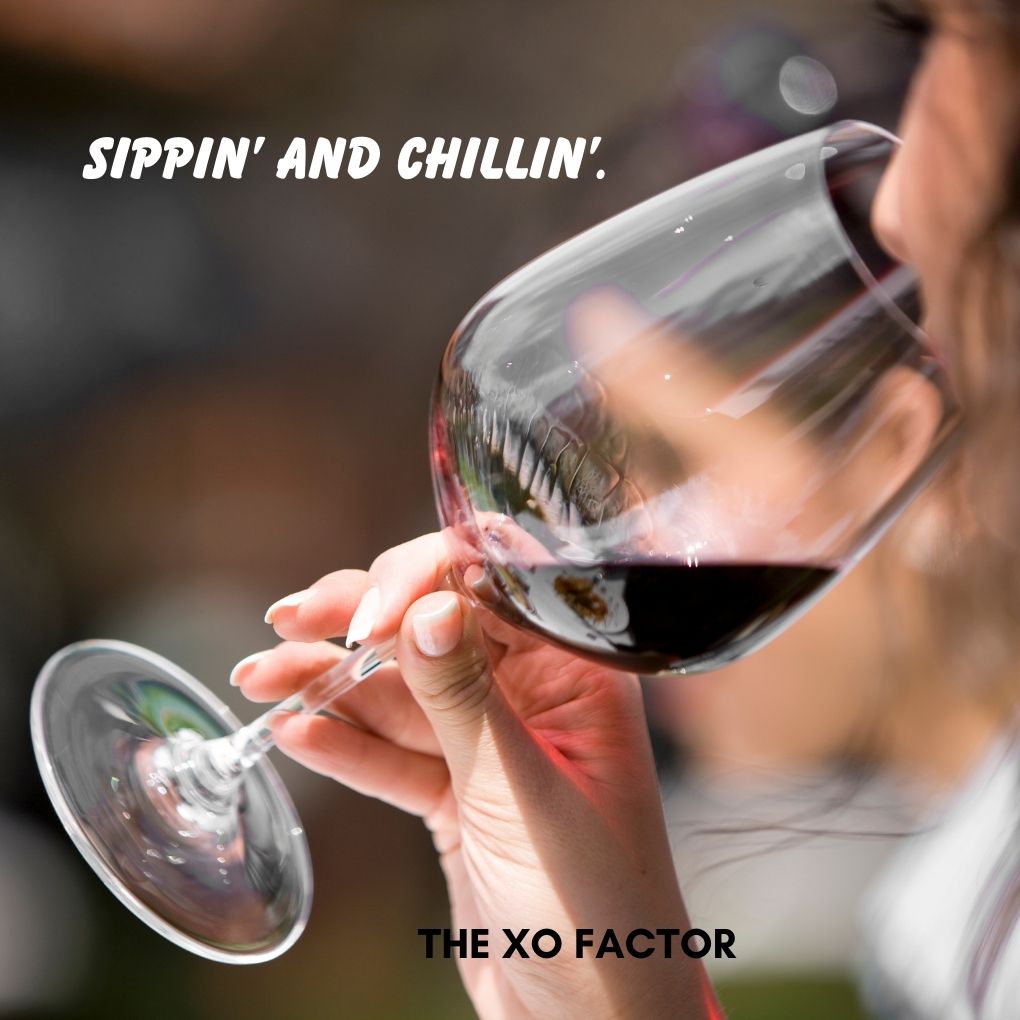 Sippin' and chillin'.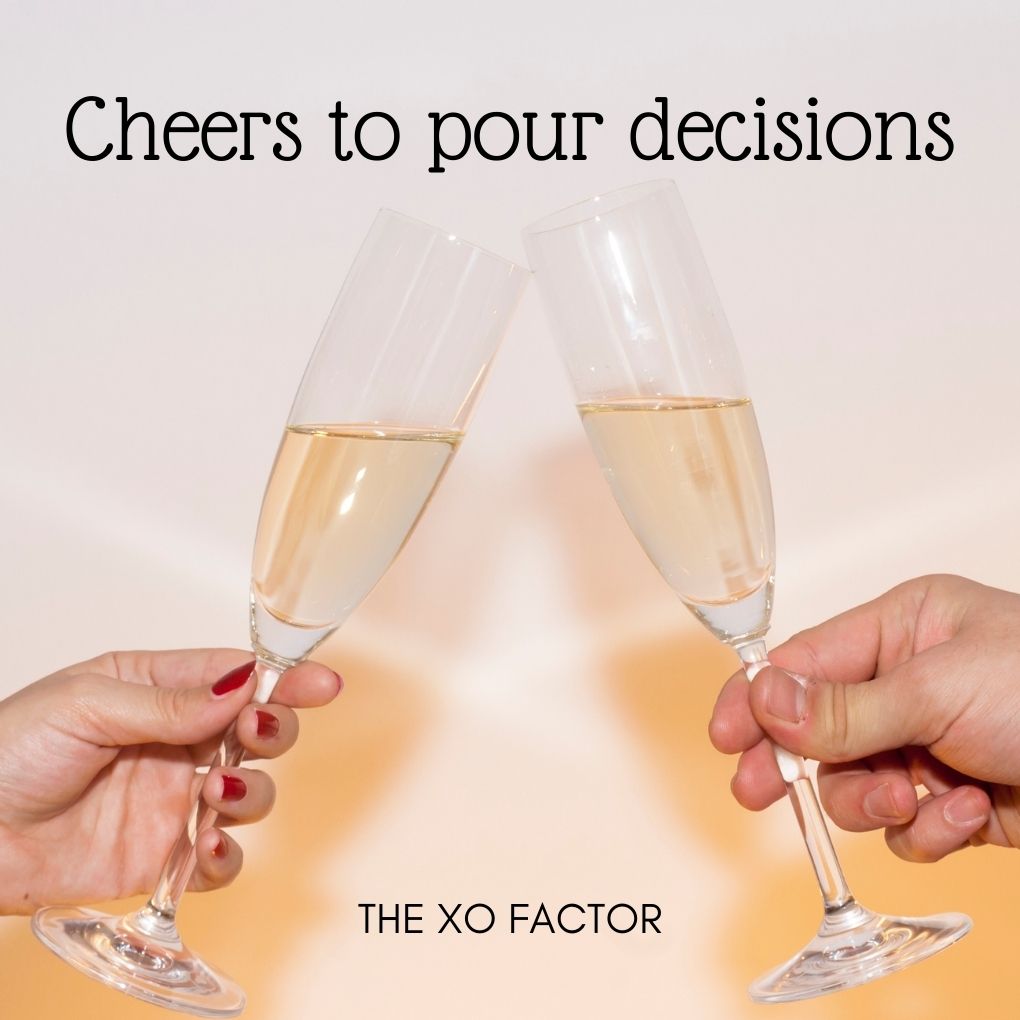 Cheers to pour decisions.
Enjoy a taste of heaven.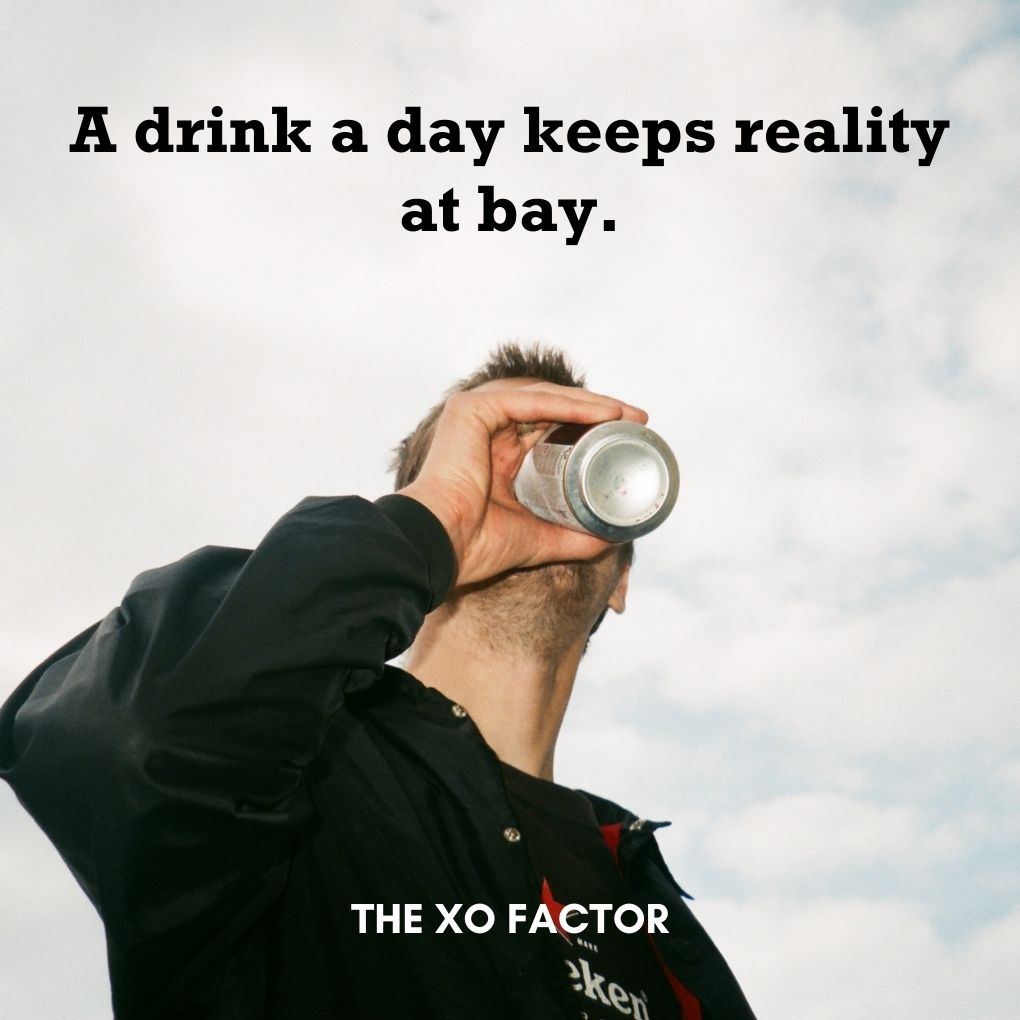 A drink a day keeps reality at bay.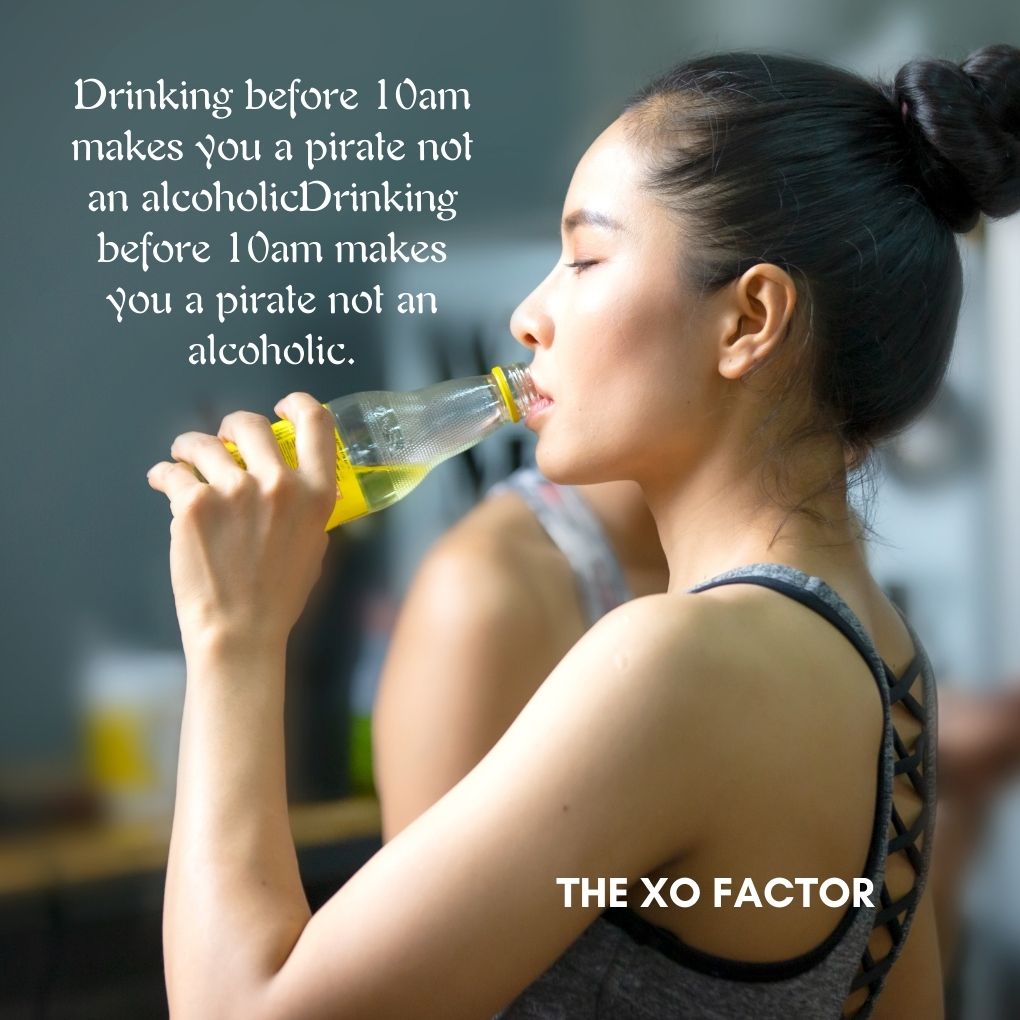 Drinking before 10am makes you a pirate not an alcoholic
Bottoms Up!
One tequila, two tequila, three tequila, floor. —George Carlin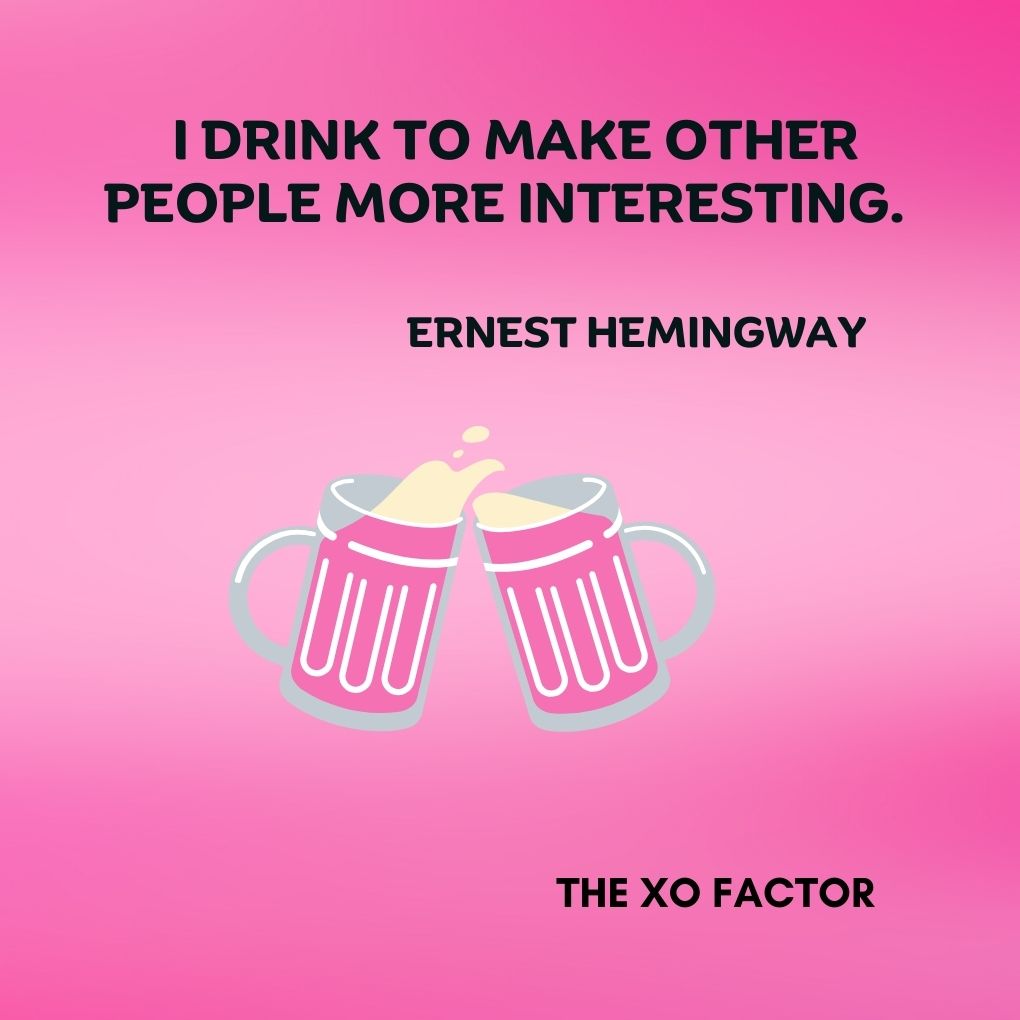 I drink to make other people more interesting. —Ernest Hemingway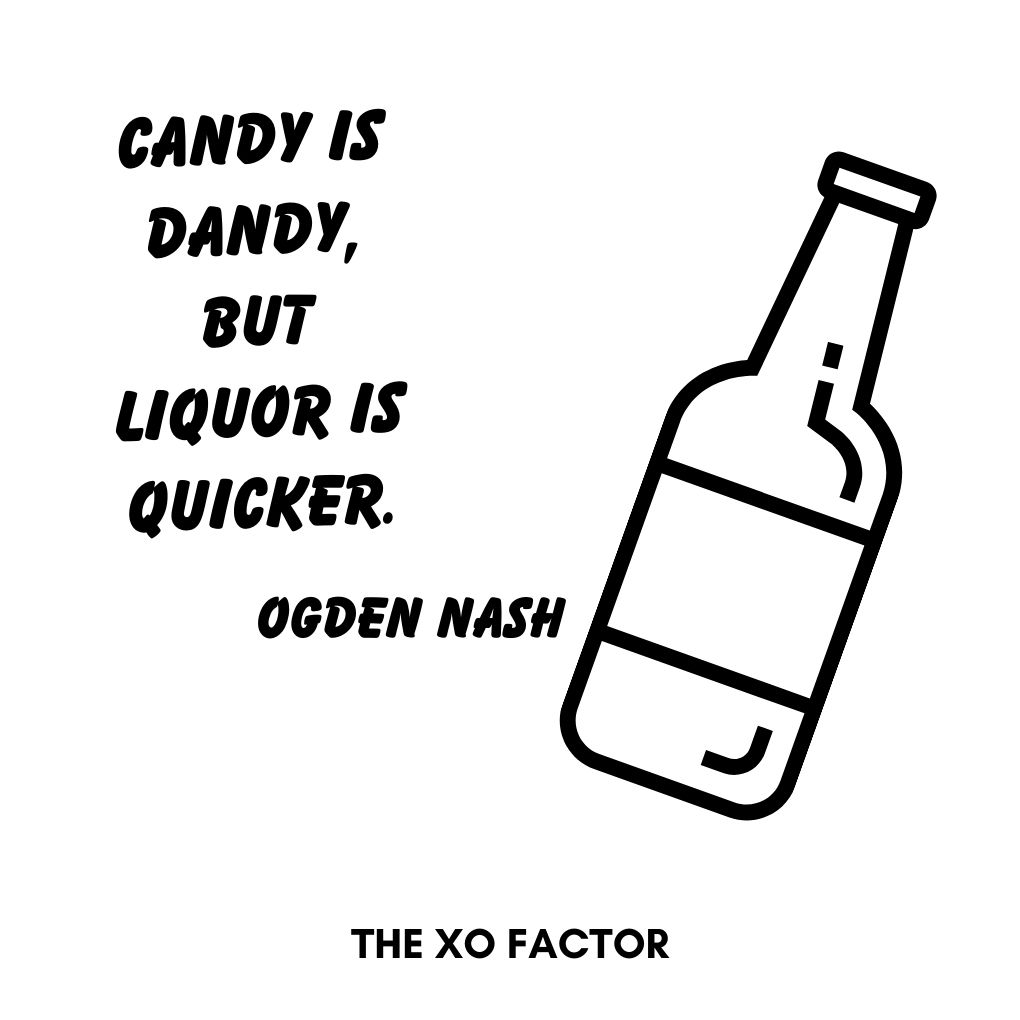 Candy is dandy, but liquor is quicker.—Ogden Nash
A man's true character comes out when he's drunk.—Charlie Chaplin
Shaken, not stirred. —James Bond, Goldfinger
I work until beer o'clock. —Stephen King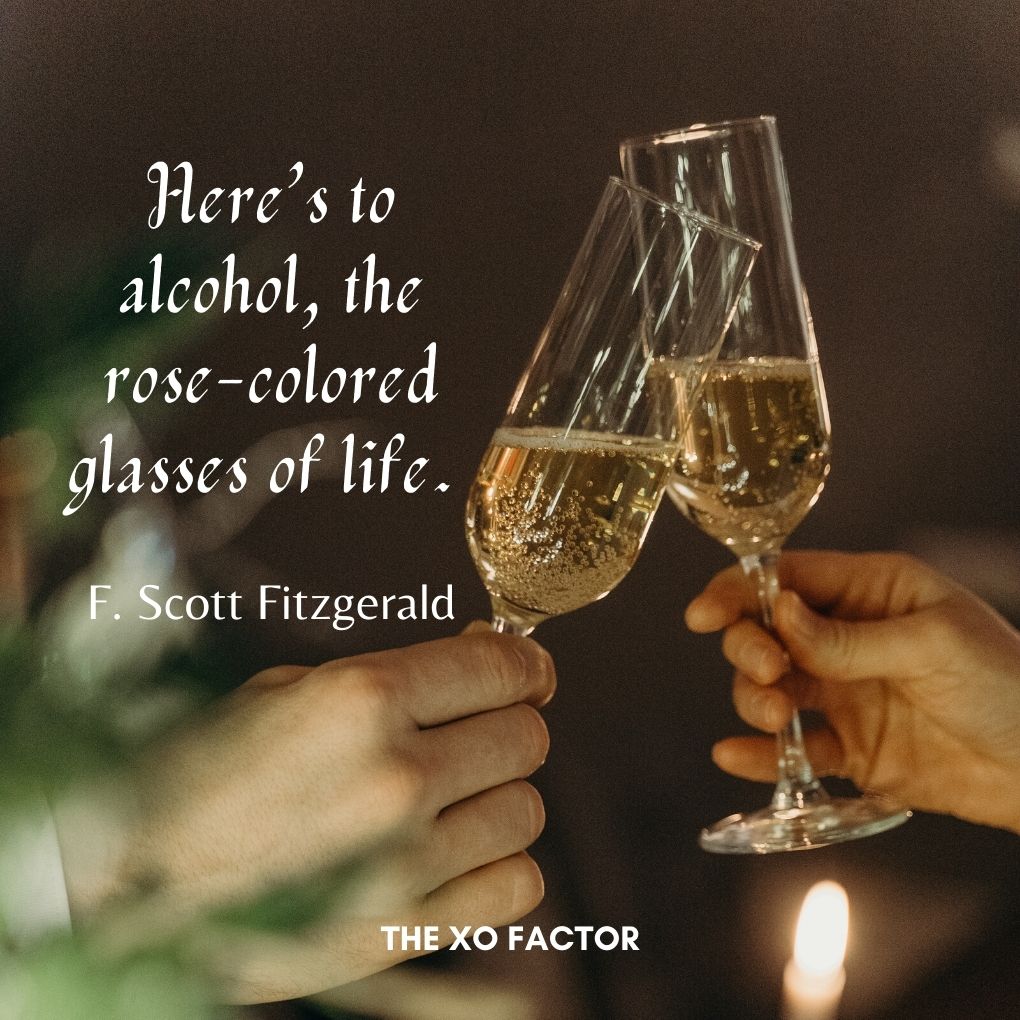 Here's to alcohol, the rose-colored glasses of life. —F. Scott Fitzgerald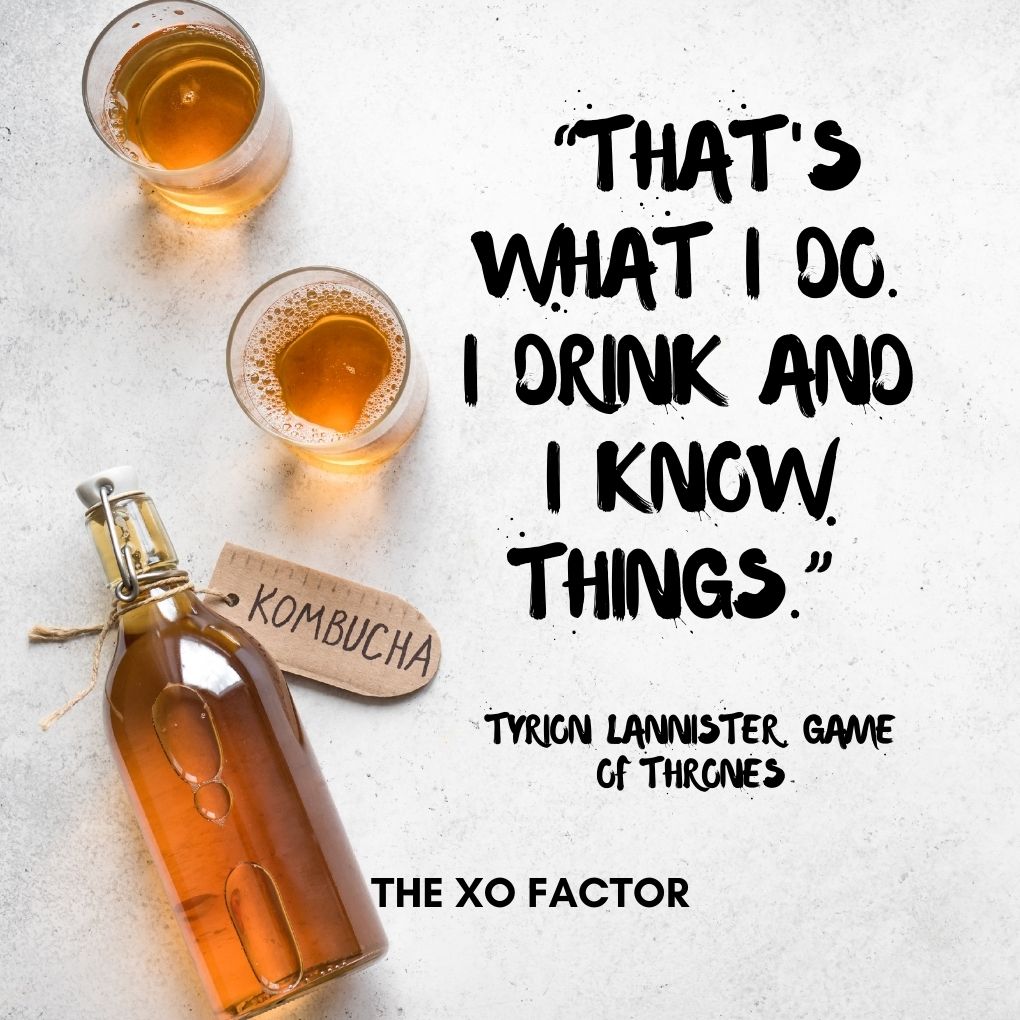 "That's what I do. I drink and I know things." —Tyrion Lannister, Game of Thrones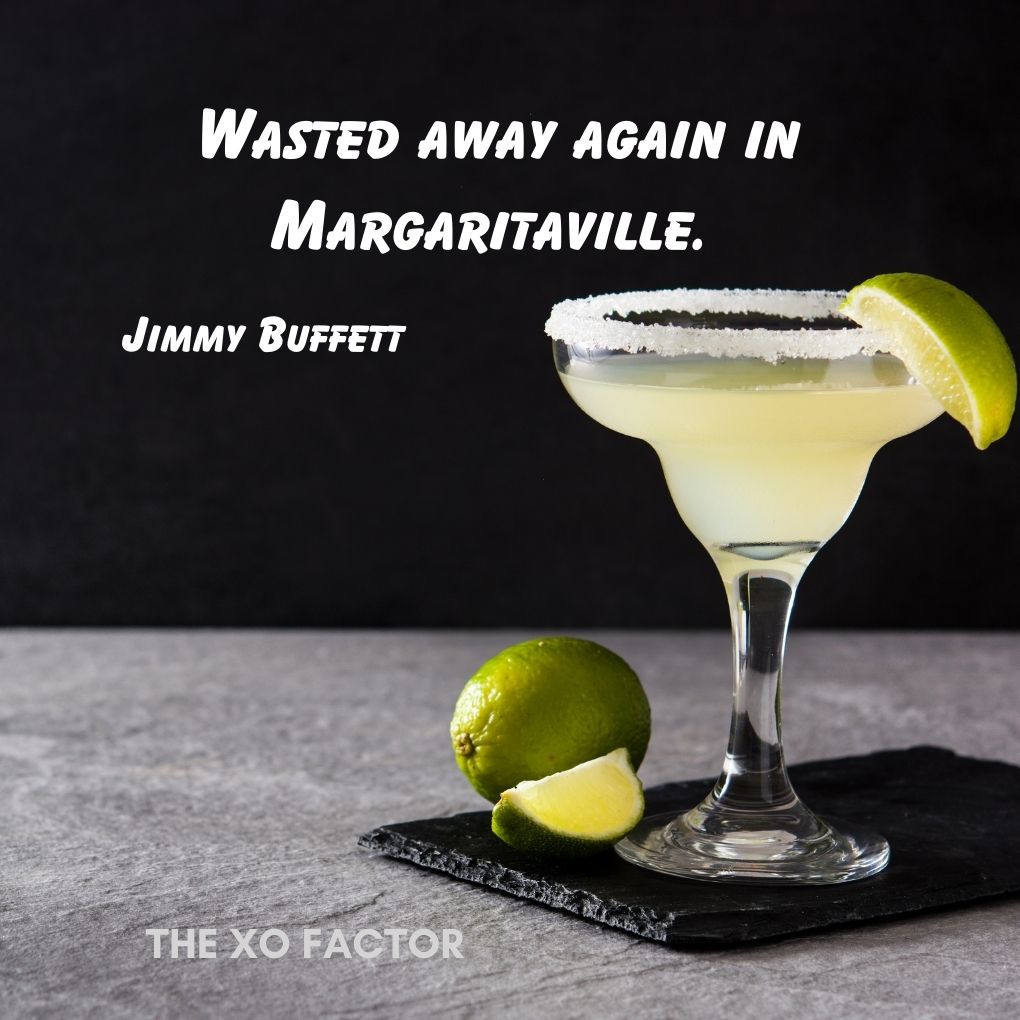 Wasted away again in Margaritaville.—Jimmy Buffett
Vodka is kind of a hobby.—Betty White
You say potato, I say vodka. —Karen Walker, Will & Grace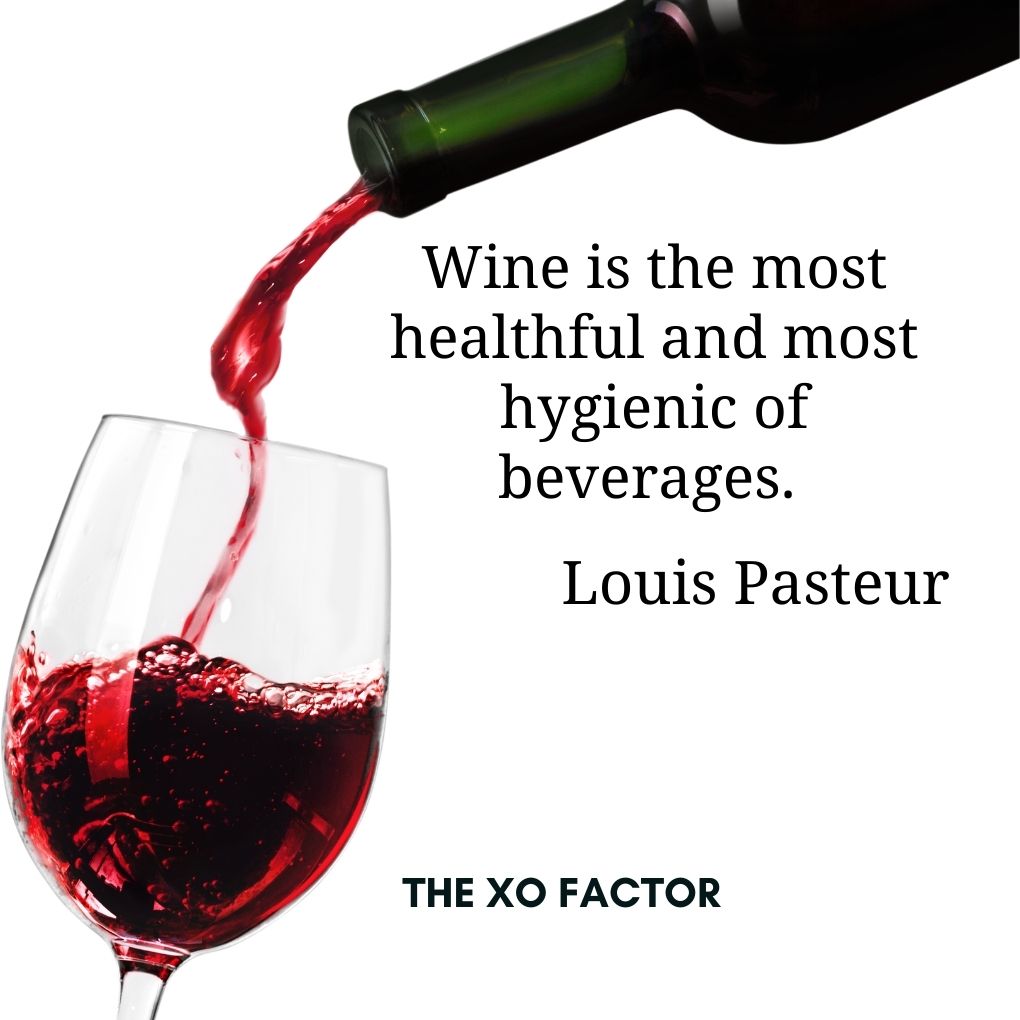 Wine is the most healthful and most hygienic of beverages. —Louis Pasteur
Let's drink about it.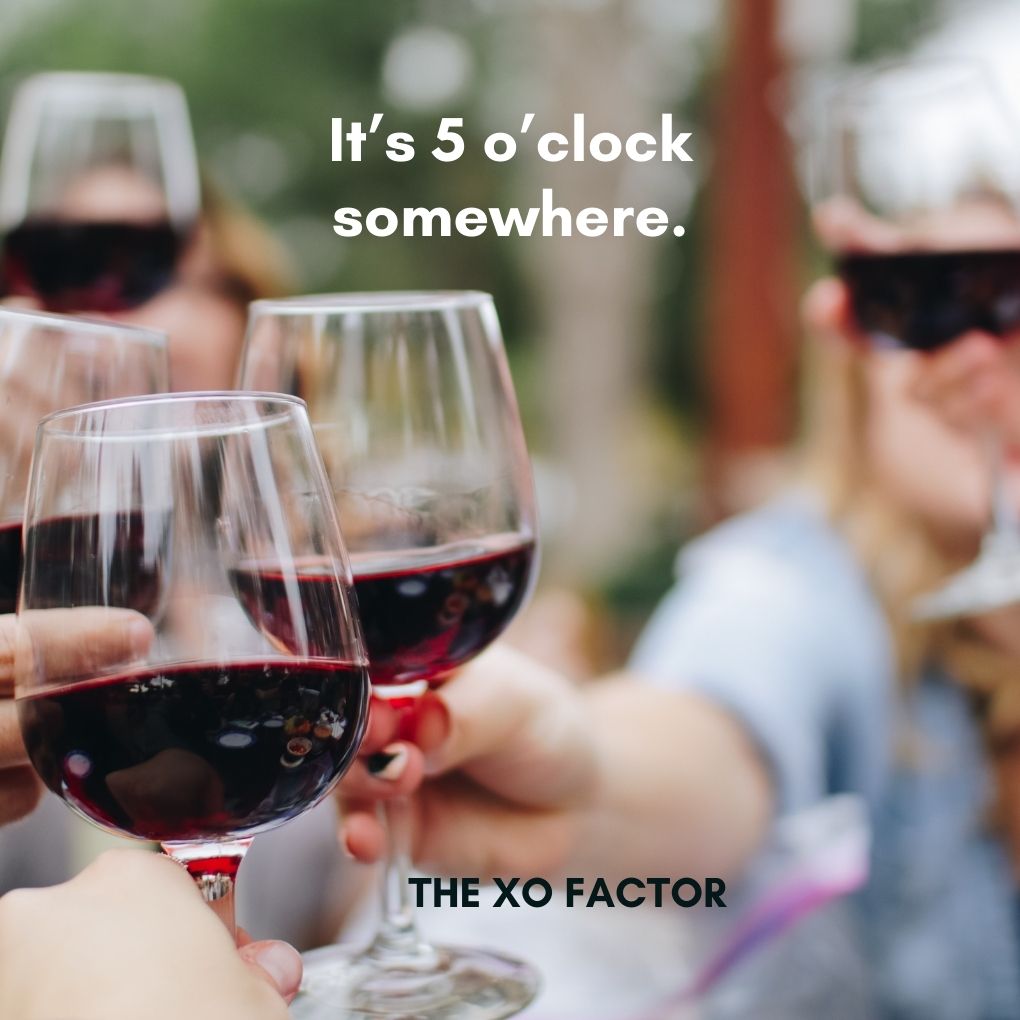 It's 5 o'clock somewhere.
Funny Drinking Quotes
"Trust me: You can dance — Alcohol." — Unknown
"If life gives you lemons, Add VODKA." — Unknown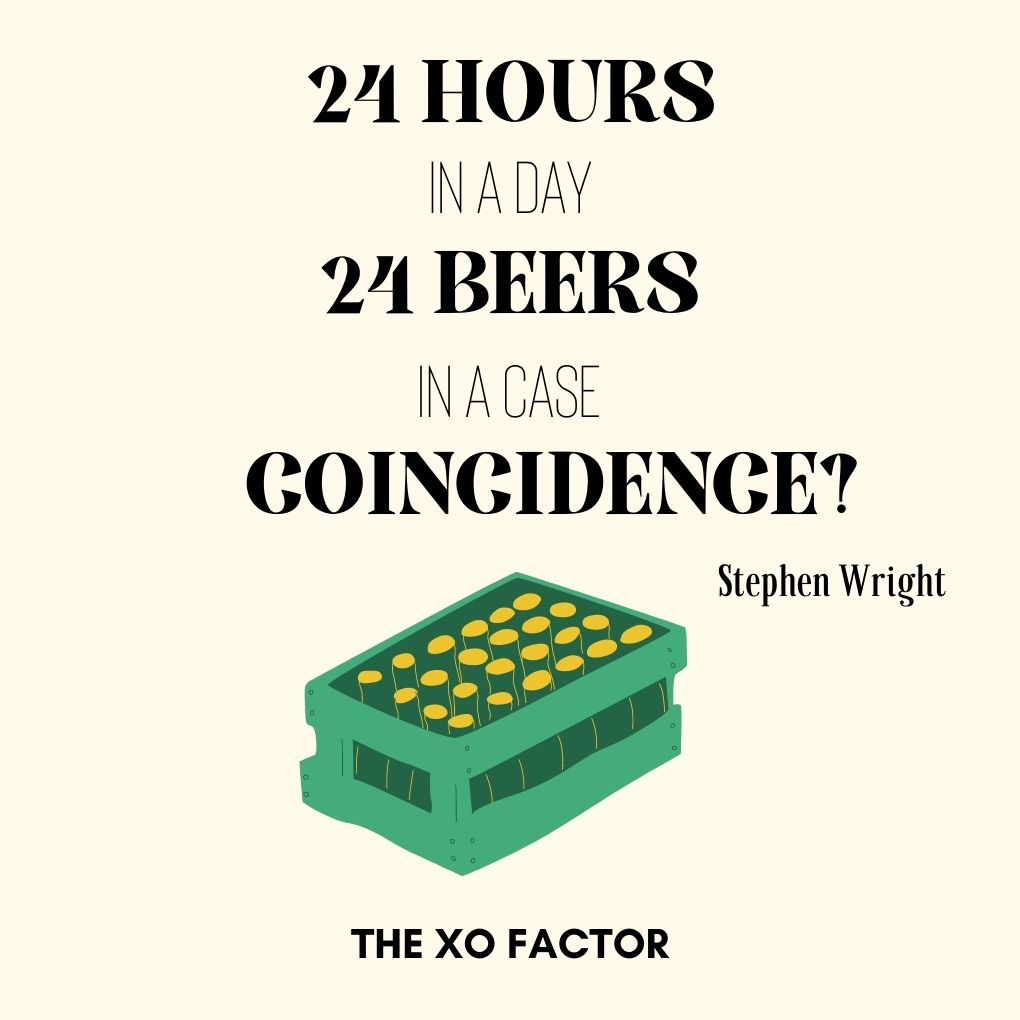 24 hours in a day, 24 beers in a case. Coincidence?" – Stephen Wright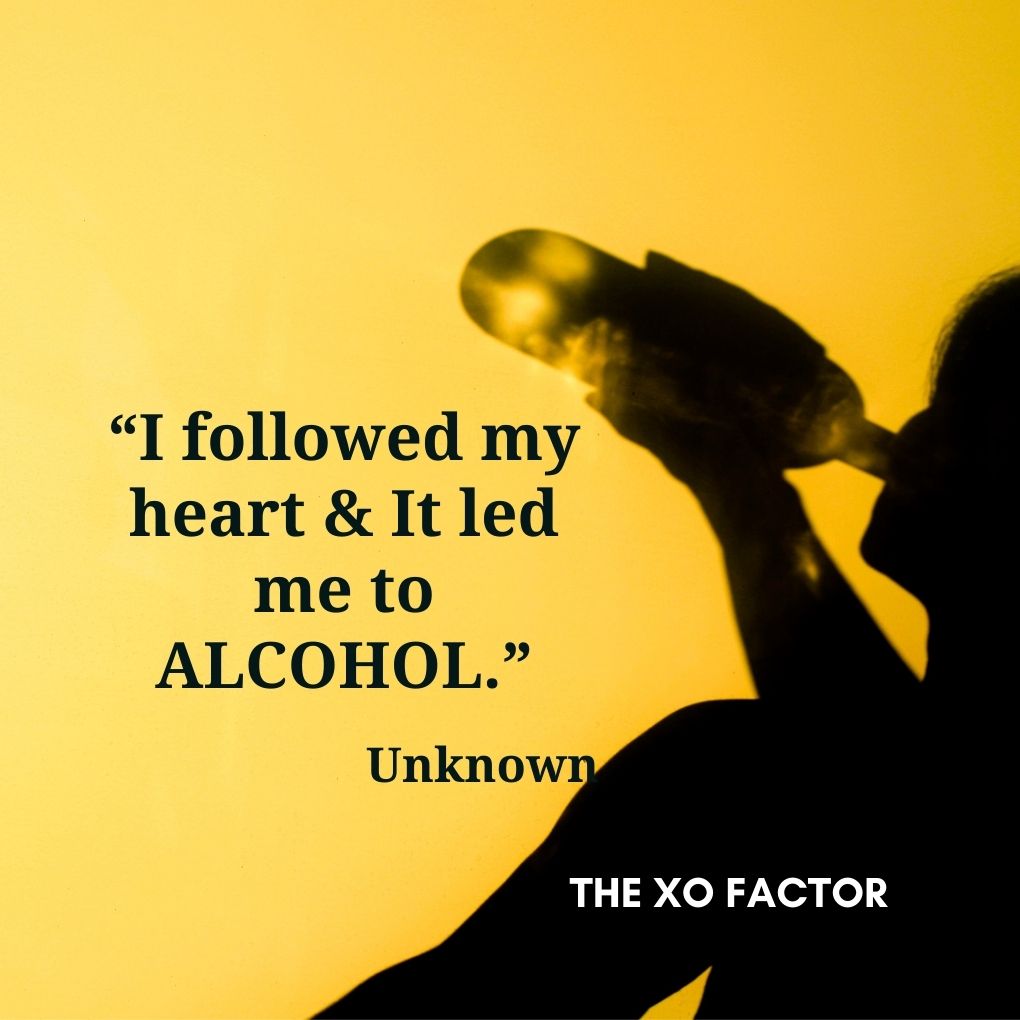 "I followed my heart & It led me to ALCOHOL." — Unknown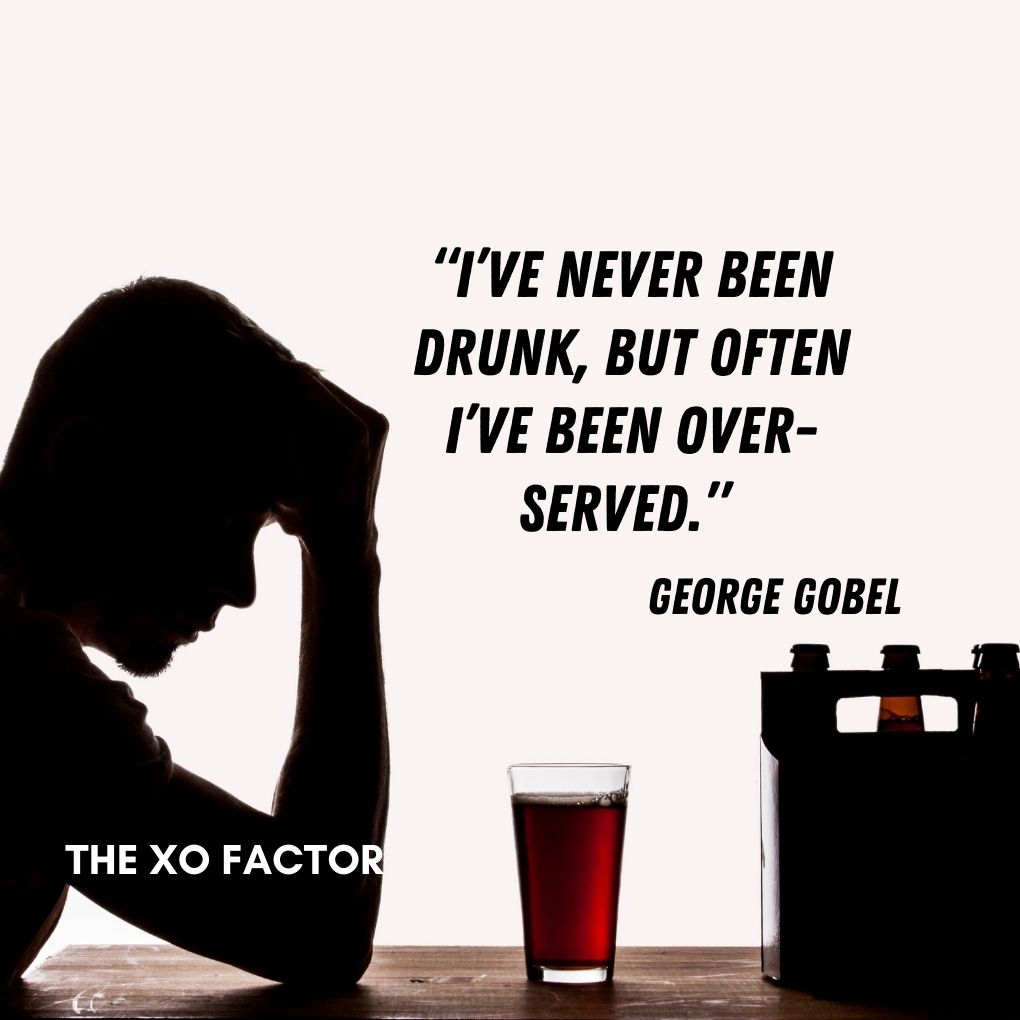 "I've never been drunk, but often I've been over served." ― George Gobel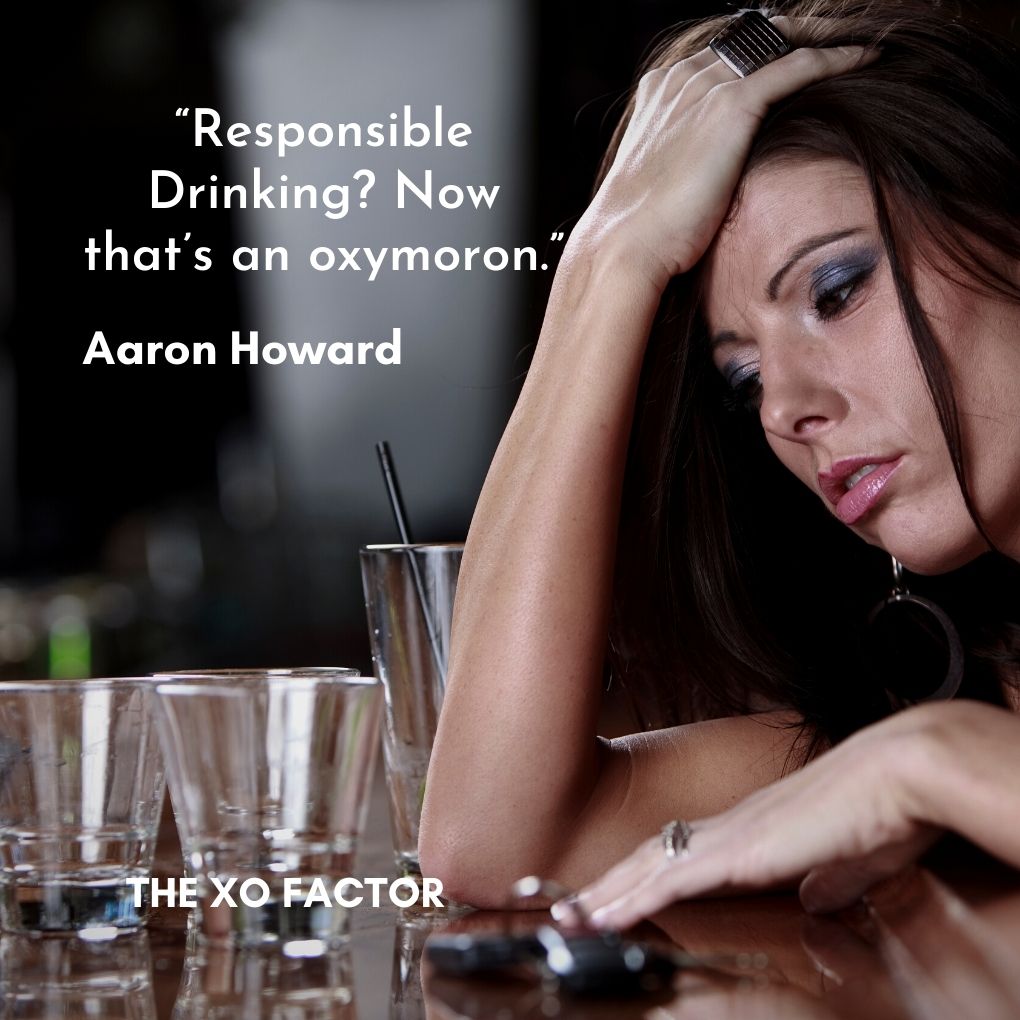 "Responsible Drinking? Now that's an oxymoron." ― Aaron Howard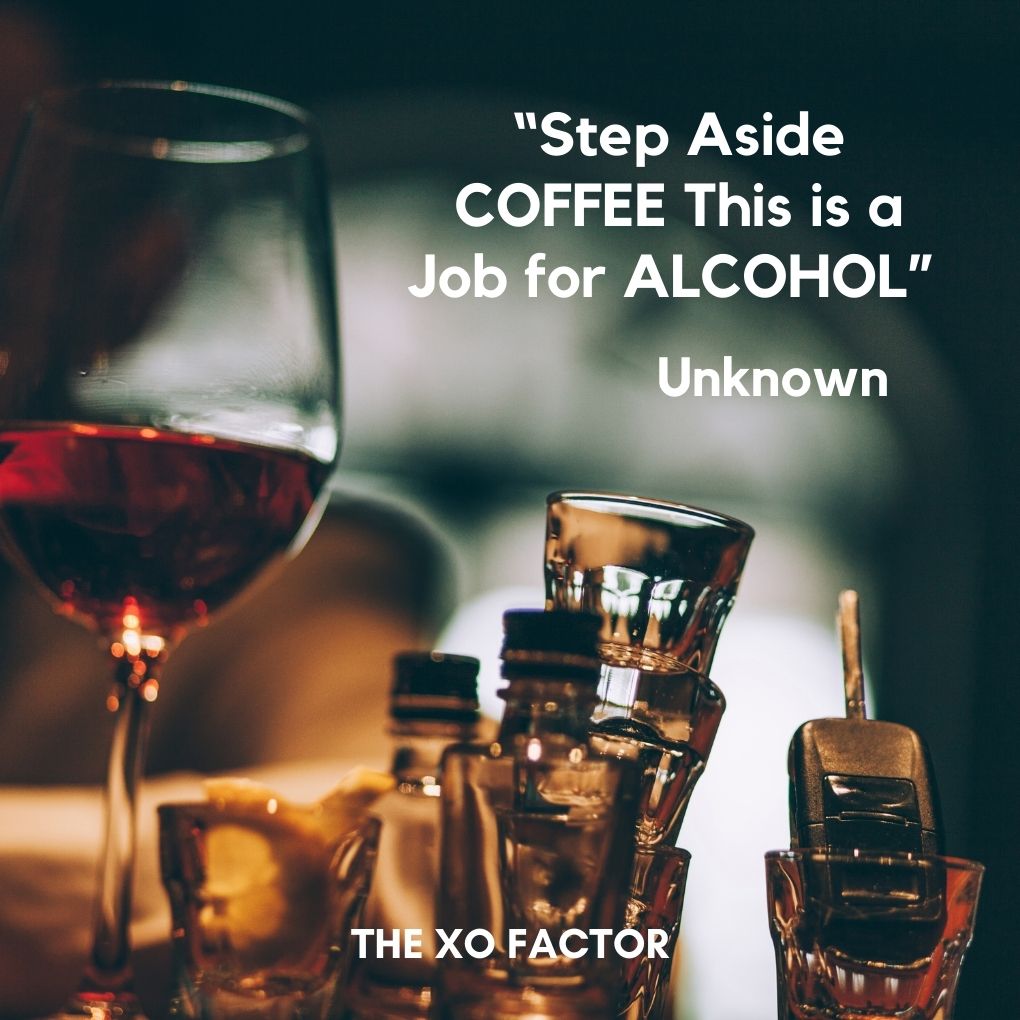 "Step Aside COFFEE This is a Job for ALCOHOL" — Unknown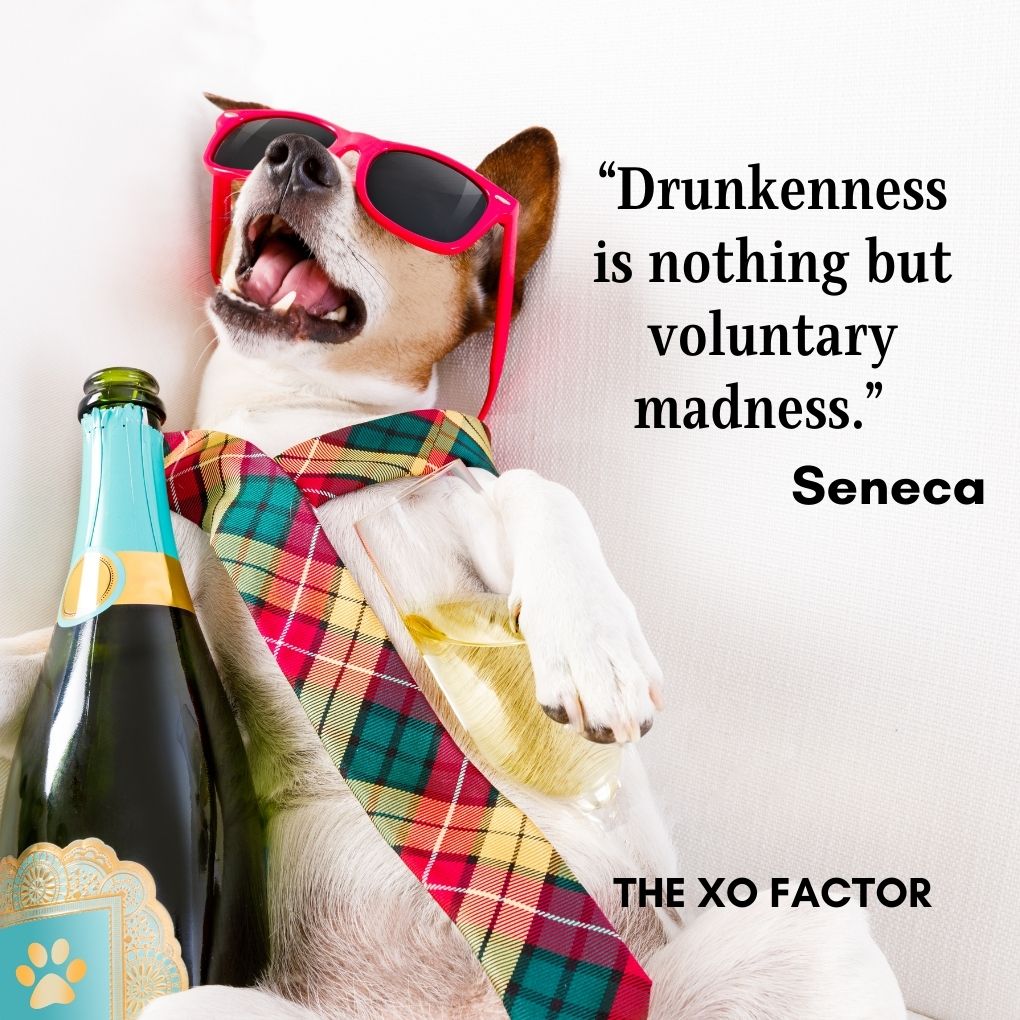 "Drunkenness is nothing but voluntary madness." — Seneca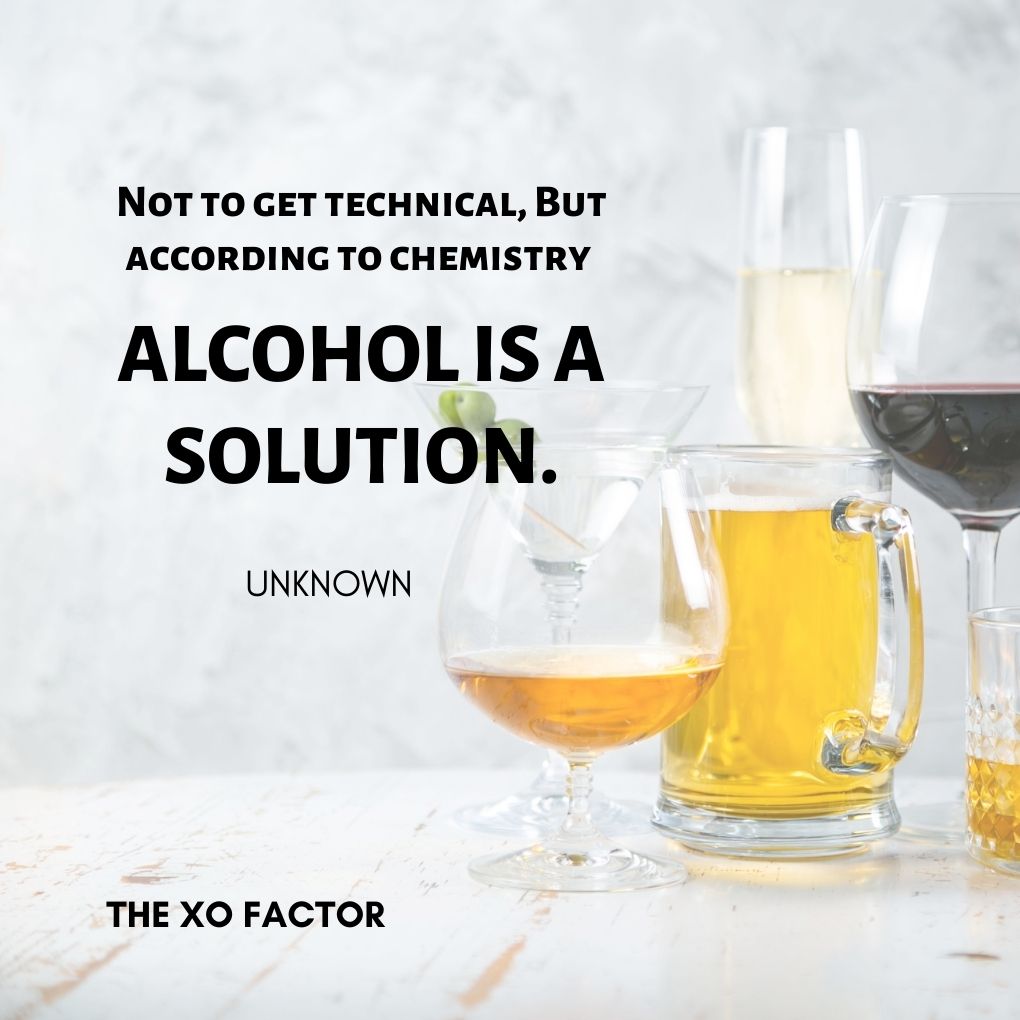 "Not to get technical, But according to chemistry ALCOHOL is a solution." — Unknown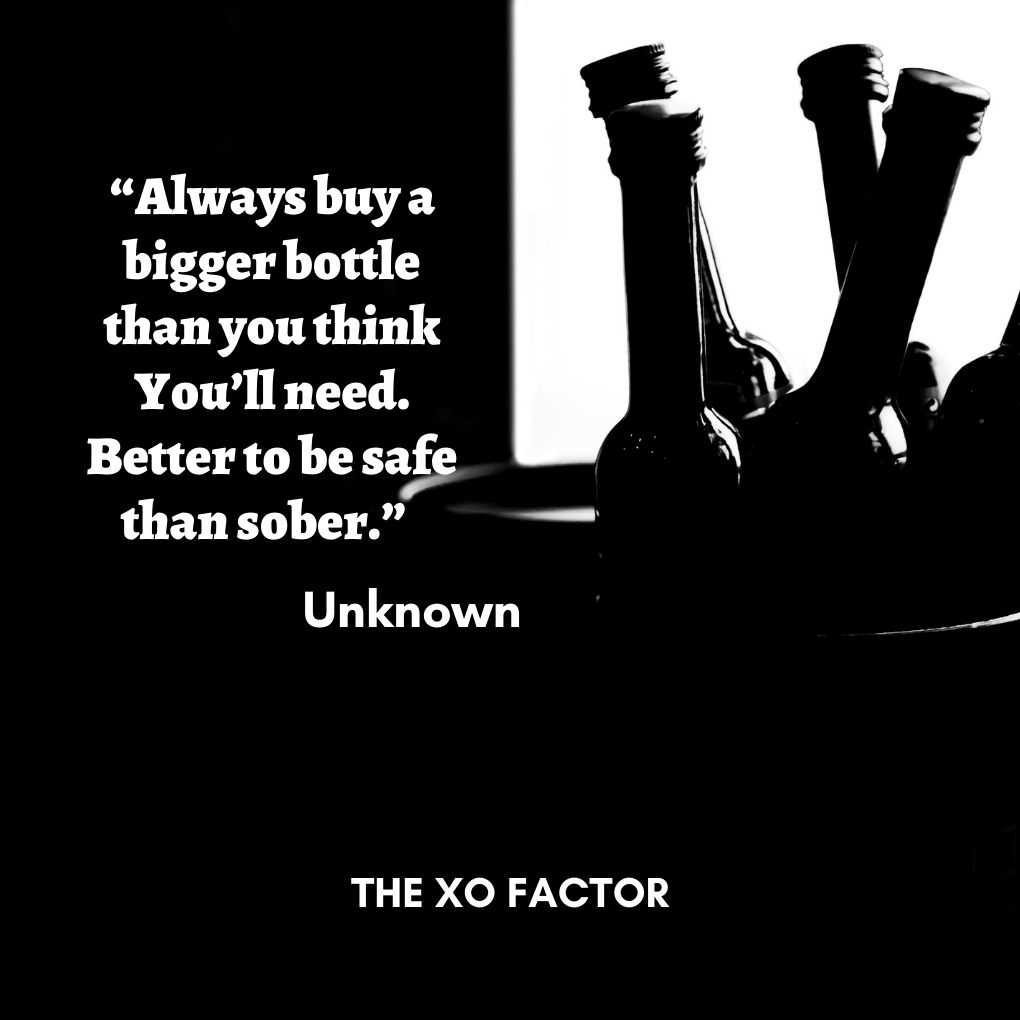 "Always buy a bigger bottle than you think You'll need. Better to be safe than sober." — Unknown
"People are not addicted to Alcohol or drugs, They are addicted to escaping reality." — Unknown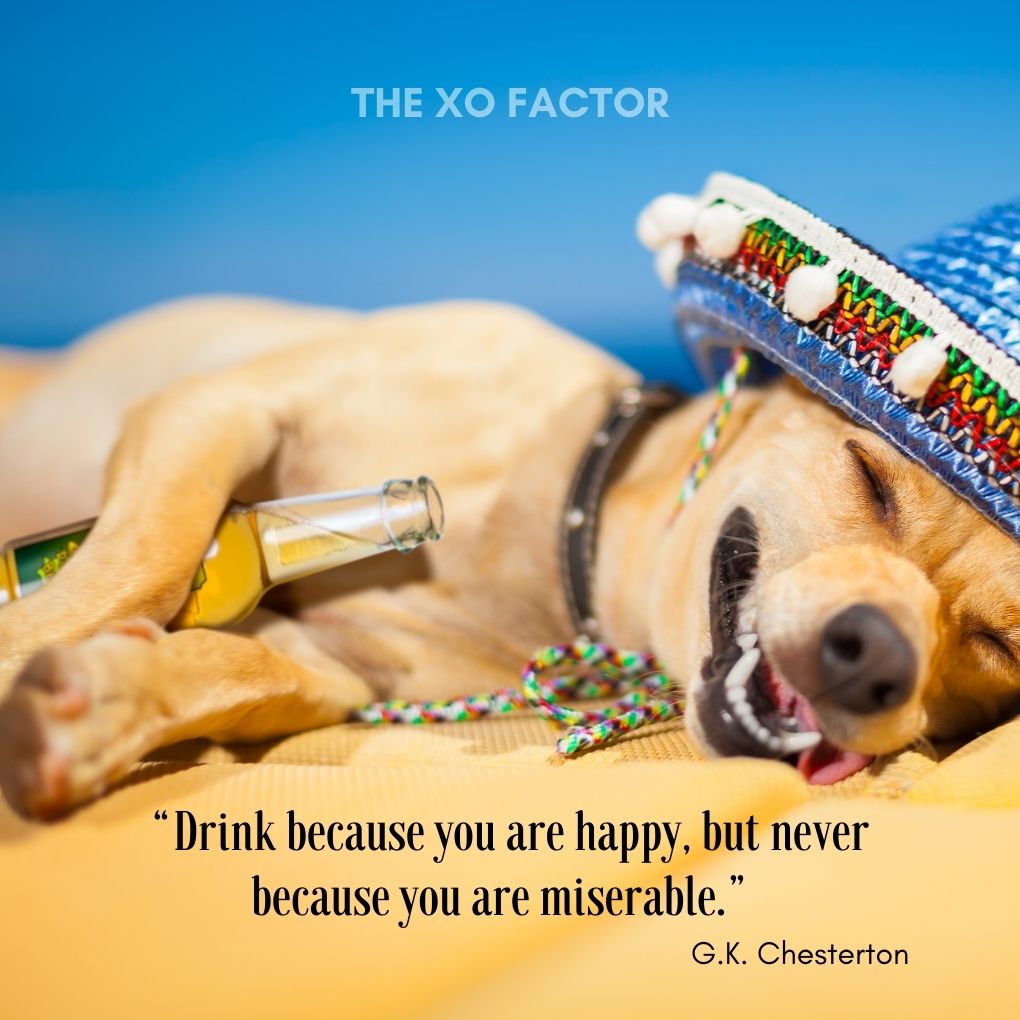 "Drink because you are happy, but never because you are miserable." — G.K. Chesterton
"Alcohol does not make you fat, it makes you lean: against tables, chairs, walls, floors and ugly people." — Unknown
"The problem with some people is that when they aren't drunk, they're sober." ― William Butler Yeats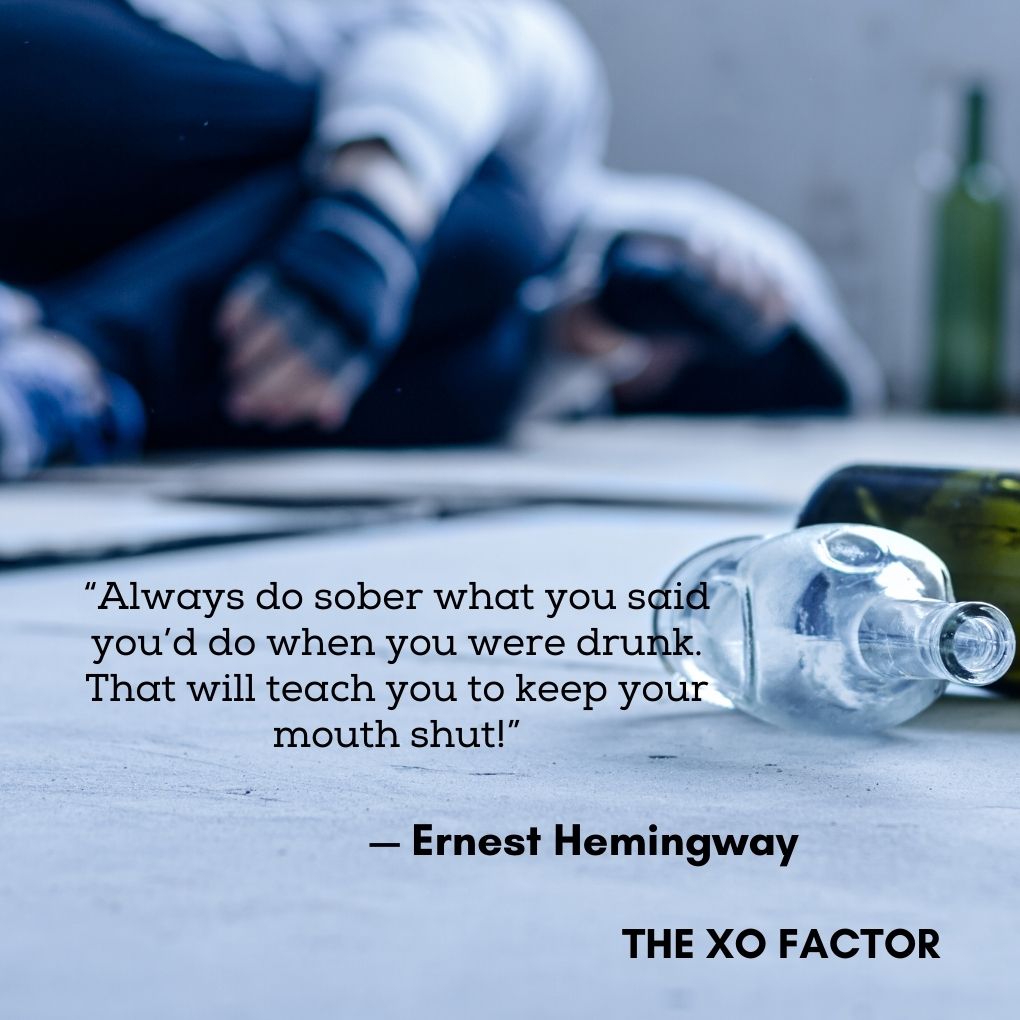 "Always do sober what you said you'd do when you were drunk. That will teach you to keep your mouth shut!" — Ernest Hemingway
"Everybody's got to believe in something. I believe I'll have another beer." — Unknown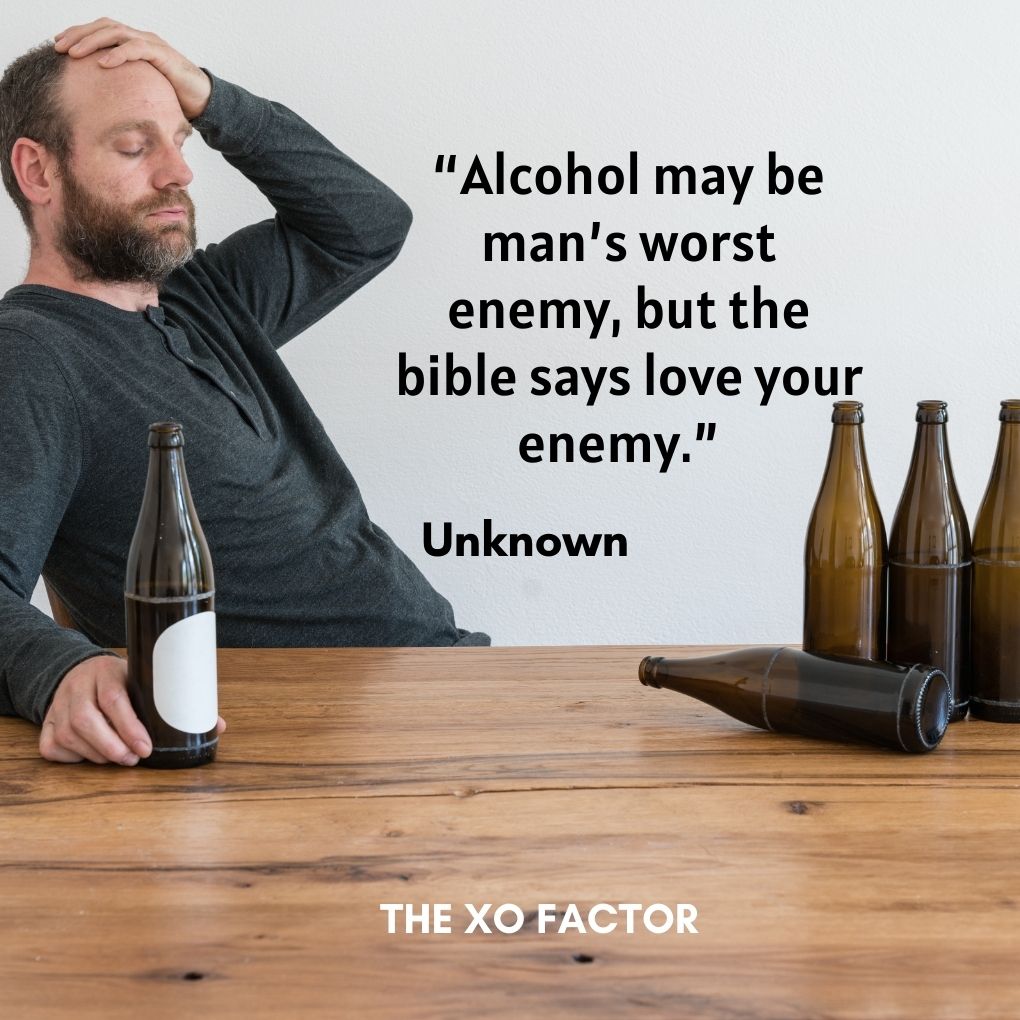 "Alcohol may be man's worst enemy, but the bible says love your enemy." — Unknown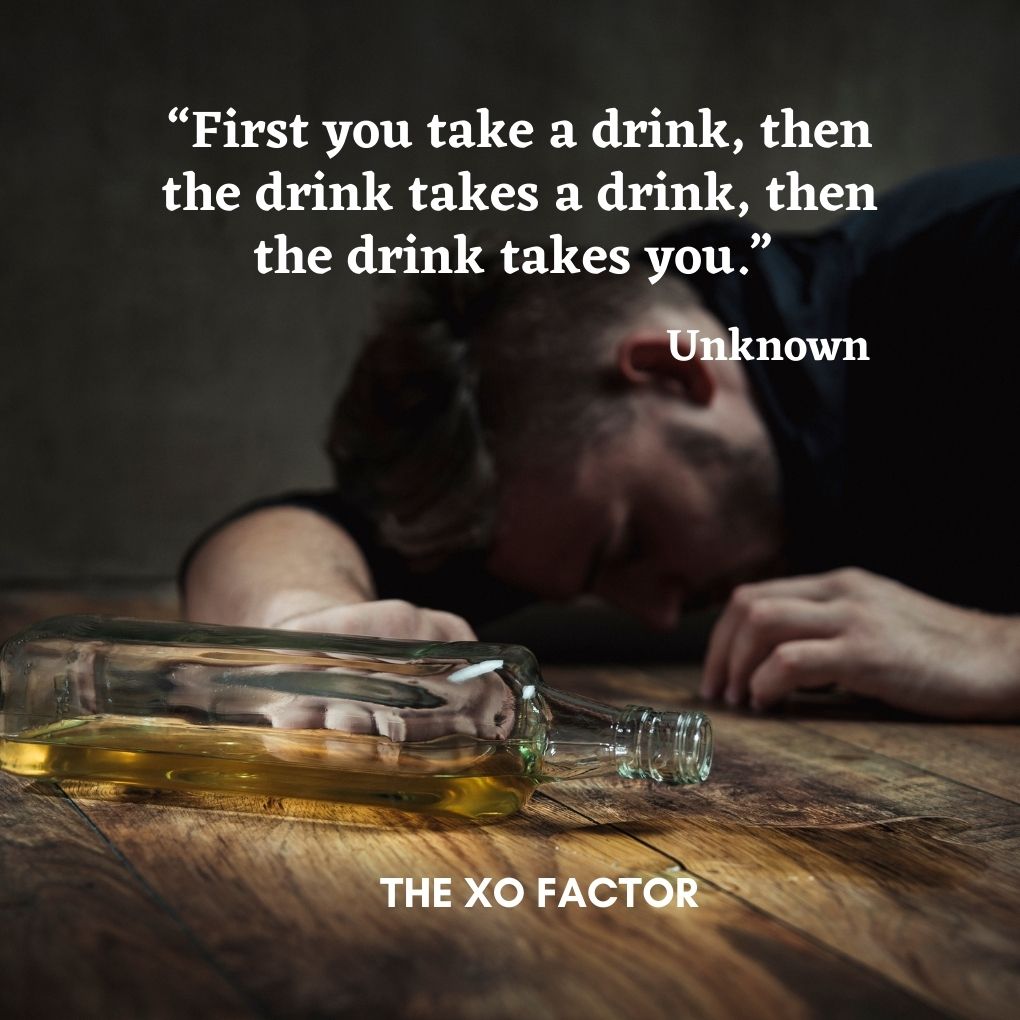 "First you take a drink, then the drink takes a drink, then the drink takes you." — Unknown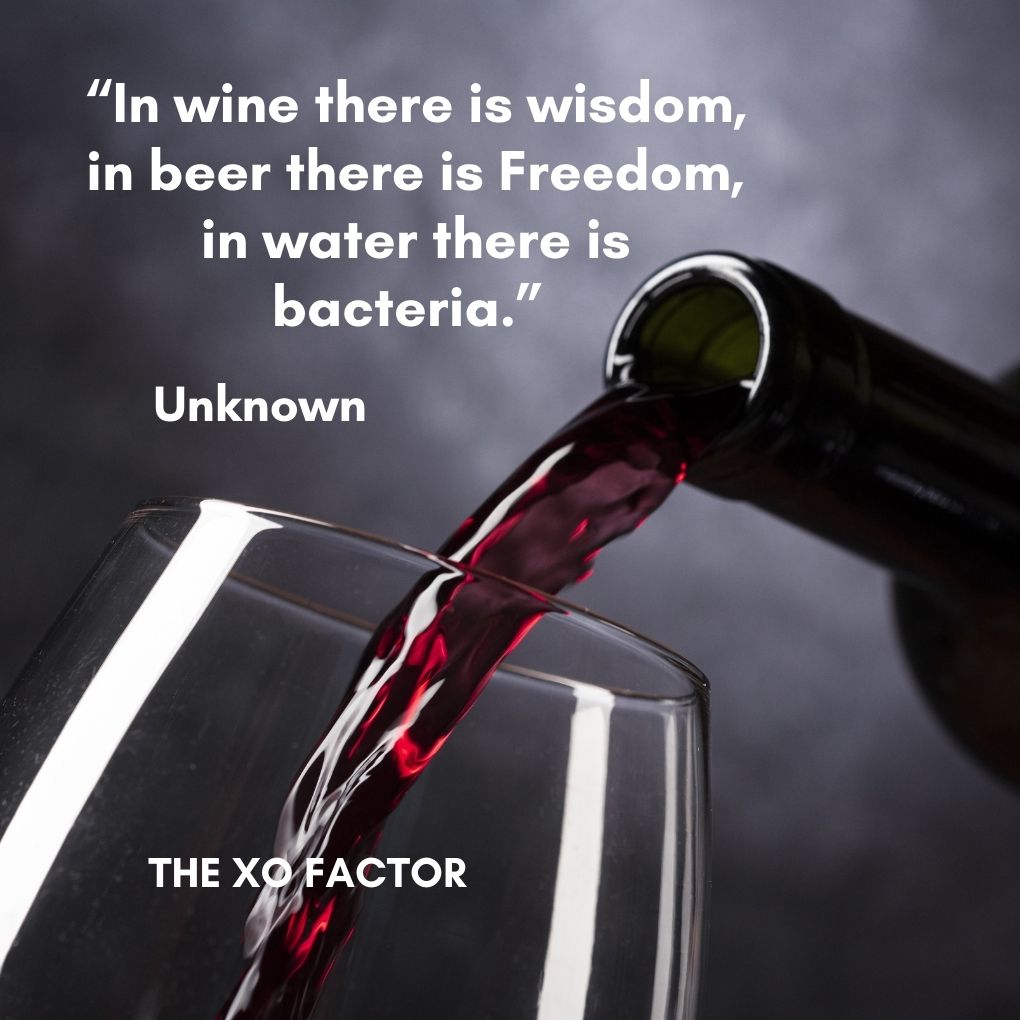 "In wine there is wisdom, in beer there is Freedom, in water there is bacteria." — Unknown
"Of course size matters. No one wants a small glass of wine." — Unknown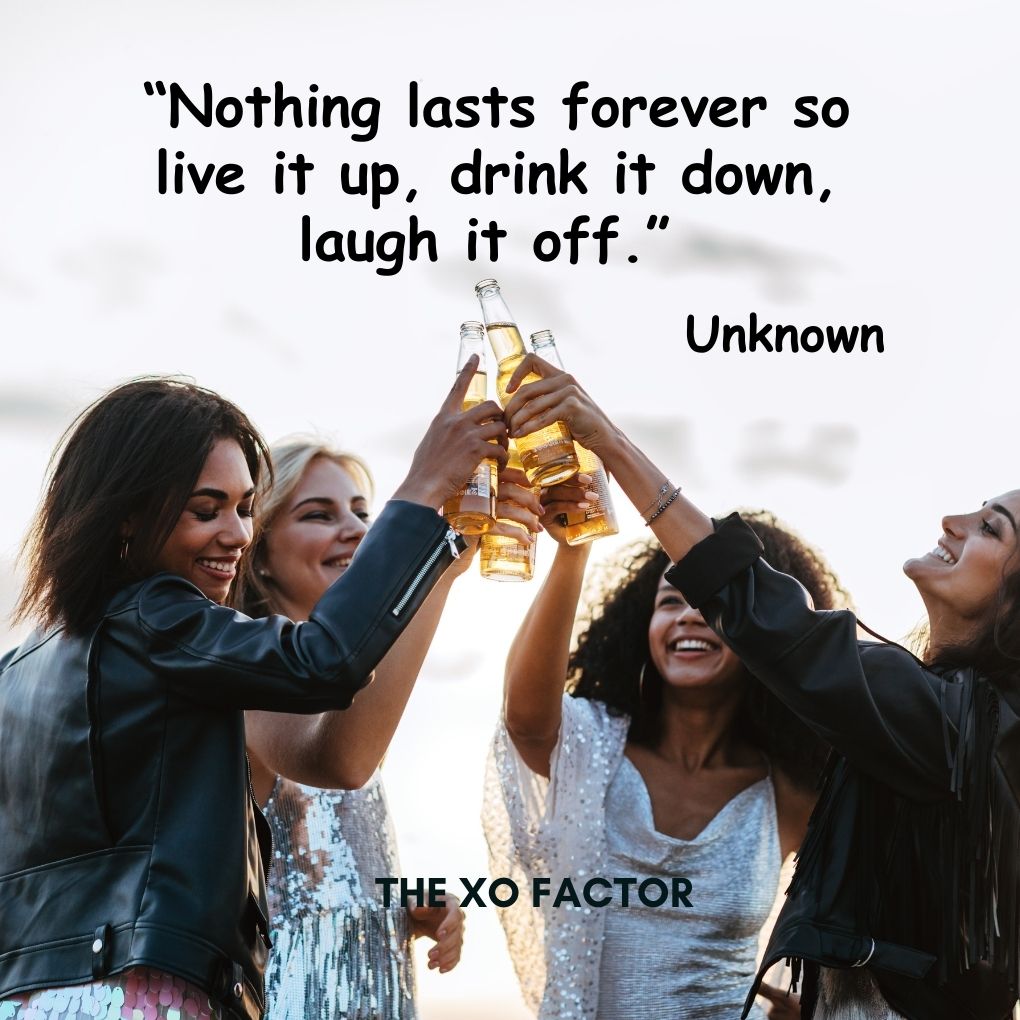 "Nothing lasts forever so live it up, drink it down, laugh it off." — Unknown
"I cook with wine, sometimes I even add it to the food." – W.C Fields
"Save water drink wine."- Unknown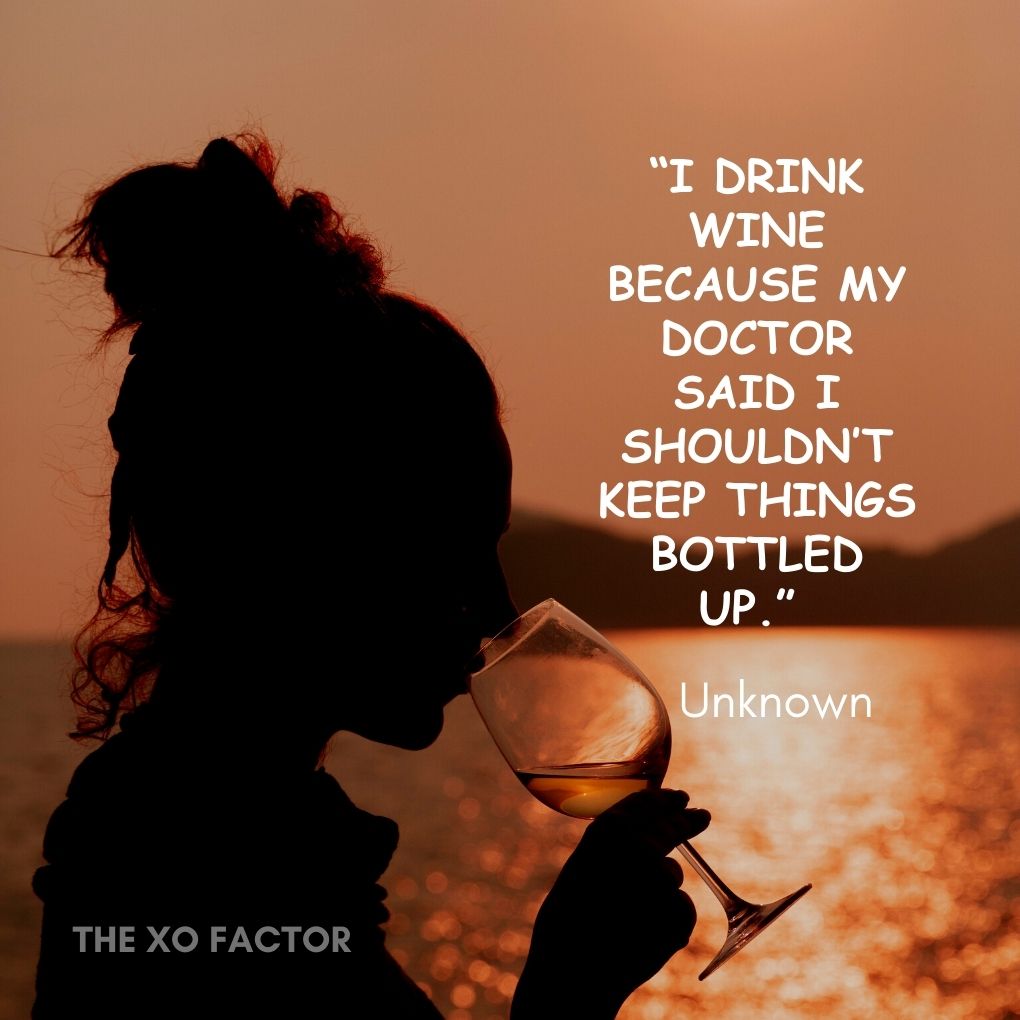 "I drink wine because my doctor said I shouldn't keep things bottled up." — Unknown
Related Posts
Friday Drinking Quotes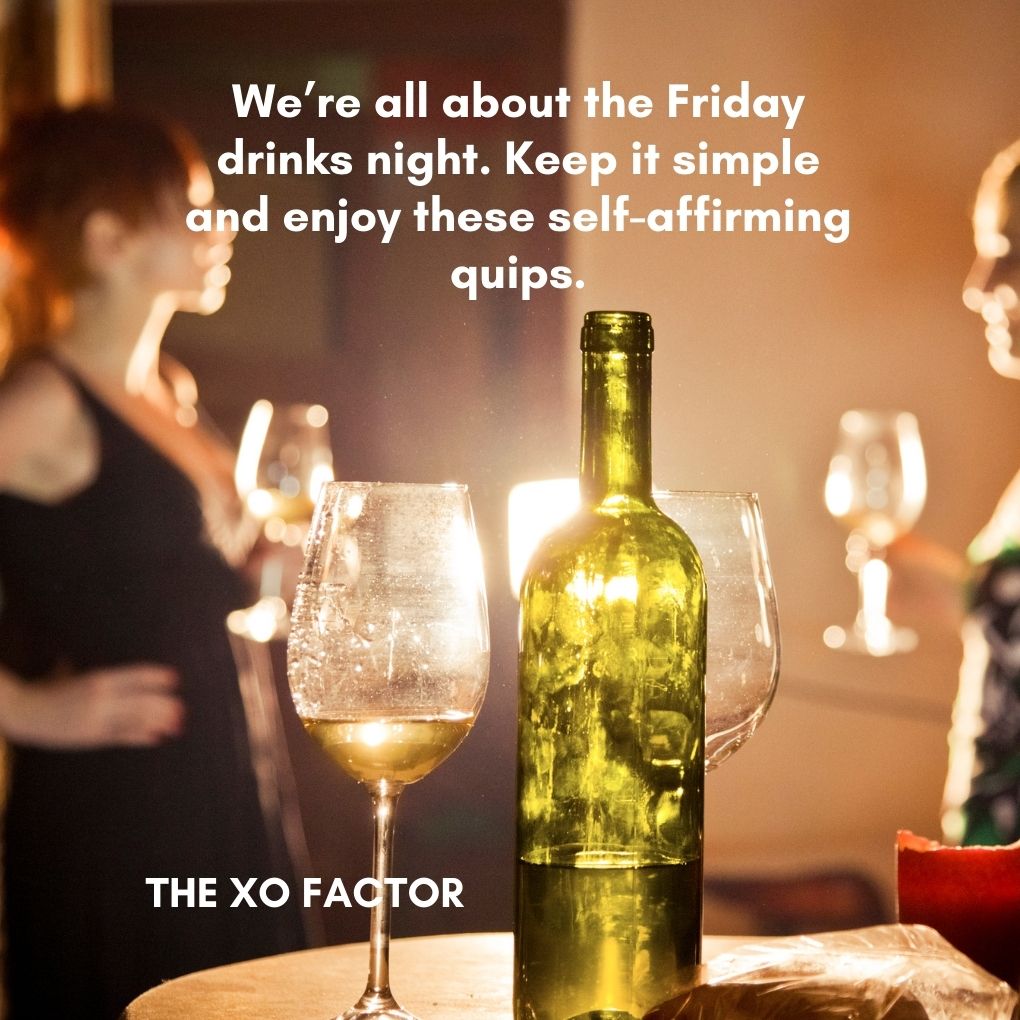 We're all about the Friday drinks night. Keep it simple and enjoy these self-affirming quips.
There's no better way to spend your Friday drink night than with friends. So grab a drink and enjoy the company of those you care about most.
Friday drink night. Get out there and enjoy the evening with friends.
Friday drink nights are made for drinks and friends. To have fun, laugh, and live life to the fullest.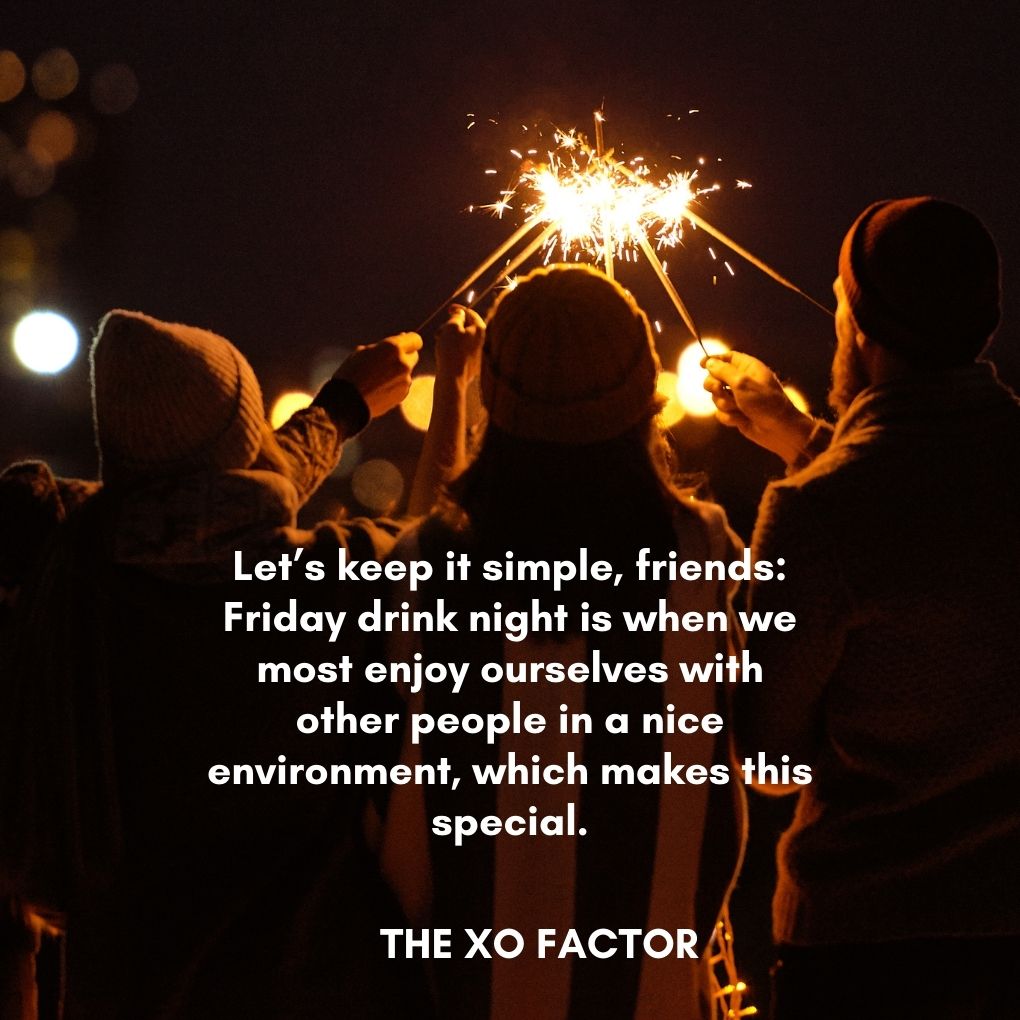 Let's keep it simple, friends: Friday drink night is when we most enjoy ourselves with other people in a nice environment, which makes this special.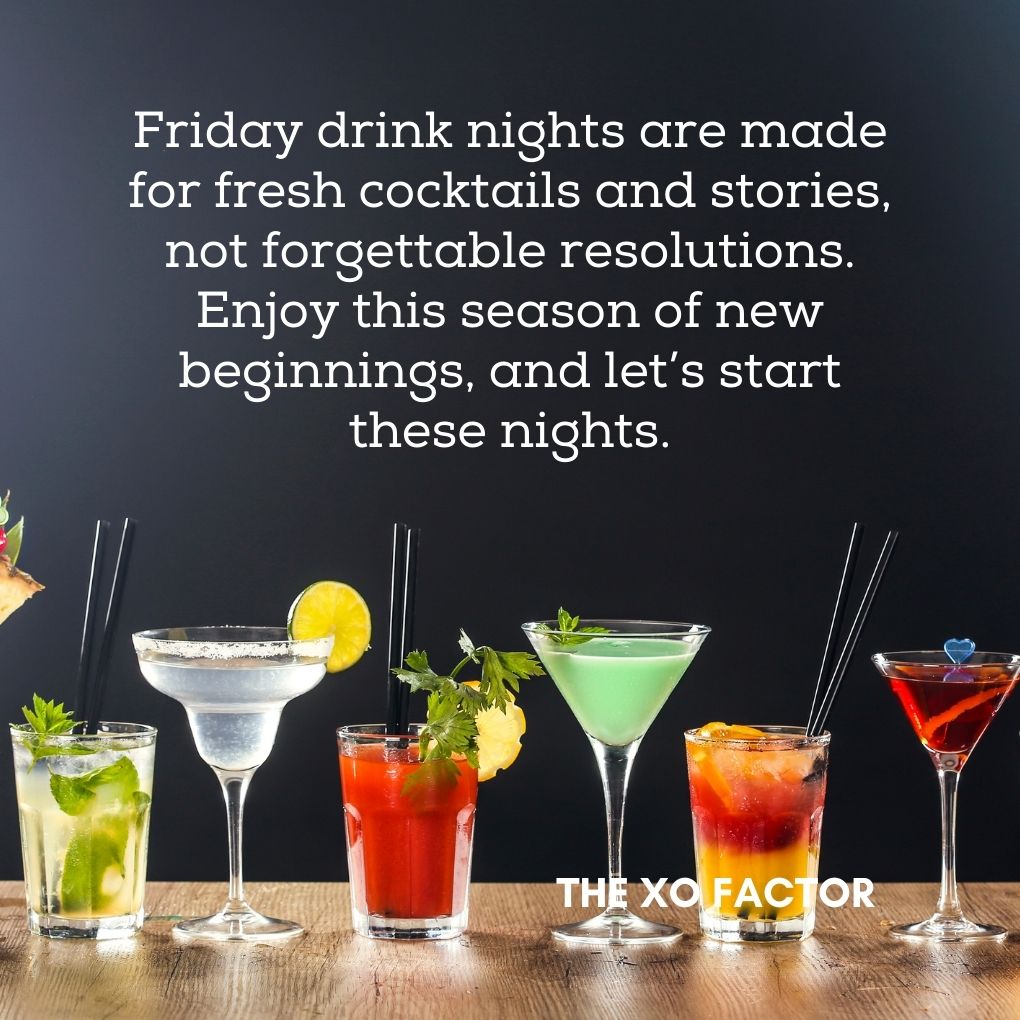 Friday drink nights are made for fresh cocktails and stories, not forgettable resolutions. Enjoy this season of new beginnings, and let's start these nights.
The night is young, and the drinks are strong. Let's celebrate. Friday drink night is here, and it's time to get down. Friday night drinks are the best kind of drink.
Friday drink nights are for friends, fun, and drinks. It's good to be out with a crew.
Friday drink nights are the best nights to drink. Nothing can stop the Friday night drinks.
Friday drink nights are the perfect excuse to get out of the office, grab a friend and throw back a few drinks.
Friday drink night is always the best night to get wasted. Friday drink night is for drinking and flirting.
It's Friday drink night; let's be merry. Let's raise our glasses to the weekend and celebrate that you don't have to spend it at your desk.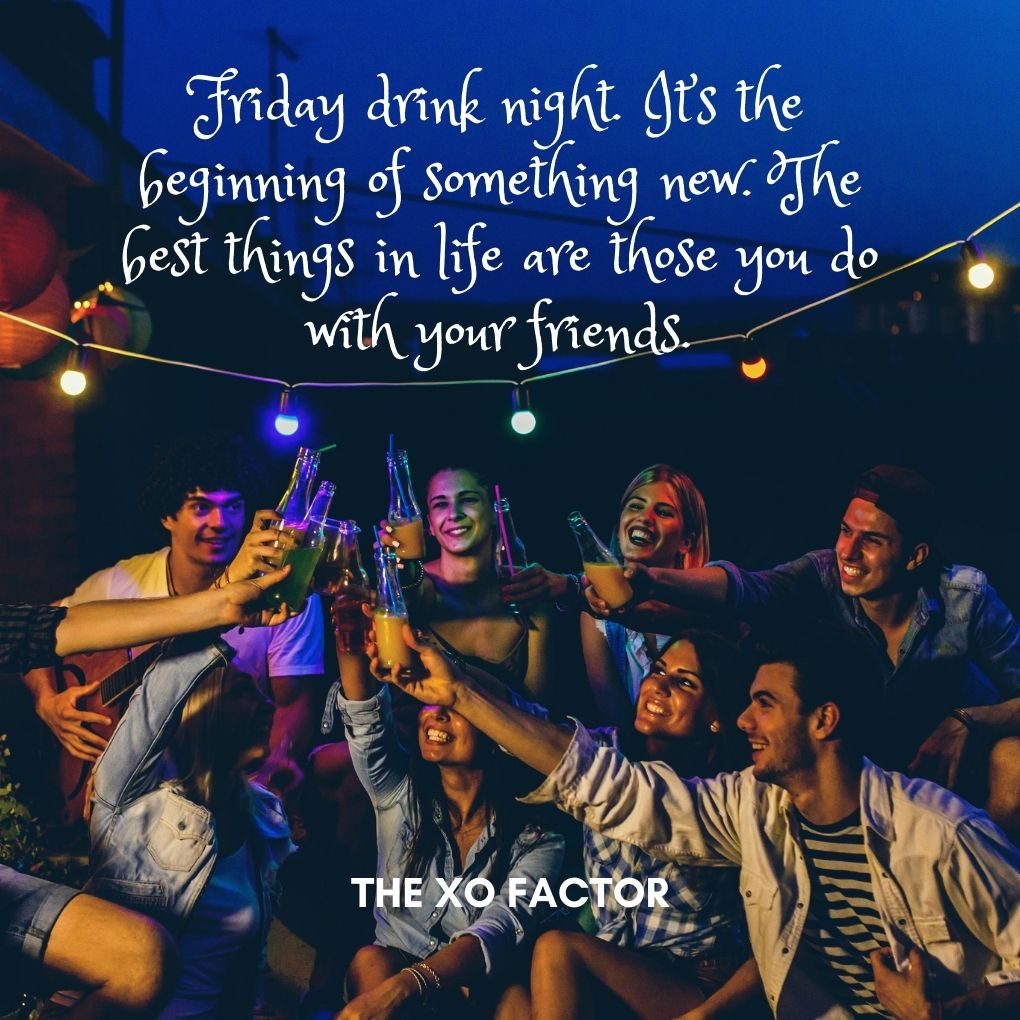 Friday drink night. It's the beginning of something new. The best things in life are those you do with your friends.
Friday drink nights with friends is the best way to spend your weekend.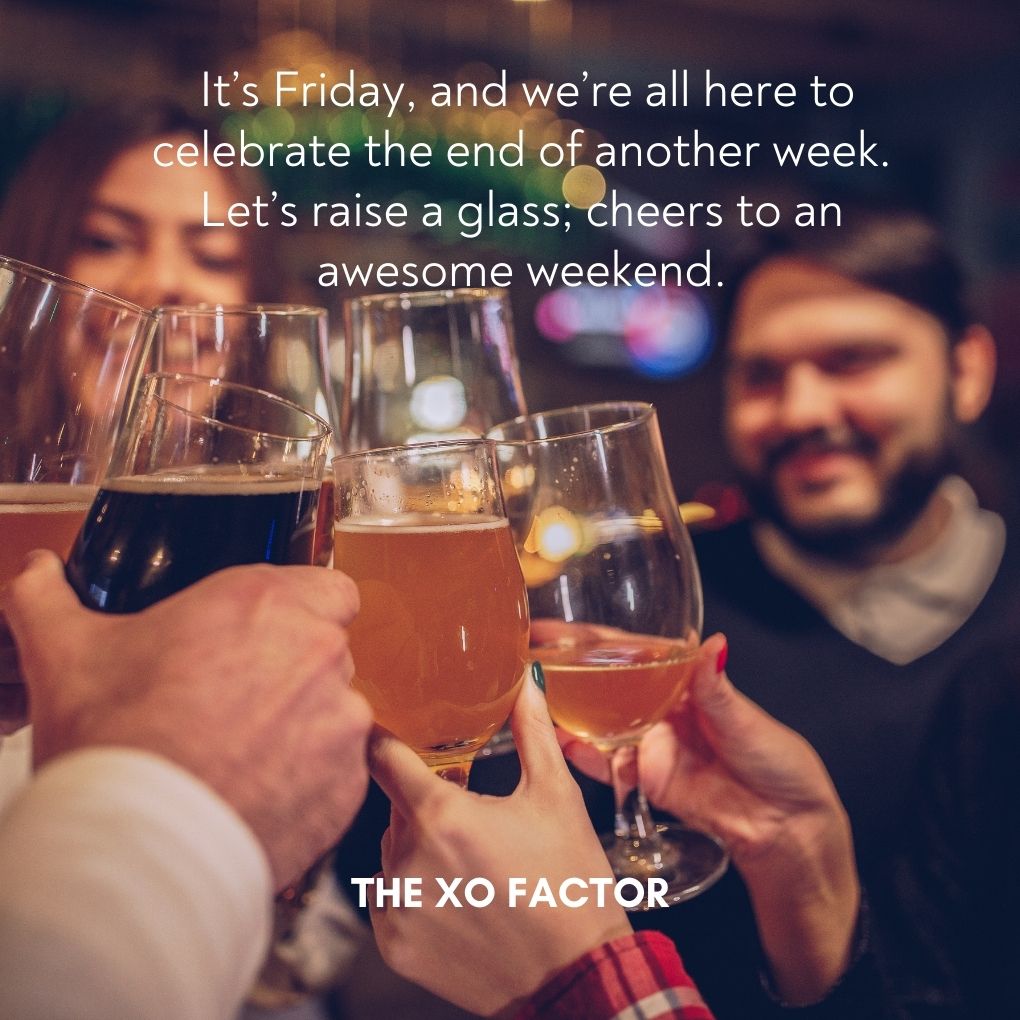 It's Friday, and we're all here to celebrate the end of another week. Let's raise a glass; cheers to an awesome weekend.
Let's get Fridays started with a little Friday drink because it's going to be a long night.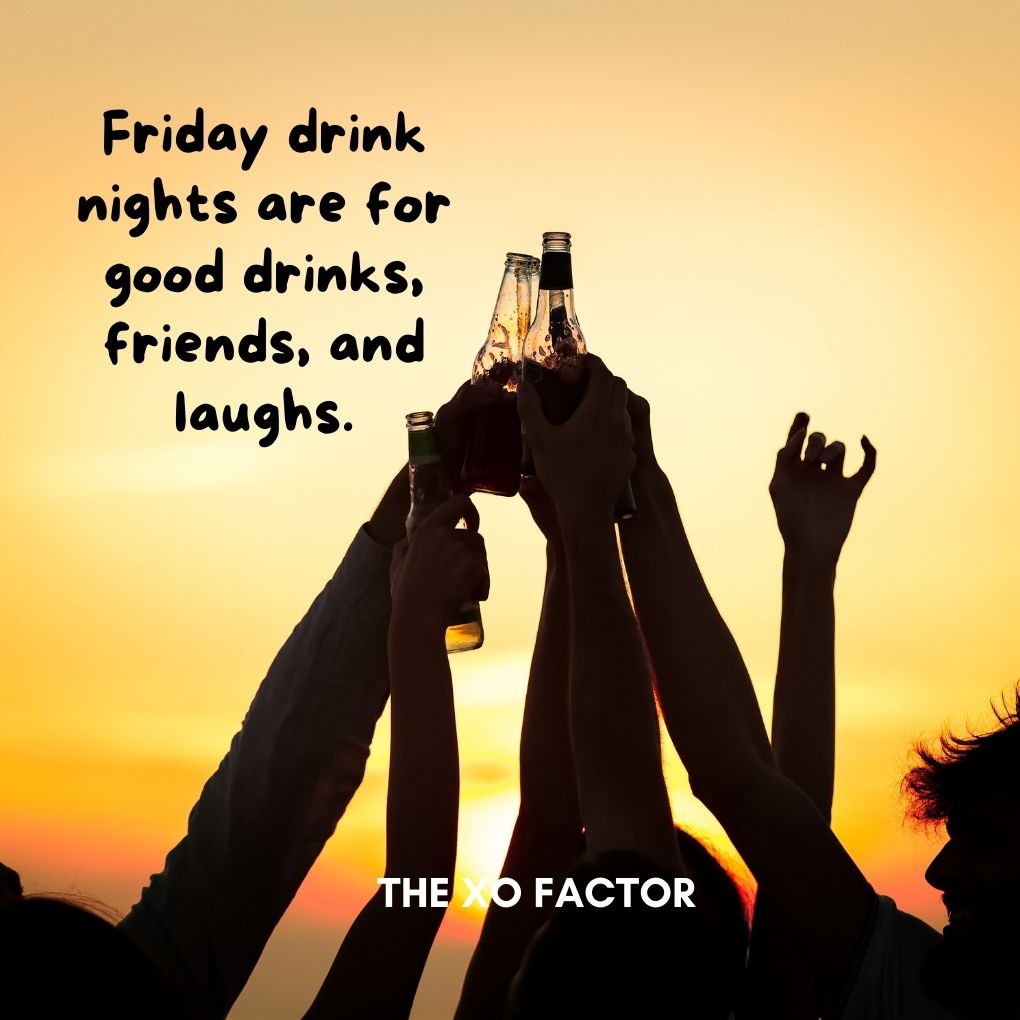 Friday drink nights are for good drinks, friends, and laughs.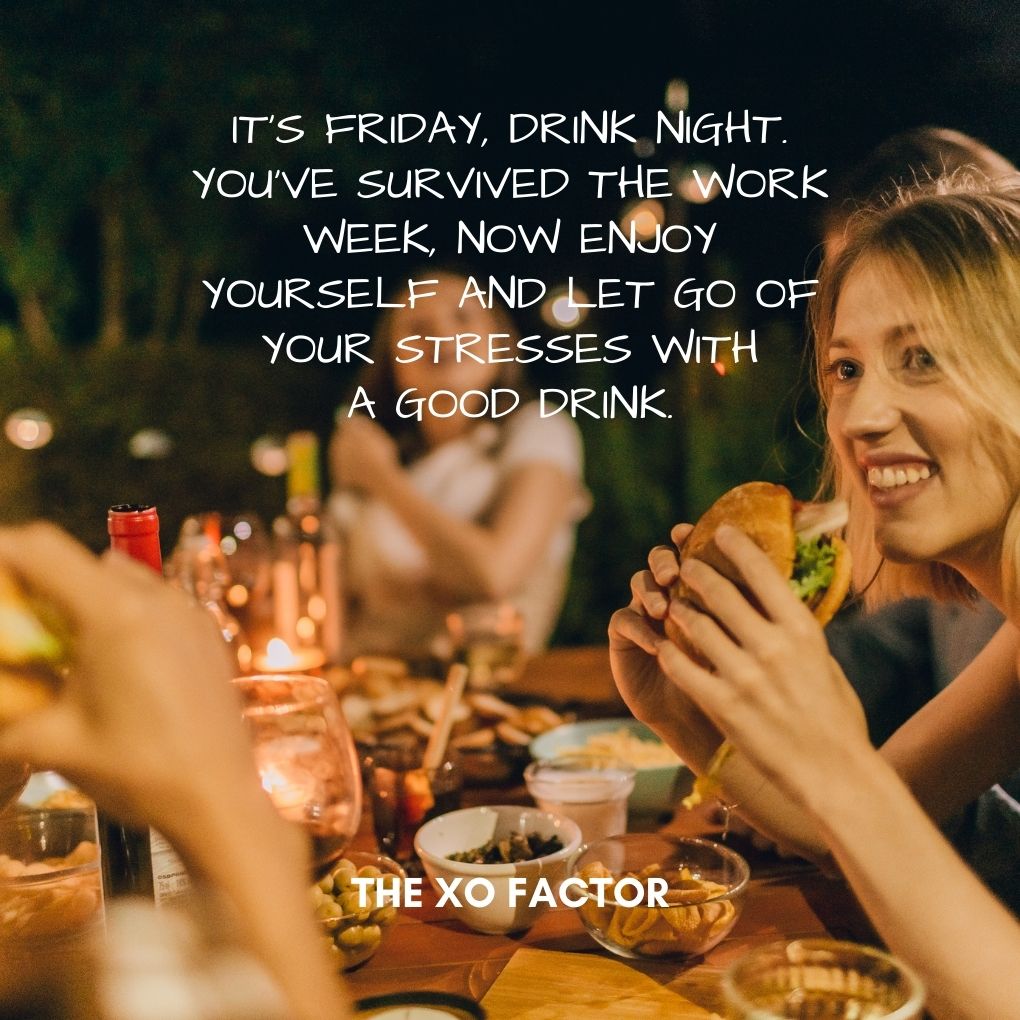 It's Friday, drink night. You've survived the work week, now enjoy yourself and let go of your stresses with a good drink.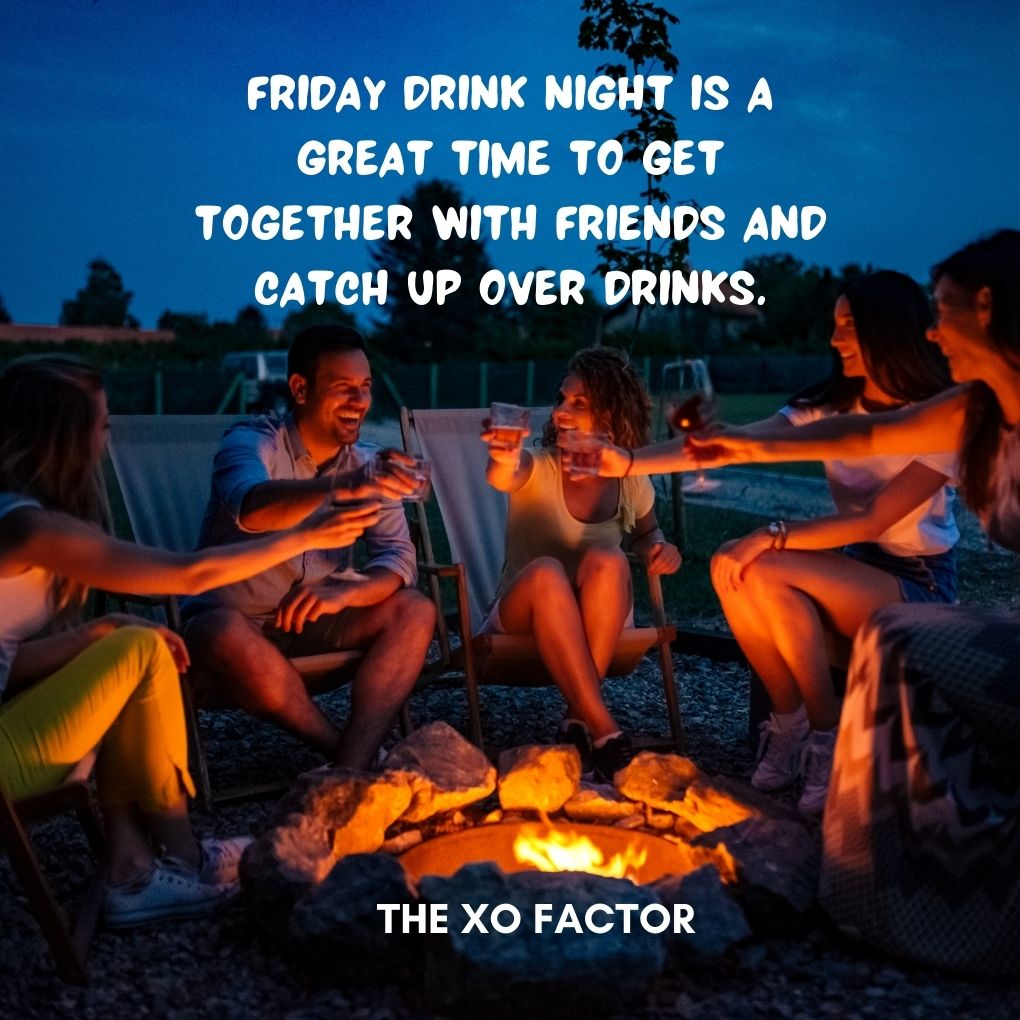 Friday drink night is a great time to get together with friends and catch up over drinks.
Friday drink nights! A glass of wine and a big bowl of nachos is a perfect way to end the week.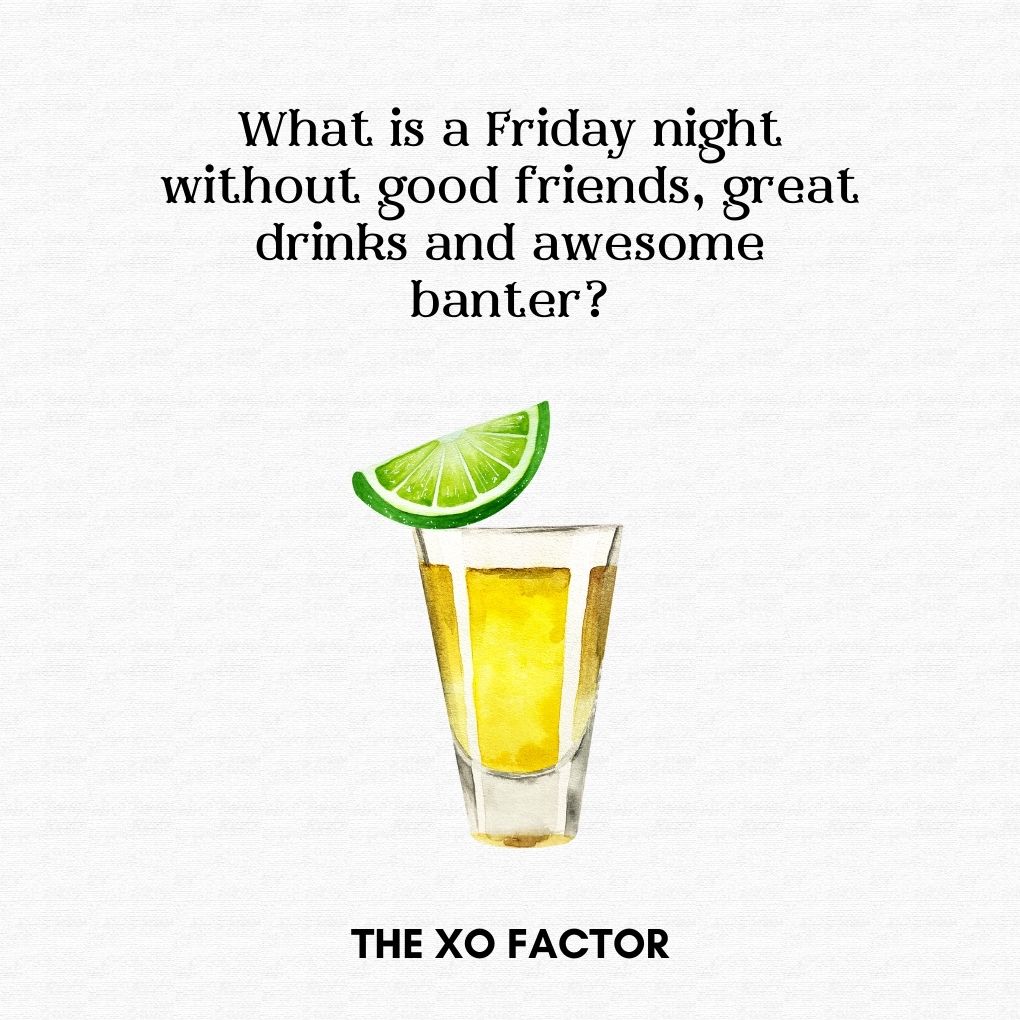 What is a Friday night without good friends, great drinks and awesome banter?
It's Friday, drink night, so get out there and have a drink with friends.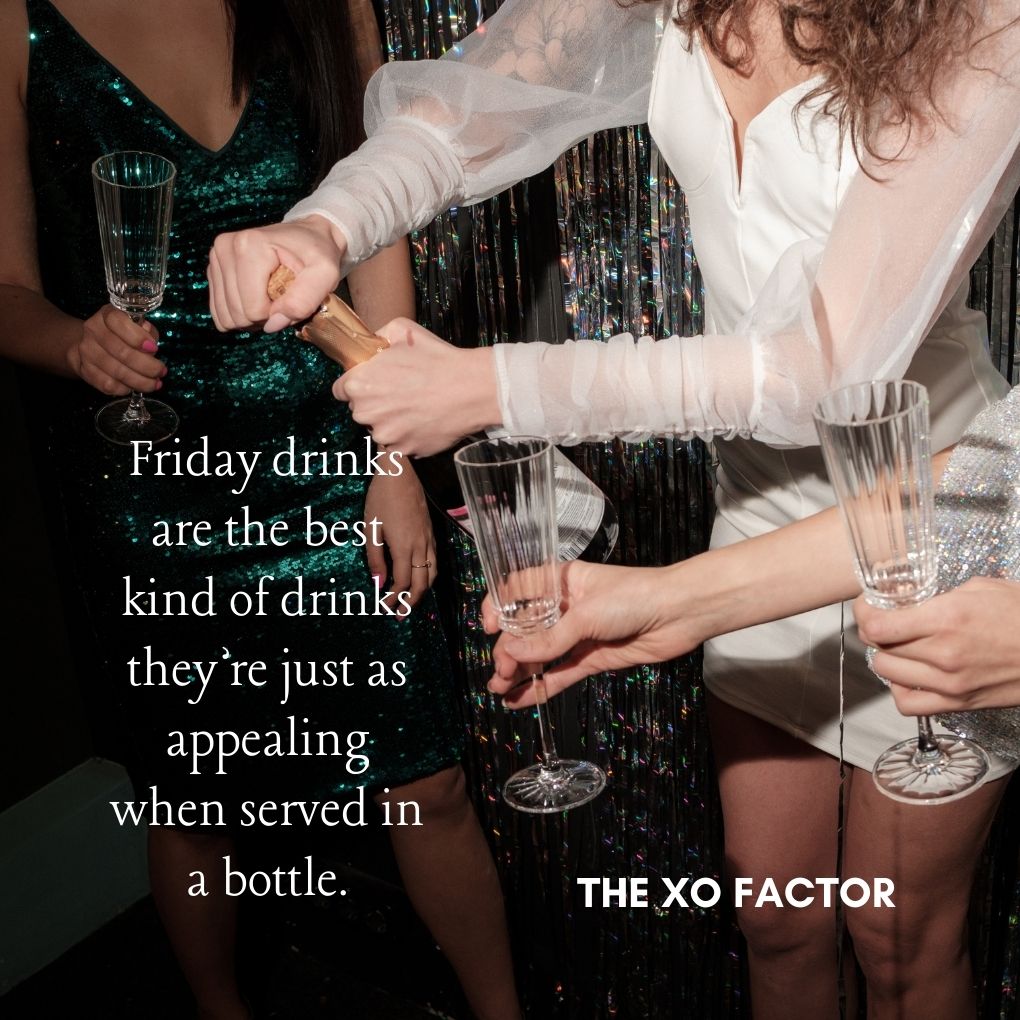 Friday drinks are the best kind of drinks they're just as appealing when served in a bottle.
Friday drink nights are made for drinks, no matter your persuasion.
We all need a bit of Friday drinks from time to time; taking it out on someone else and letting off some steam is always the way to go.
Friday drink nights are for drinks, drinks, and more. Friday nights are the perfect time to get drinking with your friends.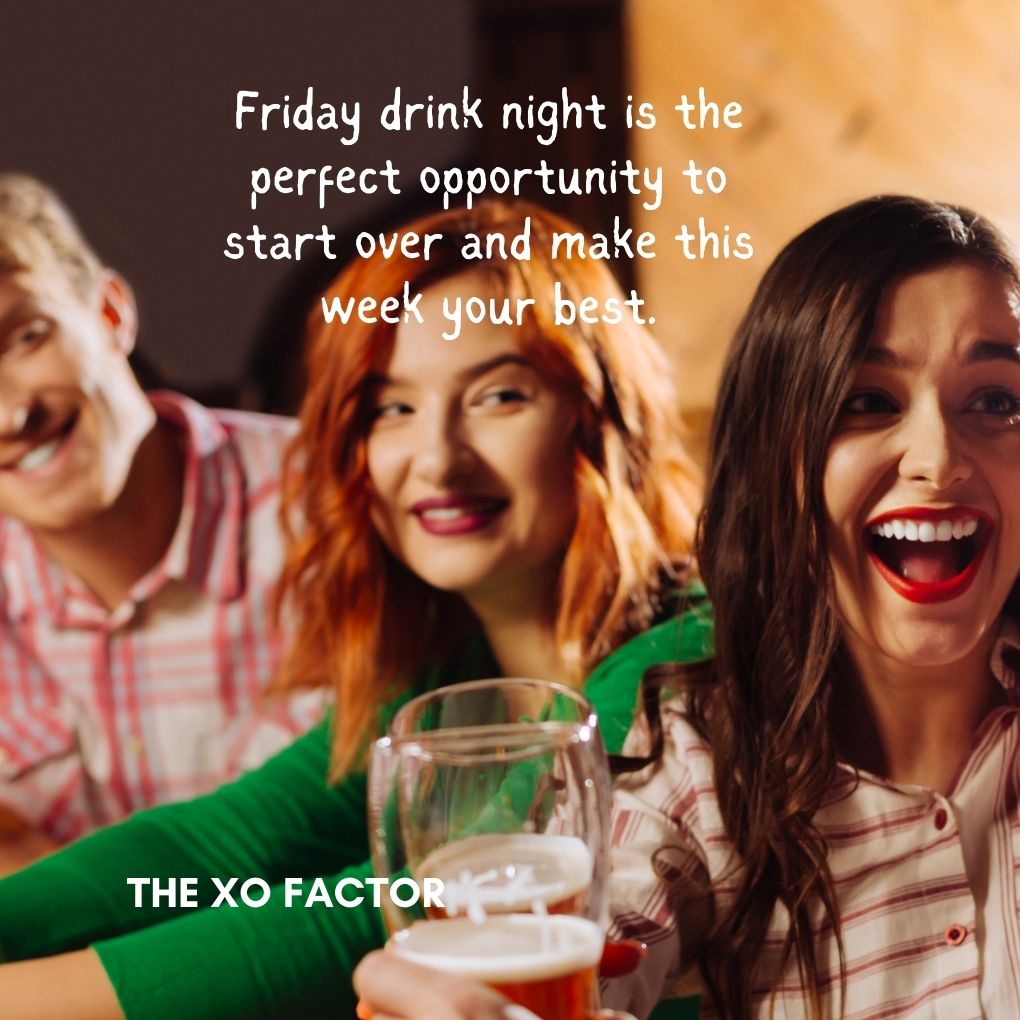 Friday drink night is the perfect opportunity to start over and make this week your best.
It's Friday, so do you know what that means? It's time for a night out with friends. We hope you have a great one.
Friday drink night is the best time to have drinks. Friday drinks are made for friends and fun.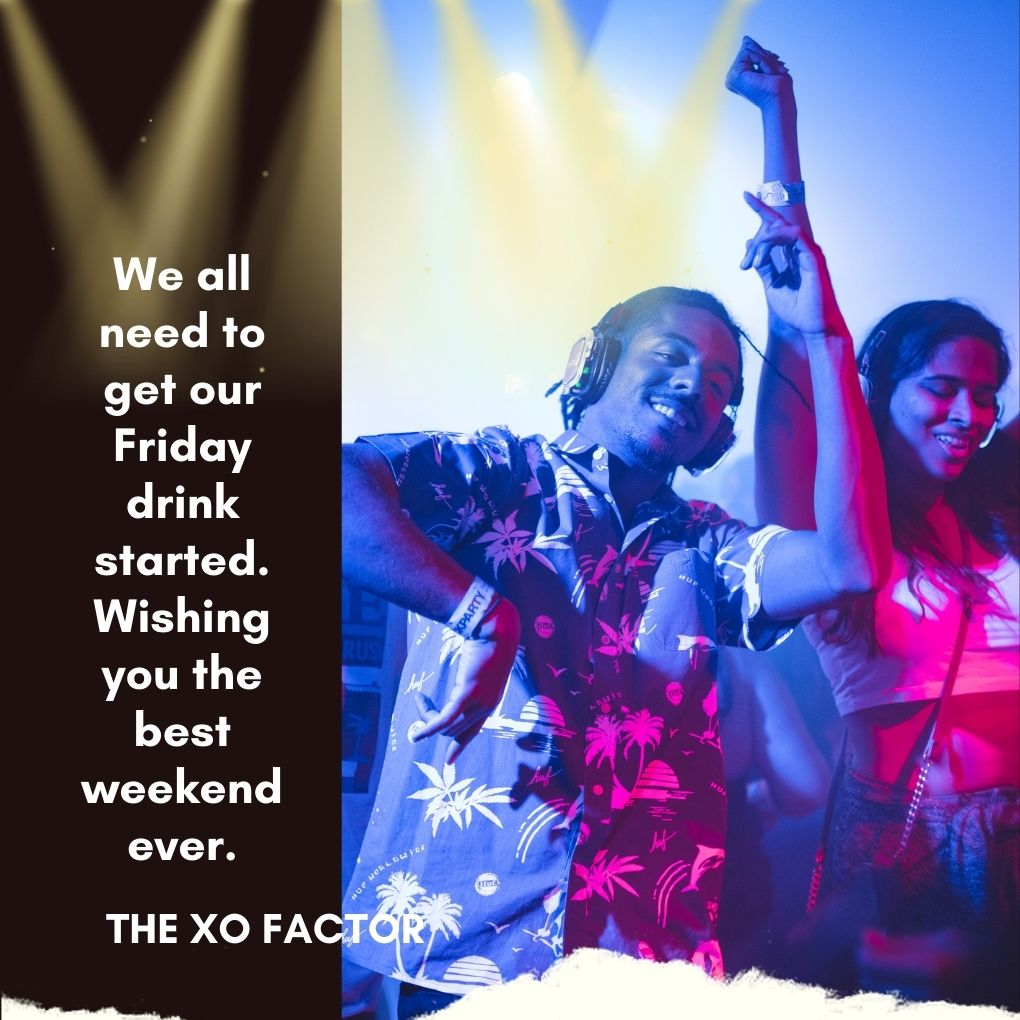 We all need to get our Friday drink started. Wishing you the best weekend ever.
Drinking quotes have long served as amusing and insightful reflections of human experiences associated with consuming alcohol. From witty one-liners to thought-provoking insights, these quotes often capture the essence of social bonding, relaxation, and the pleasures of a nightcap.
Whether you enjoy beer, wine, or any other beverage, these quotes invite you to appreciate the simple joys of life and the moments shared with dear ones. So, raise your glass, savor the company, and let these wise words add some extra cheer to your next gathering. Cheers!