If you are looking for the best party captions to use for your Instagram posts and other social media posts, then check out these captions. We've got party captions for every occasion, Christmas, Halloween, anniversary, birthdays, pool parties and many more.
Christmas party captions
"I'm dreaming of a white Christmas, but if the white runs out, I'll drink the red."
"When You Say Blizzard, We Think Dairy Queen."
"I Hope Rudolph Eats the Naughty List."
"Merry Elfin Christmas."
"Dear Santa, is it too late now to say sorry?"
"I'm only a morning person on December 25th."
"I don't know if There'll Be Snow but Have a Cup of Cheer."
"Maybe hot chocolate wants to be called beautiful chocolate just one time."
"Christmas tree o' Christmas tree, your ornaments are history."
"Smile like you mean it. This is how we earn our presents."
"Sleigh my name, sleigh my name."
"Believe in your elf."
"Meet me under the mistletoe."
"Me every day: slay. Me in December: sleigh."
"All spruced up."
"Nothing's as mean as giving a little child something useful for Christmas."
"What I like about Christmas is that you can make people forget the past with the present."
"I love Christmas. I receive a lot of wonderful presents I can't wait to exchange."
"Three phrases that sum up Christmas are Peace on Earth, Goodwill to Men, and Batteries not Included."
"There are three stages of man: he believes in Santa Claus; he does not believe in Santa Claus; he is Santa Claus."
"Merry everything and be happy always."
"Fairy Lights on Winter Nights."
"It is the Season to Sparkle."
"Christmas Magic is in the air."
"Kindness is Free, Sprinkle that Stuff Everywhere."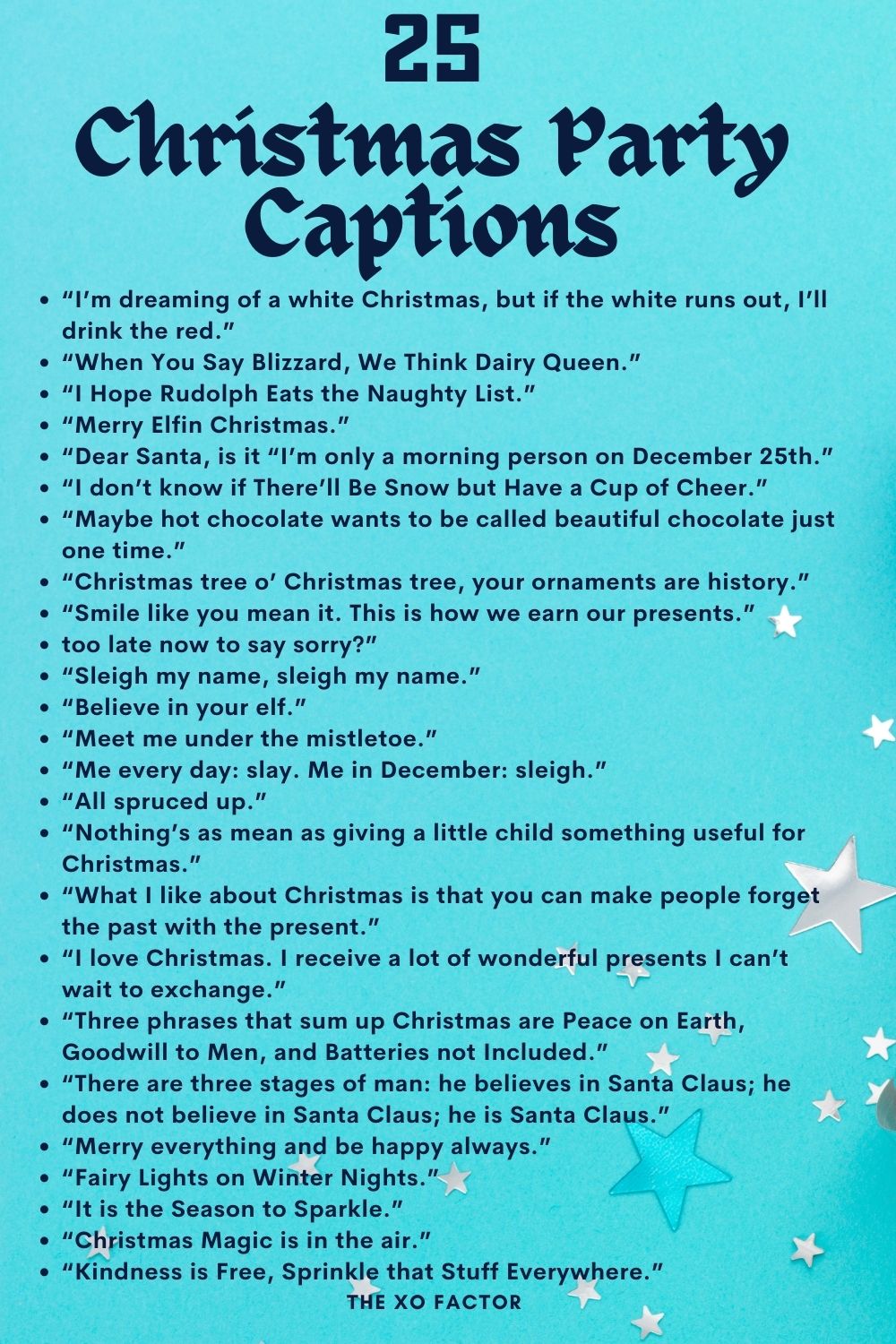 Birthday party captions
"Today, we celebrate me."
"I didn't choose this birthday, this birthday chose me."
"Cheers to a day as special as me."
"Nothing can stop me this year."
"Getting older but my inner child is ageless."
"Would it really be my birthday if I didn't take a selfie?"
"Cake is my happy place."
"Don't worry about your age, you get a new one every year."
"I can't wait to blow my candles out."
"Keep calm and celebrate on."
I hope the birthday cake is as sweet as me.
On this day, a queen was born.
Gonna party like it's my birthday…'cause it is.
Eating my cake and wearing it, too.
Found my birthday crown.
Birthdays are just finger posts on the road of getting old.
I'm so awesome, when I was born, I was given a certificate.
When the candles cost more than the cake, it's time to realize you're getting old.
Another year older, another year wiser? We'll see about that.
Well at least I am not as old as I will be next year.
"Blessed to see another year."
"Live your life and forget your age."
"Vibin' and thrivin'."
"My birthday, my rules."
"Cue the confetti."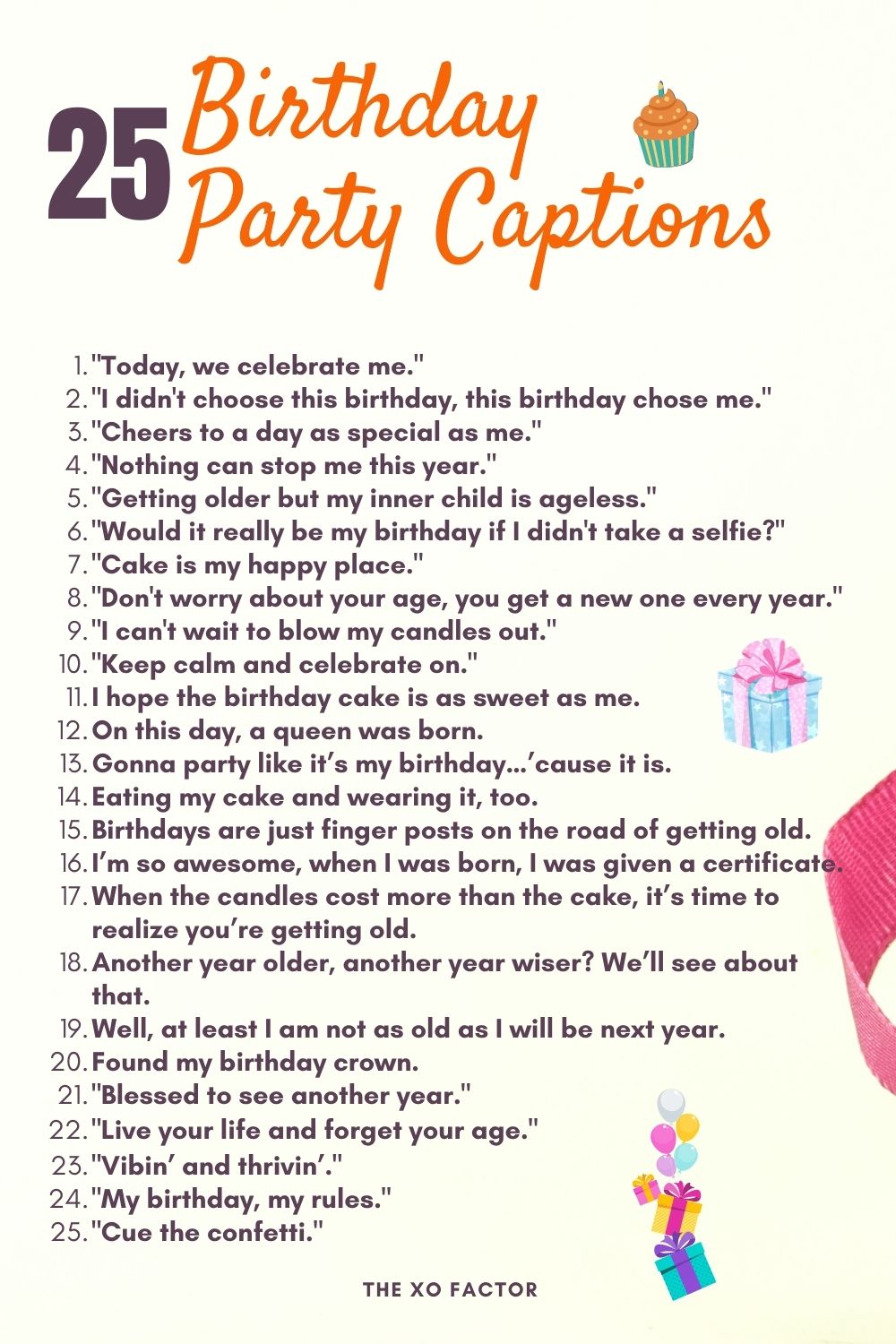 Pool party captions
A pool party can't solve everything, but it's a good start."
"Girls just wanna have pool parties."
"When life gives you lemons, make lemonade and have a pool party.""Life looks better from a lounge chair."
"You're one in a watermelon."
"I got 99 bikinis and I can't choose one."
There's nothing better than a hot day and cool water
You're not from around here are you
No one beats my tan!
Pool party every day!
Summer is my favorite season because of the pool party
I'm coming for you!
It's a pool party, not a therapy session.
There are no mistakes in the pool.
If it ain't wet, it ain't right.
Pool-side with my sidekick.
I'm so ready for a pool party!
It's time to get wet.
We're going swimming, y'all!
Pool party! Let's swim!
Summer is finally here and I couldn't be more excited about it.
I'm not your average girl… I like to be in the water.
Splish splash, we're all having fun!
We put the 'wet' in the wet t-shirt contest.
Come on in! The water is great!
The only thing better than one swimsuit is two swimsuits.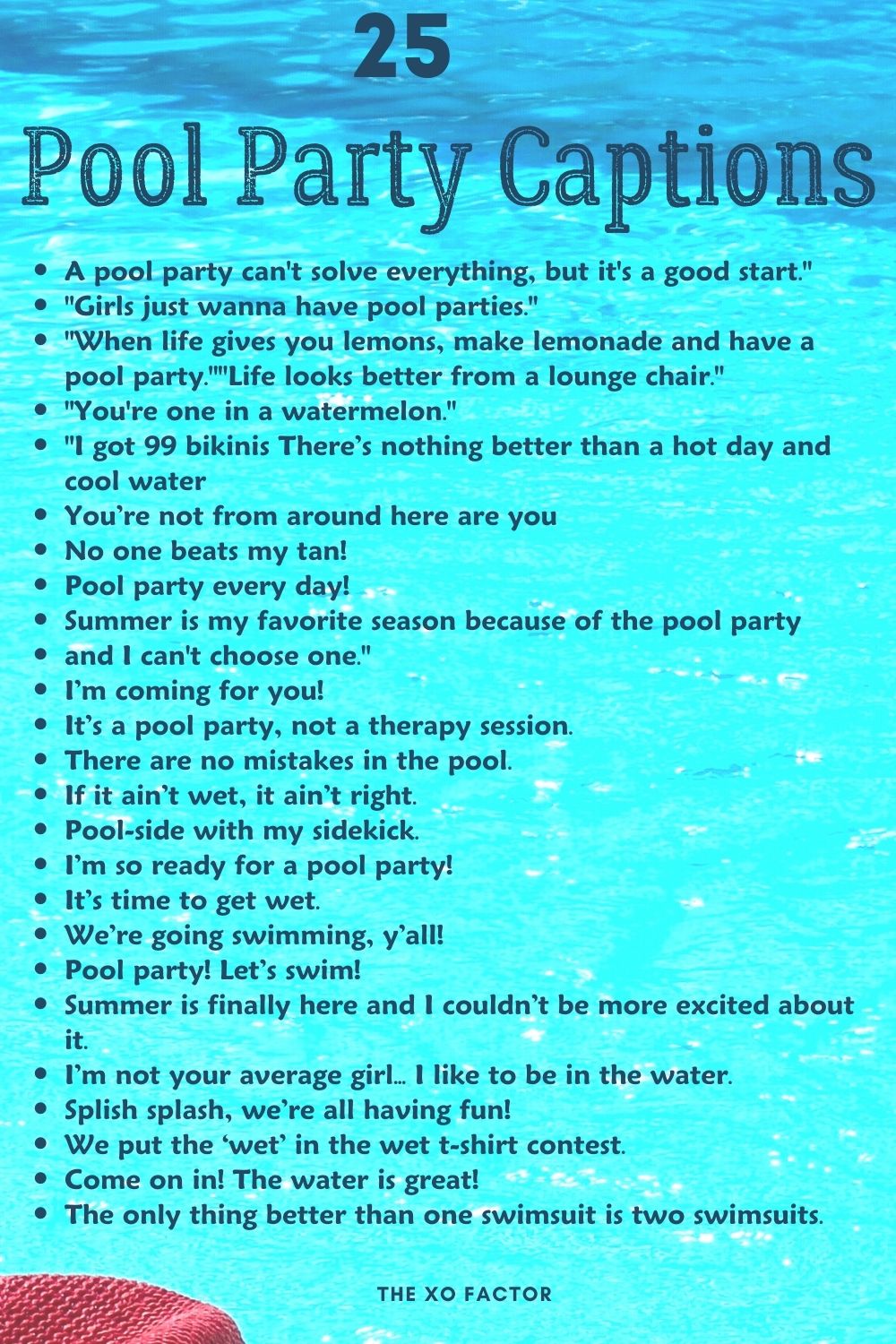 Bridal party captions
One step closer to being a Mrs.
I didn't know we could fit so much love into one room.
The countdown is officially on.
So, where's the champagne?
Feeling so showered with love.
Couldn't get married without these people by my side.
The best is literally yet to come. X days 'til the wedding!
Pass the bubbly.
On cloud 9.
Hashtag blessed.
X days until the next chapter begins.
It's only the bridal shower and I'm already ugly crying.
From Miss to Mrs.
Best shower of my life.
Good and showered.
We've only been talking about this day for X years.
No one will ever be as entertained by us than us.
Who knew she'd be the first one getting married?
You call it chaos; we call it the bridal party.
Showered this beauty with love today.
Bridesmaids for a day, best friends for life.
Call us the "I do" crew.
Happy shower. Happy couple. Happy wishes.
We'll always find a reason to party.
Showering you with a lifetime of happiness.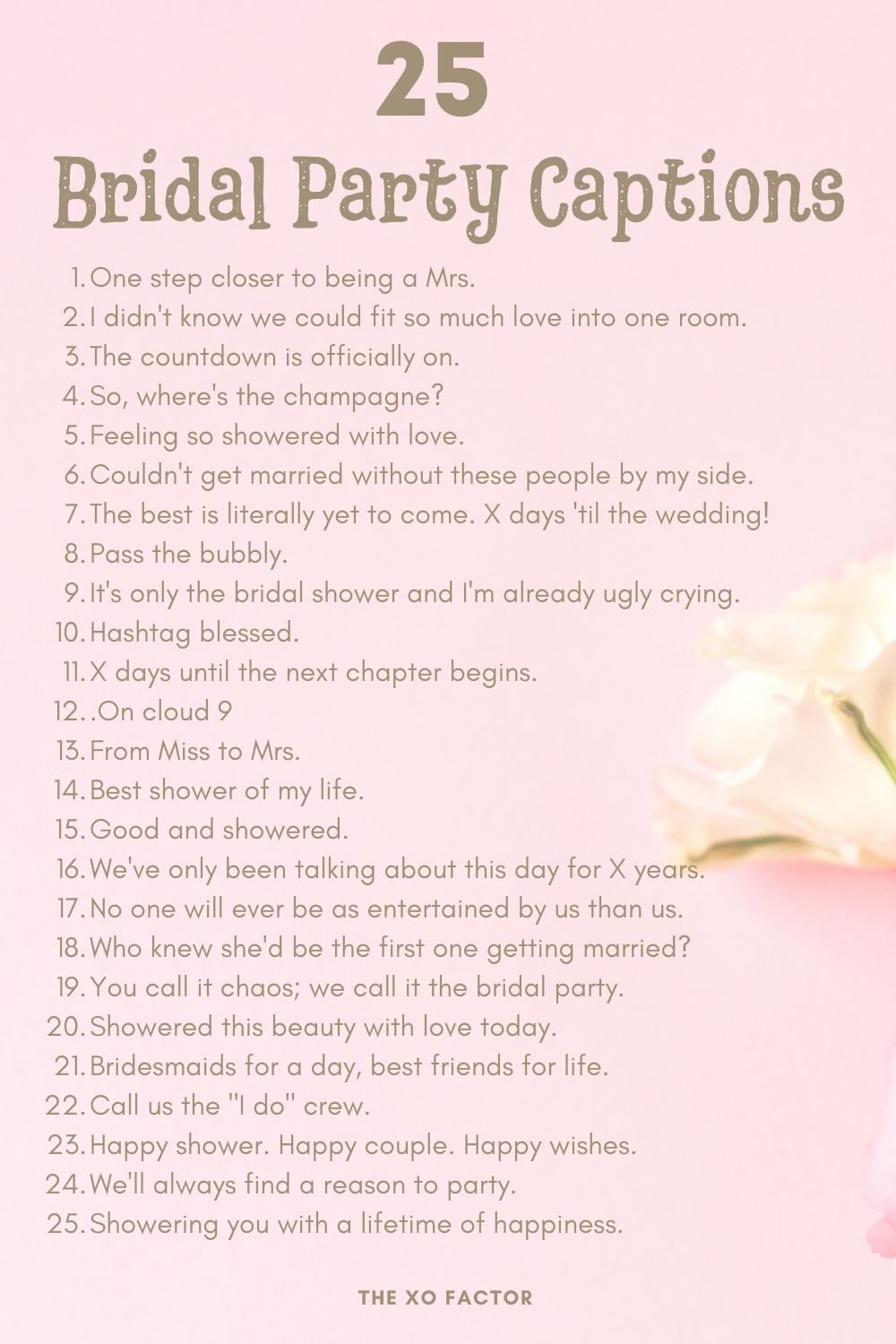 Cocktail party captions
Time flies when you are having a cocktail.
When life throws lemons catch them and make a cocktail.
I'm in need of liquid therapy.
Friday nights are incomplete without the cocktail.
I always make time for cocktails.
I worked hard all week to put beer on this table.
Save water. Drink alcohol.
Tonight's forecast? 99% of cocktails.
Keep calm because it's happy hour
There's always time for cocktails
We go together like Fridays and happy hour.
Keep calm because it's happy hour!
When I read about the evils of drinking I gave up reading.
Can't stop to chat. I'm late for a meeting at wine o'clock.
Bring on the bubbly
Friday called, she's on her way bringing cocktails!
A party without champagne is just a meeting.
Darling, every hour is 'happy hour' when you are fabulous.
Friday called, she's on her way bringing cocktails!
If you like piña coladas, and getting caught in the rain…
Keep calm and go to happy hour.
Tonight's forecast? 99% of cocktails.
Keep calm because it's happy hour!
Thank you for the bottom of my glass.
An ocean breeze puts a mind at ease.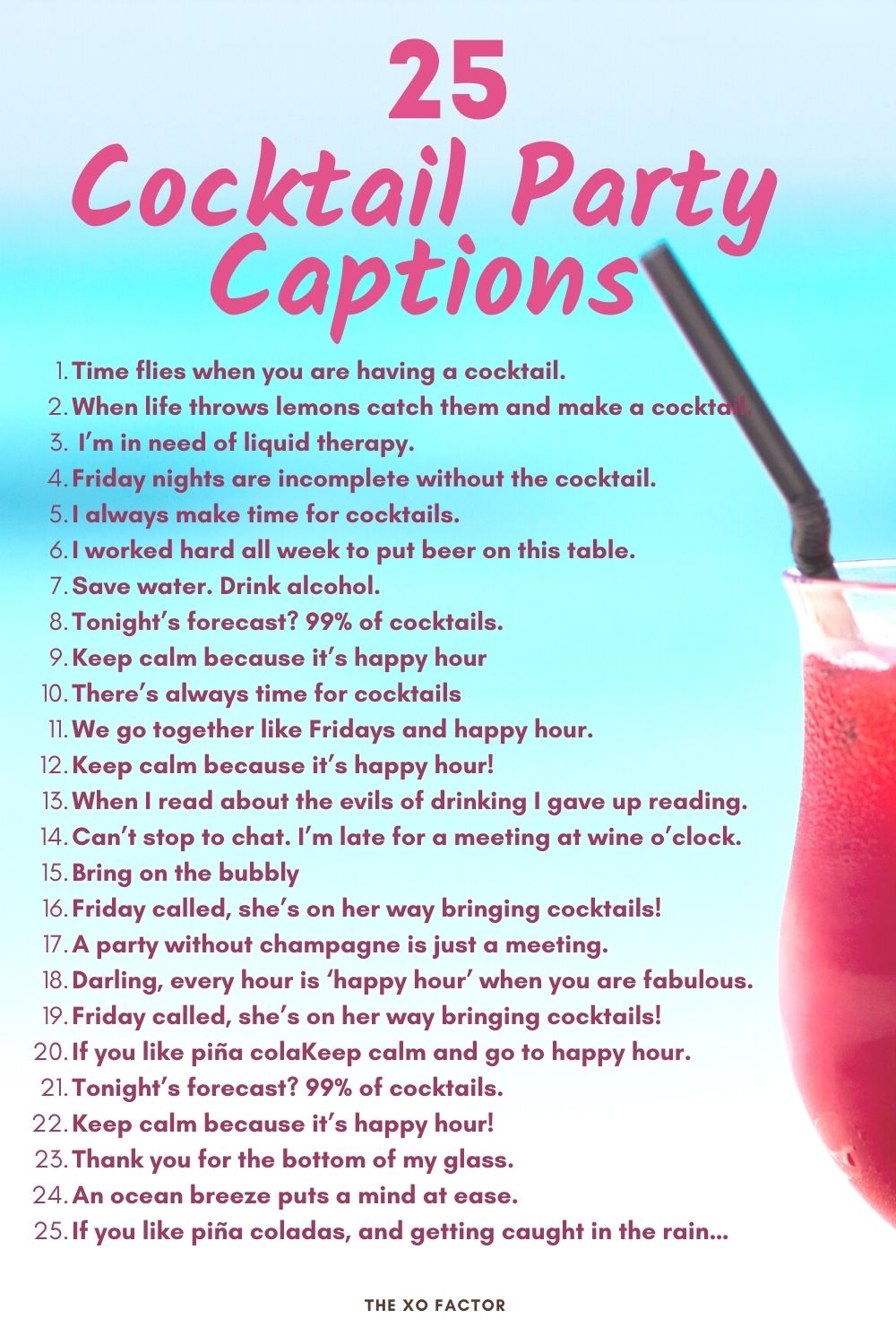 Dinner party captions
I plan fun dinner parties that even people I'm not close to will enjoy.
Dinner parties are an excuse to invite your crush over and flirt with them.
Dinner parties are a way to prove to your mom your cooking skills have improved.
I can go through life's difficulties as long as I have dinner parties every now and then with my family and closest friends.
My friends and I find time despite our busy schedules to take a break and gather for a nice dinner party.
Friends buy you dinner. Best friends eat it
I'm having fruit for dinner. Okay, it's mainly grapes. Fermented grapes. Okay, fine, I'm having wine for dinner.
Hunger is a good cook.
I like hashtags because they look like waffles#.
You are my cup of tea after dinner
Food is really the most effective medicine.
Sugar, spice, and everything nice.
You're my bagel.
wine + dinner = winner
If you don't invite me to the dinner, I will come to your home to get it
Let's taco 'bout it over lunch.
My favorite exercise is a cross between a lunge and a crunch… I call it lunch. I just don't want to look back and think, 'I could've eaten that.'
Good food. Good mood.
Stole a pizza in my heart.
Food tastes better when it's free.
Food made with love makes it taste even more delicious.
I get so excited to see food.
Carbs are essential for fun.
Good food brings out a good mood.
Halloween party captions
Fangs for the memories.
Get in, loser. We're going haunting.
I can't be held responsible for stolen candy.
I'm a haunt mess.
Bugs and hisses, witches!
Boo from the crew.
Everything's better with a little magic.
Witchful thinking.
Happy Howl-oween.
Creature feature.
Bad to the bone.
Bugs and hisses.
Having a boo-tiful night.
This is where the magic happens.
You've got me under your spell.
"New mask, who dis?"
"I"m such a haunt mess."
"Hot ghoul Halloween."
"You better work, witch."
"Life is gourd."
"Happy Halloween, witches!"
"Witch way to the candy?"
"Felt spooky, might delete later."
"This is where the magic happens."
"Be switched!"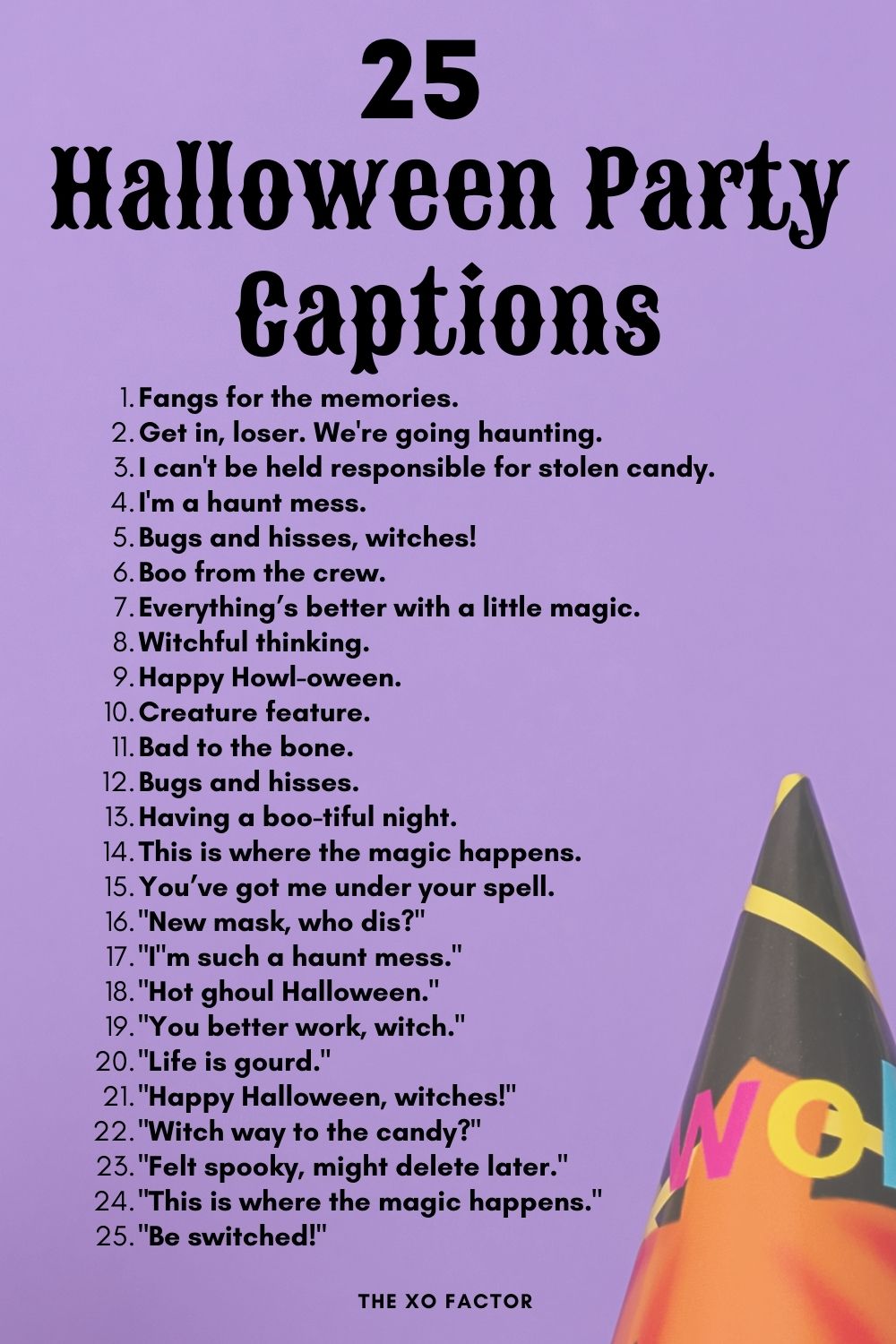 Anniversary party captions
And suddenly, all the love songs were about you.
We may not have it all together, but together, we have it all.
I love doing life with you. Happy anniversary!
The best thing to hold onto in life is each other.
Marriage is basically an endless sleepover with your BFF.
The best love stories never end.
I said yes to a life with you.
Ever thine, ever mine, ever ours.
Today, tomorrow, always.
Can't wait to grow old with you by my side.
I don't know what I did to deserve you, but sure I'm glad to have you at my side. Happy anniversary!
The best relationships are the ones you never saw coming.
My favorite place in all the world is next to you.
Love is not finding someone to live with. It's finding someone you can't live without.
Cheers to the best decision I ever made.
One year down, forever to go.
​​Thank you for 365 days of smiles.
The first of many years to come.
Oh, the adventures we had in one year!
A year later and you still give me butterflies.
Congratulations on another year of losing arguments to me.
730 days fly by when you're having fun.
Today we celebrate the second year of you surviving me.
What's better than one year of marriage? Two! Happy anniversary my love!
Here's to another year with my better half.