Have you ever found yourself lacking the motivation to hit the gym or lacing up your running shoes? Are you struggling to push through that last set or find the energy to go for that extra mile? Don't worry; you're not alone. Maintaining a consistent workout routine can be challenging, and we all experience moments when our motivation wanes. That's where the power of workout quotes comes into play.
Workout quotes can be a powerful tool to ignite your inner drive and push through those tough workouts. They serve as a reminder of why you started and help you stay focused on your goals. Here, we've compiled a list of some of the most inspirational workout quotes to fuel your motivation and help you achieve success.
Inspirational workout quotes
The only person you are destined to become is the person you decide to be.
Ralph Waldo Emerson
Our growing softness, and our increasing lack of physical fitness, are menace to our security.
John F. Kennedy
Most people fail, not because of a lack of desire, but, because of a lack of commitment.
Vince Lombardi
Exercise is labor without weariness.
Samuel Johnson
The last three or four reps are what make the muscle grow. This area of pain divides a champion from someone who is not a champion.
Arnold Schwarzenegger
A year from now you may wish you had started today.
Karen Lamb
Don't give up on your dreams, or your dreams will give up on you.
John Wooden
Success usually comes to those who are too busy to be looking for it.
Henry David Thoreau
Once you learn to quit, it becomes a habit.
Vince Lombardi Jr
Some people want it to happen, some wish it would happen, and others make it happen.
Michael Jordan
The first time I see a jogger smiling, I'll consider it.
Joan Rivers
Look in the mirror. That's your competition.
John Assaraf
If you think lifting is dangerous, try being weak. Being weak is dangerous.
Bret Contreras
A feeble body weakens the mind.
Jean-Jacques Rousseau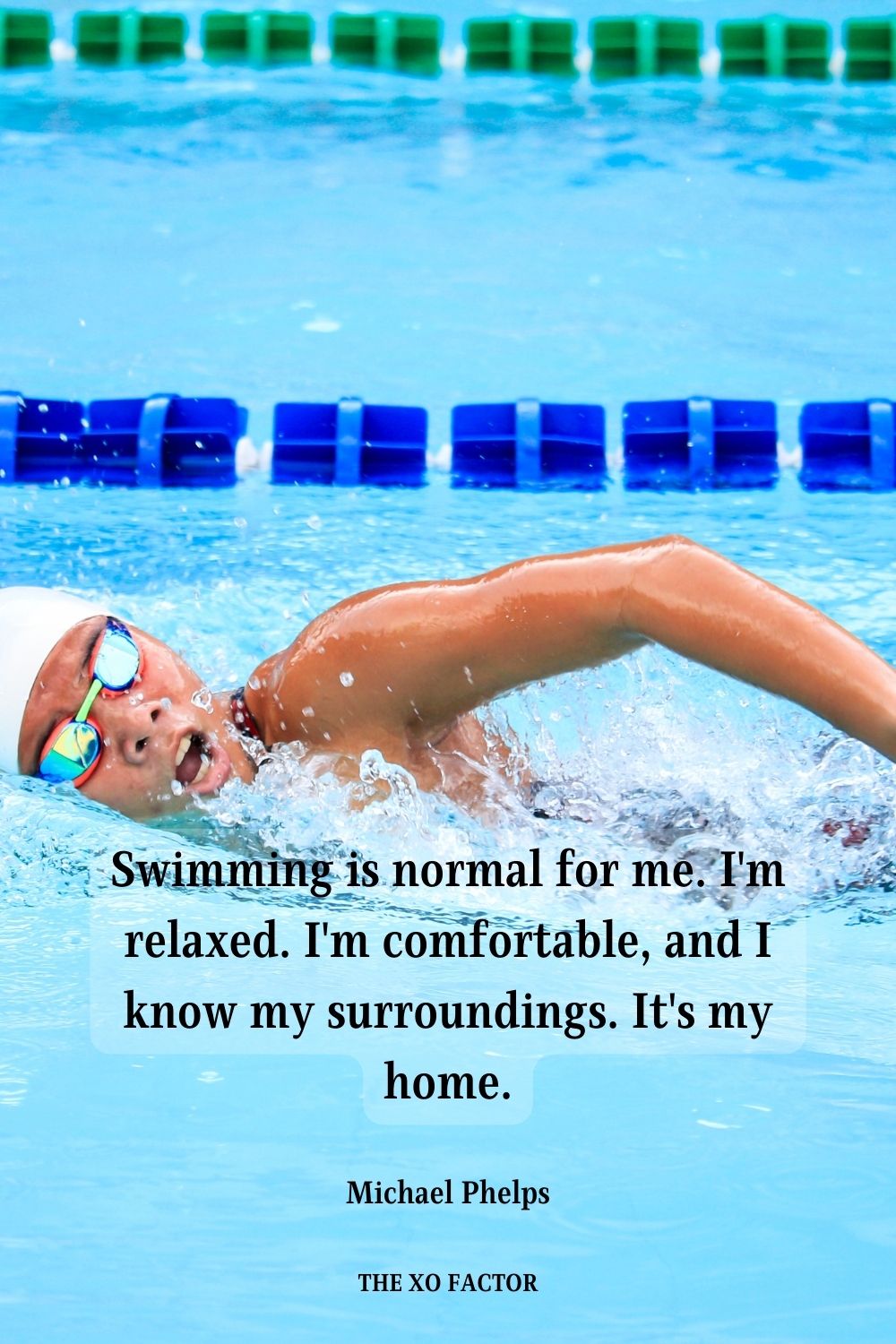 Swimming is normal for me. I'm relaxed. I'm comfortable, and I know my surroundings. It's my home.
Michael Phelps
All progress takes place outside the comfort zone.
Michal Joan Bobak
Tough times don't last. Tough people do.
Robert H. Schuller
Put all excuses aside and remember this: You are capable.
Zig Ziglar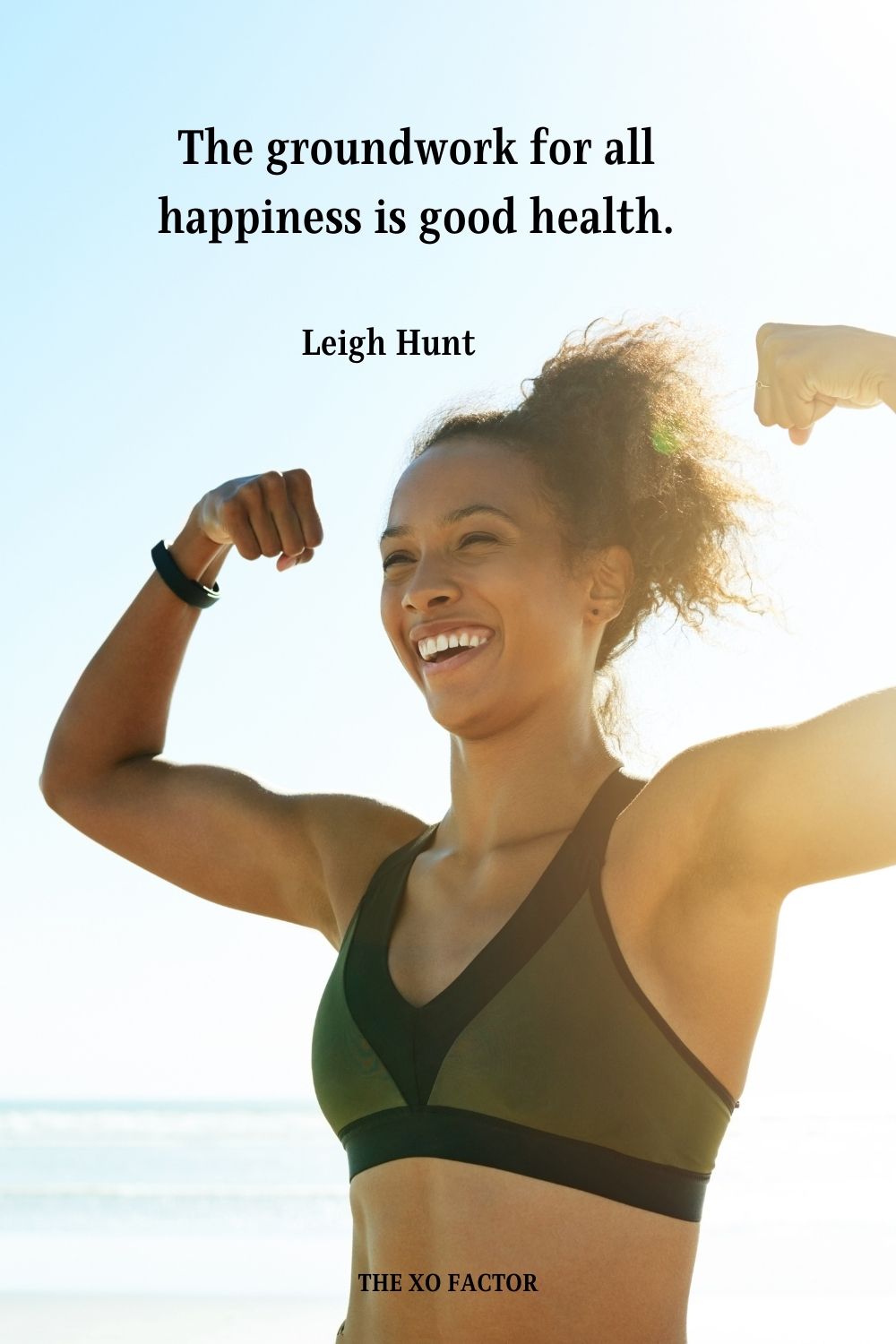 The groundwork for all happiness is good health.
Leigh Hunt
The only place where success comes before work is in the dictionary.
Vidal Sassoon
Cute workout quotes
Our bodies are our gardens – our wills are our gardeners.
William Shakespeare
Reading is to the mind what exercise is to the body.
Joseph Addison
Physical fitness is not only one of the most important keys to a healthy body, it is the basis of dynamic and creative intellectual activity.
John F. Kennedy
Success is what comes after your stop making excuses.
Luis Galarza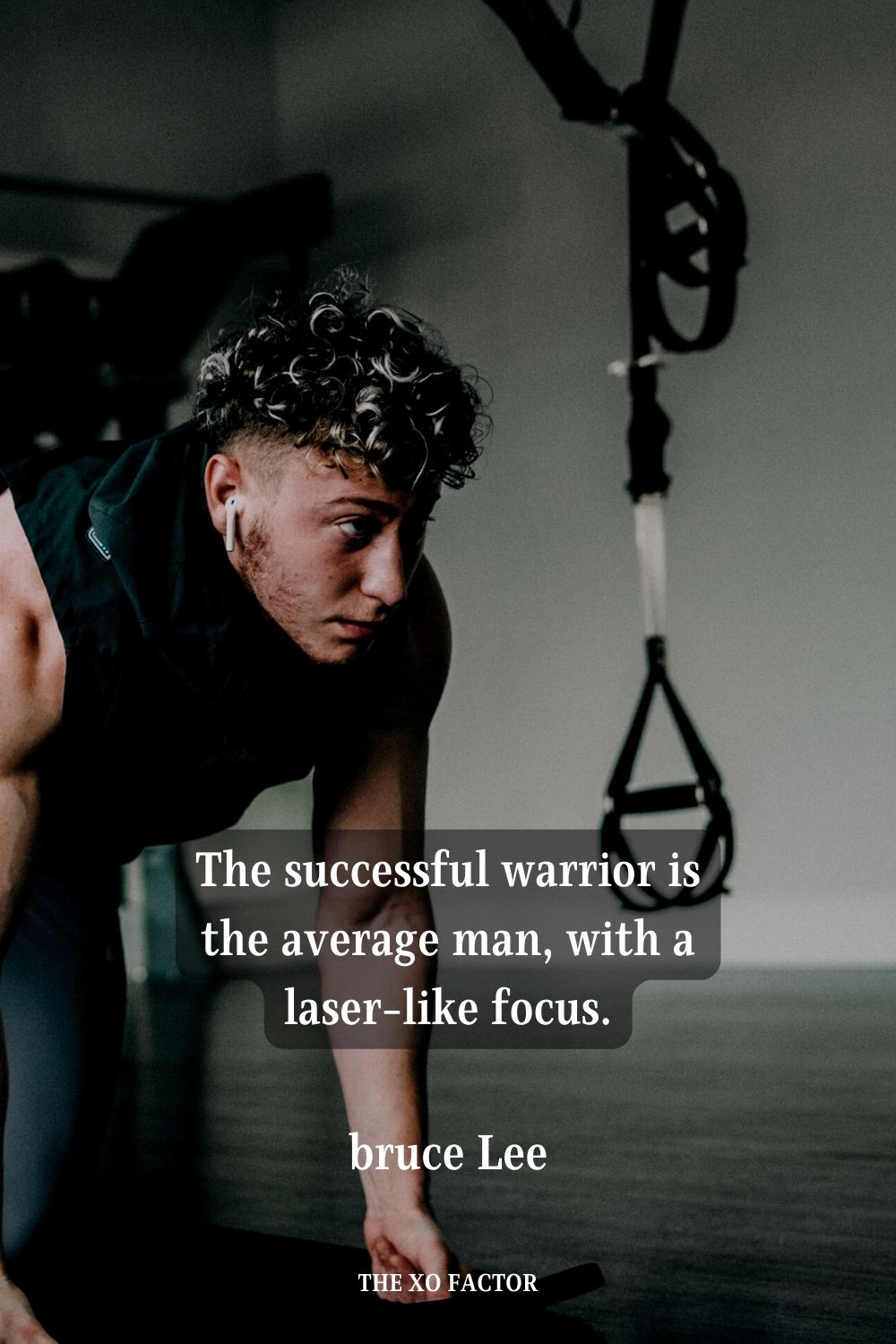 The successful warrior is the average man, with a laser-like focus.
bruce Lee
The clock is ticking. Are you becoming the person you want to be?
Greg Plitt
Exercise is king. Nutrition is queen. Put them together and you've got a kingdom.
Jack LaLanne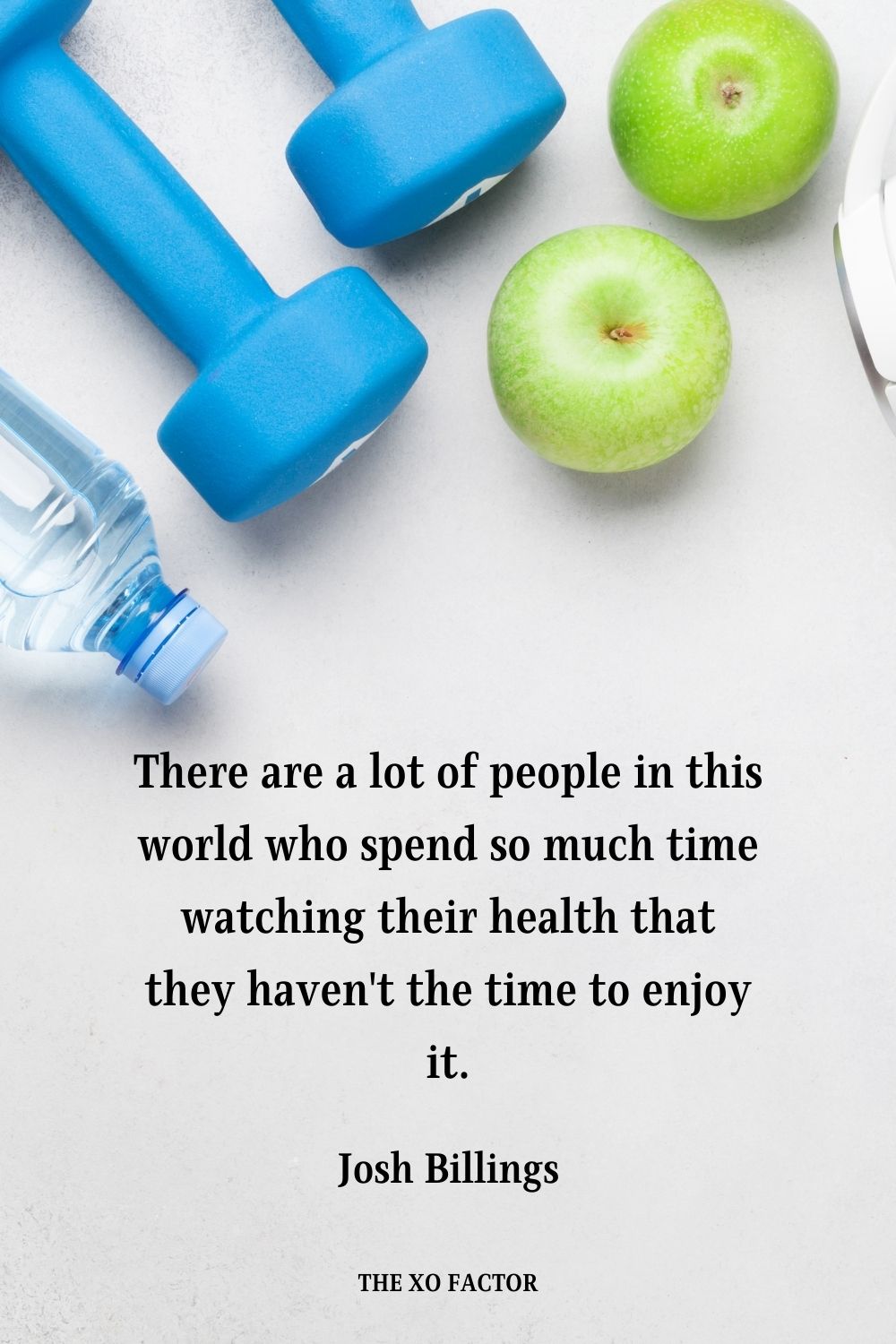 There are a lot of people in this world who spend so much time watching their health that they haven't the time to enjoy it.
Josh Billings
Whether you think you can, or you think you can't, you're right.
Henry Ford
Discipline is the bridge between goals and accomplishment.
Jim Rohn
You must expect great things from yourself before you can do them.
Michael Jordan
I'm not a waify girl and never will be. I think it's healthy when fitness experts encourage fitness rather than getting a certain body shape.
Sophia Bush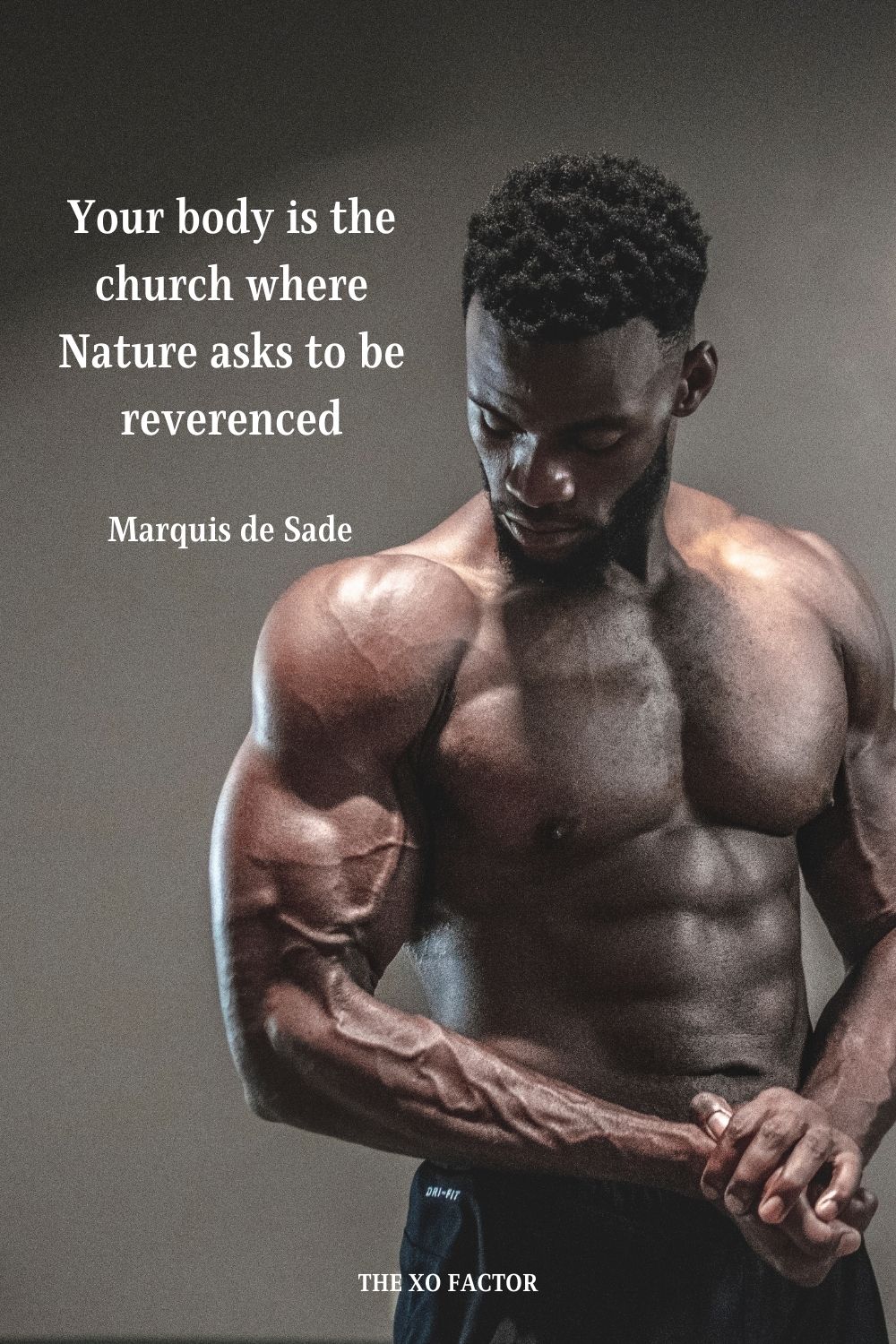 Your body is the church where Nature asks to be reverenced
Marquis de Sade
Action is the foundational key to all success.
Pablo Picasso
The only way for a rich man to be healthy is by exercise and abstinence, to live as if he were poor.
William Temple
The pain you feel today will be the strength you feel tomorrow.
Arnold Schwarzenegger
I wanted to get really fit. I wanted to lose some weight. So I've been doing Pilates and yoga, trying to lean out my body so I won't be bulky.
Serena Williams
Setting goals is the first step toward turning the invisible into the visible.
Tony Robbins
Get comfortable with being uncomfortable!
Jillian Michaels
Things may come to those who wait, but only the things left by those who hustle.
Abraham Lincoln
Morning workout quotes
Surround yourself with those who challenge you, push you, and motivate you.
Fitness is not about being better than someone else, it's about being better than you used to be.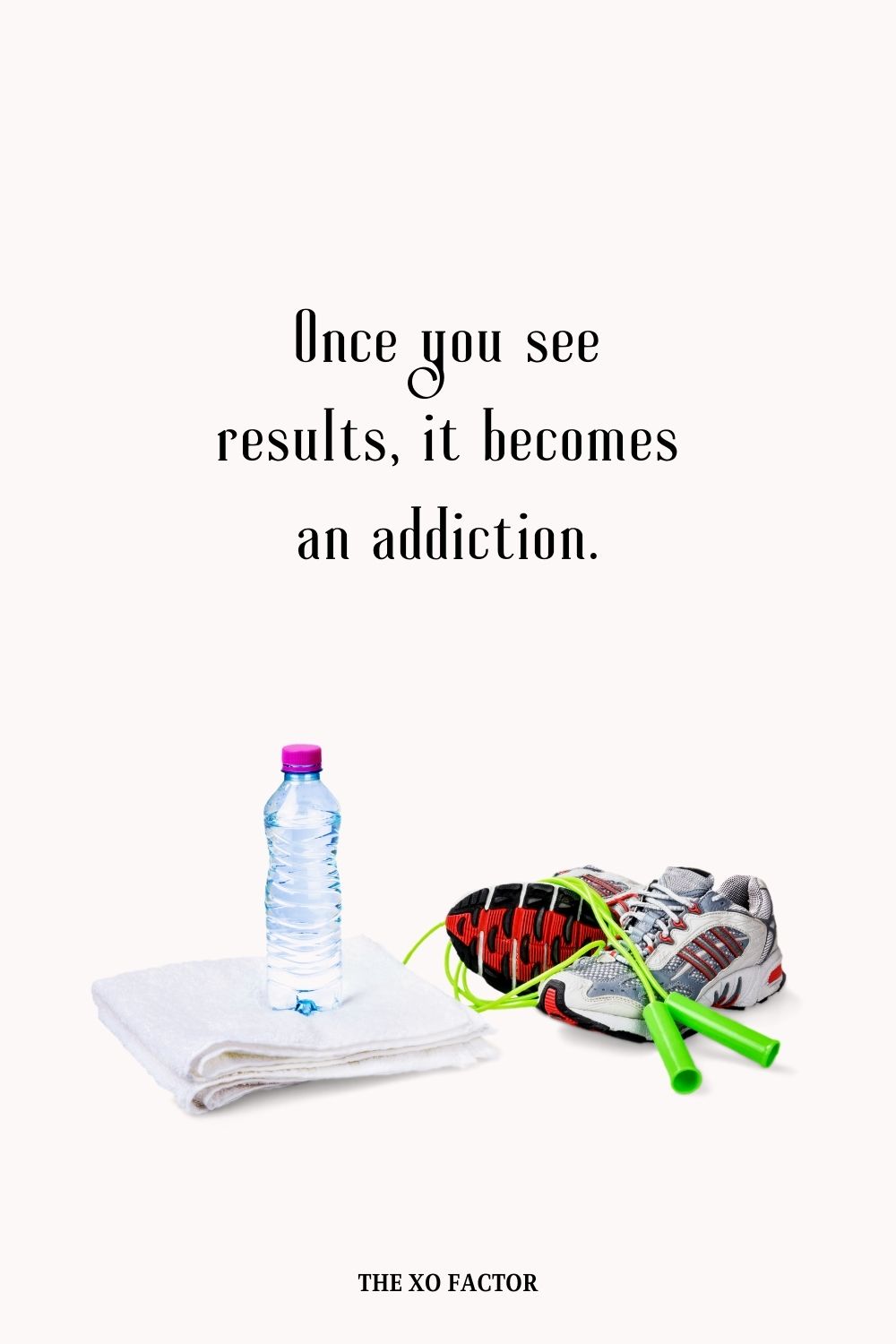 Once you see results, it becomes an addiction.
You don't get the ass you want by sitting on it.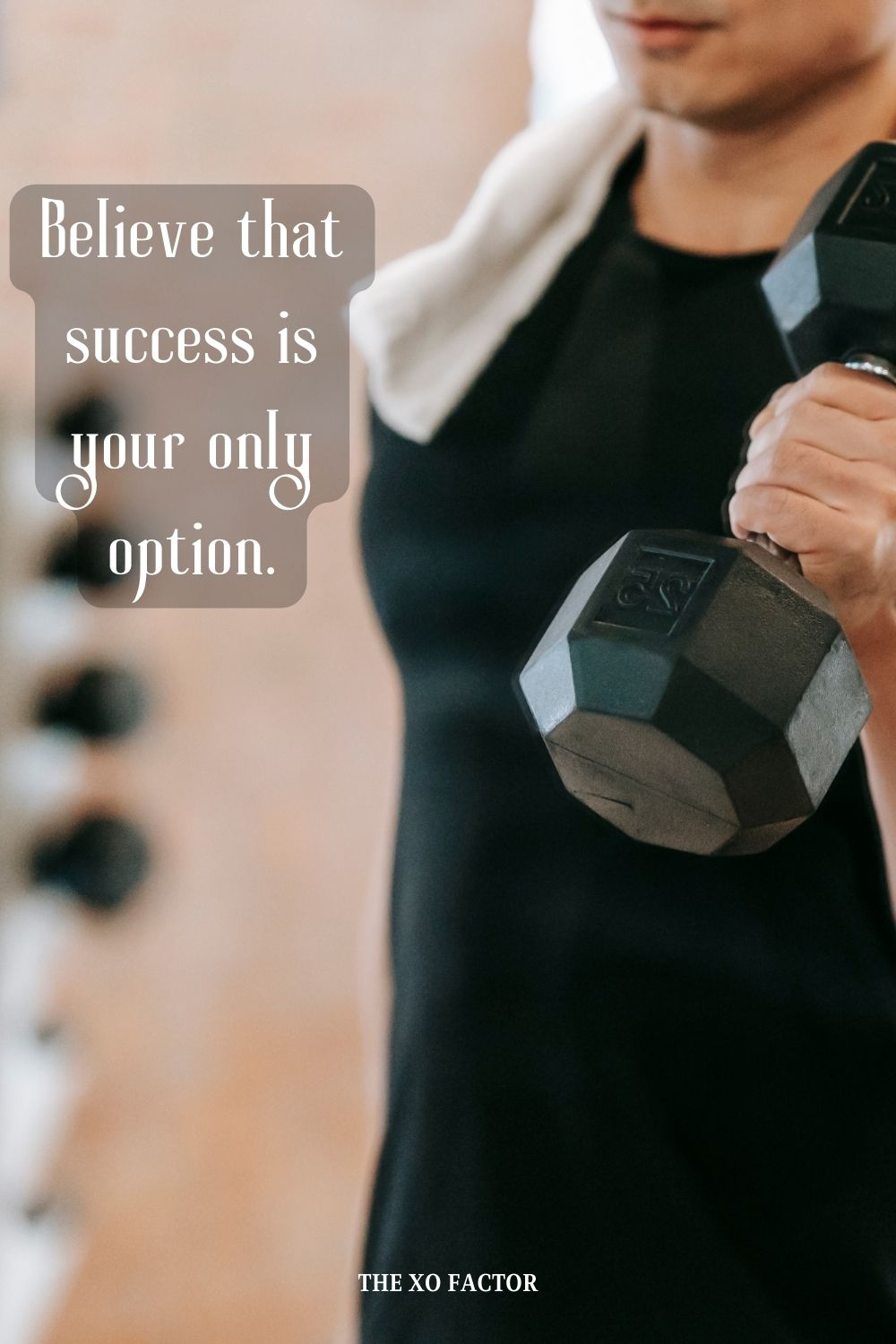 Believe that success is your only option.
Today, be the badass girl you were too lazy to be yesterday.
The greatest pleasure in life is doing what people say you cannot do.
You're only one workout away from a good mood.
Sore today, strong tomorrow.
Stop wishing, start doing.
Friday workout quotes
You have a choice. You can throw in the towel or you can use it to wipe the sweat off your face.
If you train hard, you will not only be hard, but you will be hard to beat.
Herschel Walker
If you don't do what's best for your body, you are the one who comes up on the short end.
Dr. J
I never regret it when I do it. I regret it when I don't.
Alison Lewis
I want to inspire people. I want someone to look at me and say. Because of you, I didn't give up.
The hard part isn't getting your body in shape. The hard part is getting your mind in shape.
The only side effect of too much training is that you get better There is nothing wrong with that. Mark Spitz
I'm not out there sweating for 3 hours every day just to find out what it feels like to sweat.
Michael Jordan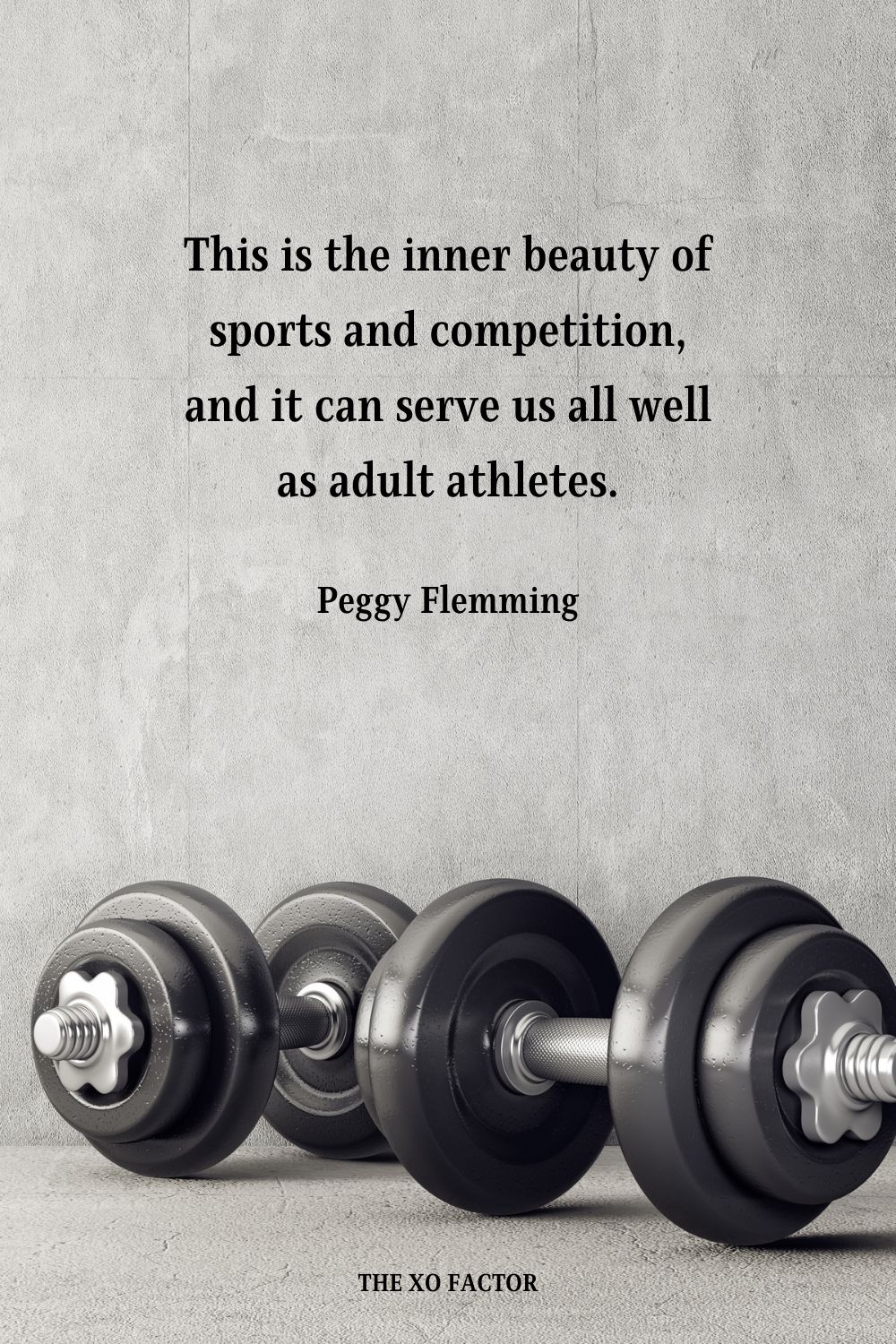 This is the inner beauty of sports and competition, and it can serve us all well as adult athletes.
Peggy Flemming
Pain is temporary. It may last a minute, or an hour, or a day, or a year, but eventually it will subside and something else will take its place. If I quit, however, it lasts forever.
Lance Armstrong
Related Posts
Funny workout quotes for Instagram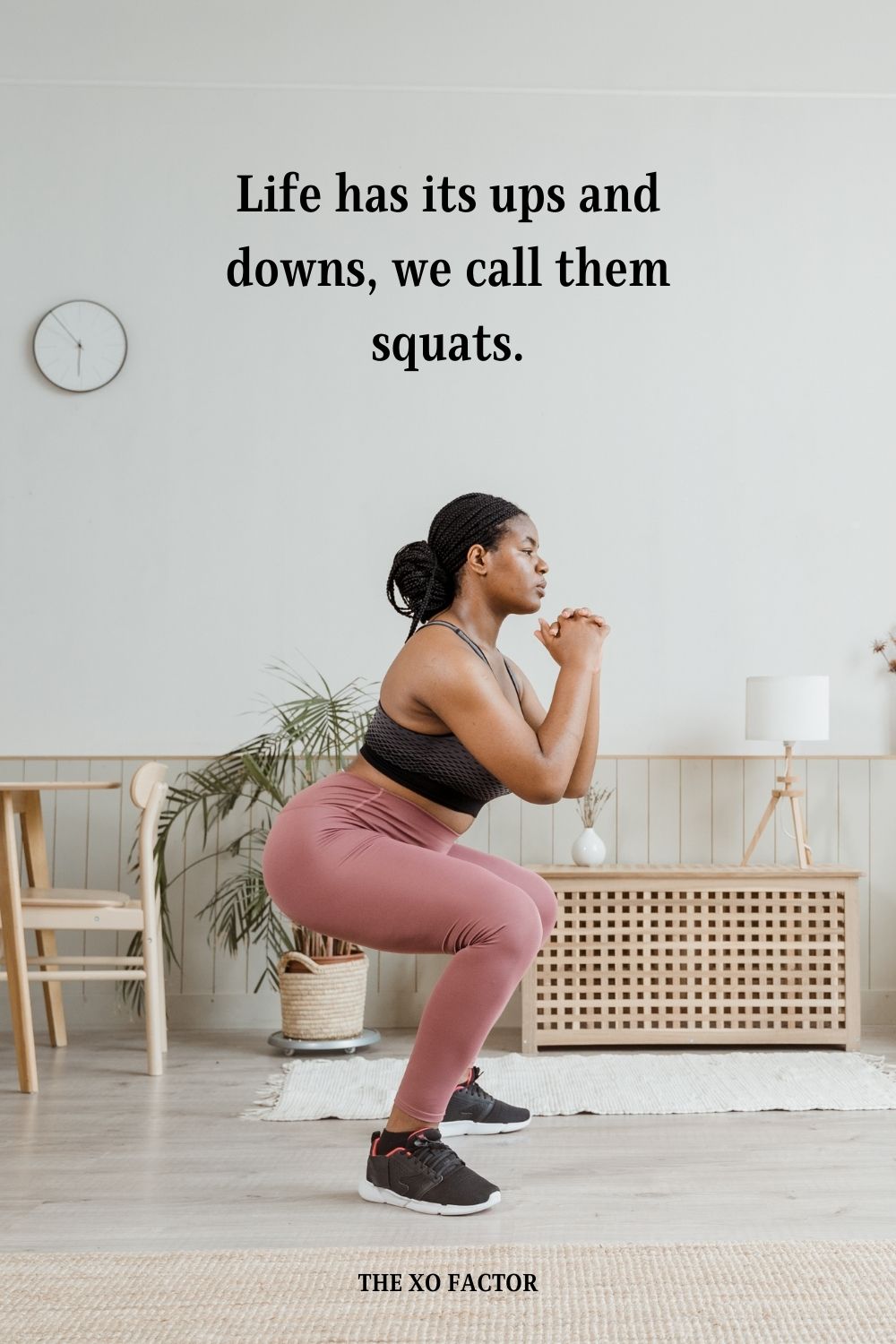 Life has its ups and downs, we call them squats.
Unless you puke, faint, or die, keep going!
Jillian Michaels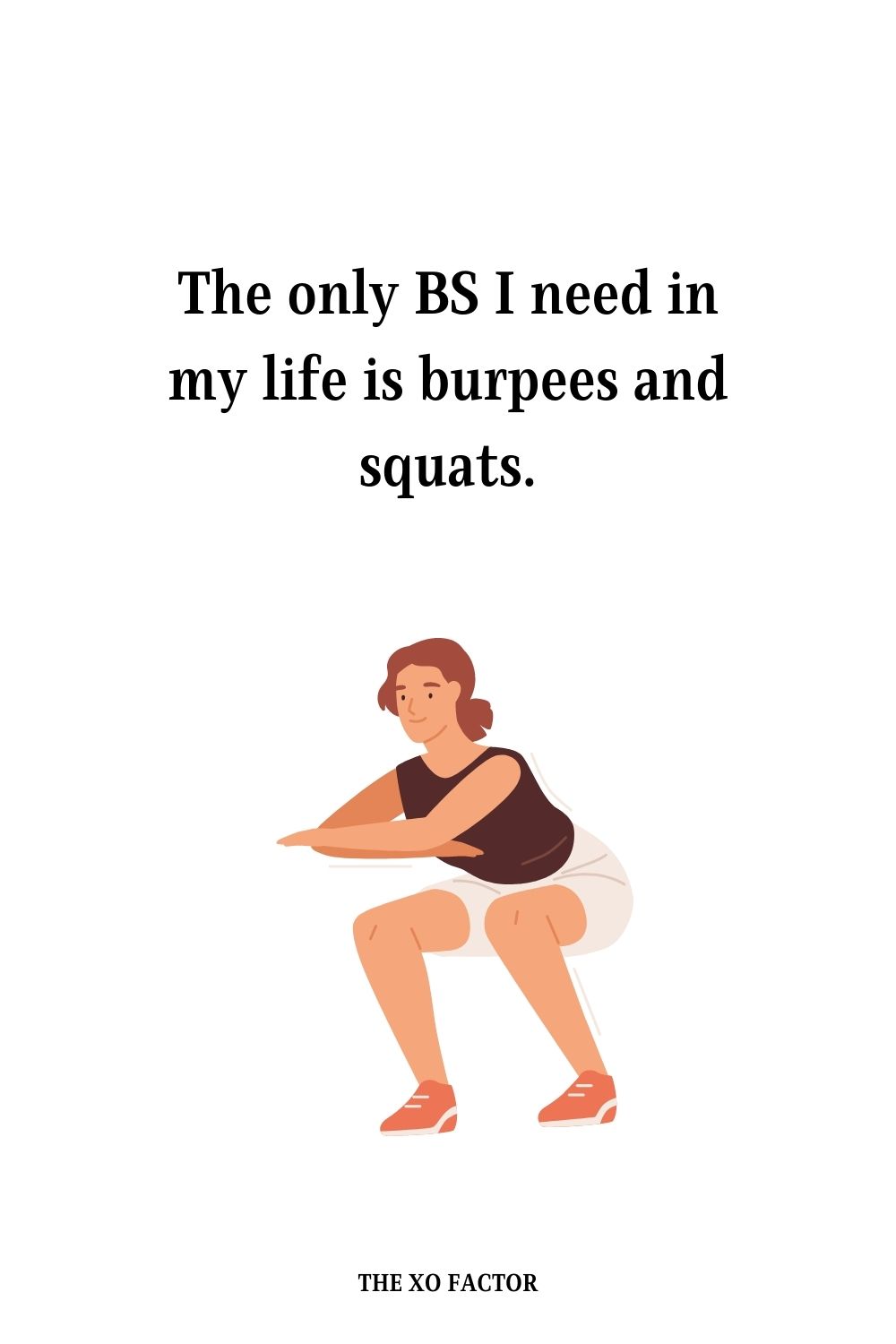 The only BS I need in my life is burpees and squats.
Sweat is your fat crying.
It's my workout and I'll cry if I want to.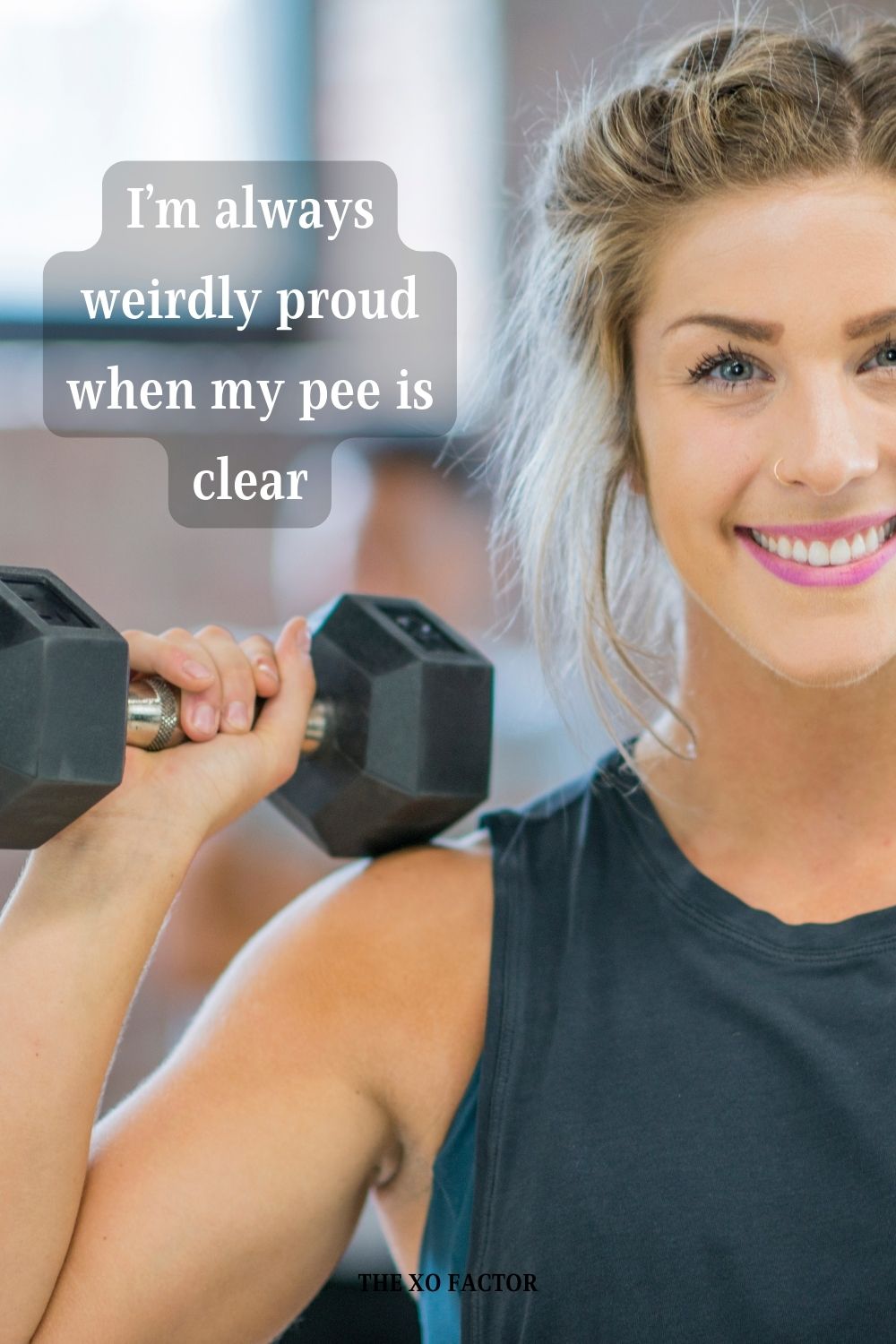 I'm always weirdly proud when my pee is clear
I need to get in shape. If I were murdered right now, my chalk outline would be a circle.
I don't want to look thin. I want to look like I could kiss your butt
I don't sweat, I sparkle.
Don't give up on your dreams. Keep sleeping.
Best workout quotes
If it doesn't challenge you, it doesn't change you.
Fred DeVito
Run when you can, walk if you have to, crawl if you must; just never give up.
Don't dream of winning. Train for it!
Run often. Run long. But never outrun your joy of running.
If you want to be the best, you have to do things other people aren't willing to do.
I don't run to add days to my life, I run to add life to my days.
Running is the greatest metaphor for life because you get out of it what you put into it.
If you fail to prepare, you're prepared to fail.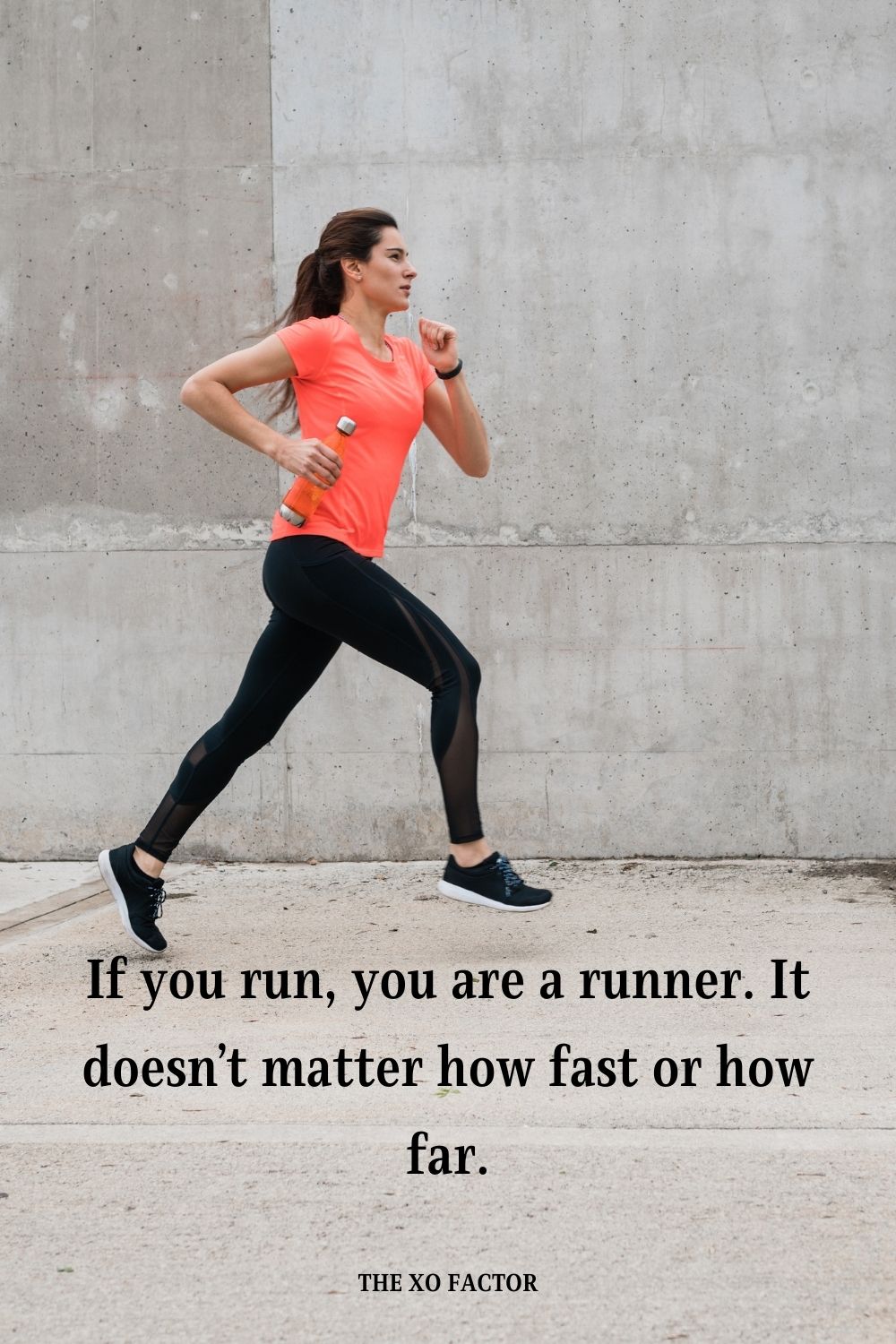 If you run, you are a runner. It doesn't matter how fast or how far.
You are one ride away from a good mood.
Remember, motivation is not a constant state, and it's normal to experience fluctuations in your drive. That's why it's essential to find what works for you, whether it's reading motivational quotes, listening to uplifting music, or visualizing your goals.
Harness the power of these workout quotes and stay motivated on your fitness journey. Push through the challenges, embrace the discomfort, and celebrate your successes along the way. Your body and mind will thank you for it!